Regularly sharing relevant, honest content is key to becoming a go-to expert.
Facebook videos can make you more approachable in the eyes of the public.
Getting your content out to targeted audiences can lead to more business.
Most people understand the value of Facebook for relationships, but the majority of them are underutilizing the simple features that can maximize productivity and marketing.
Facebook is still by far the most widely used platform on social media. If you look at the graphic below, you can see how many more users Facebook has than other platforms, no matter the age.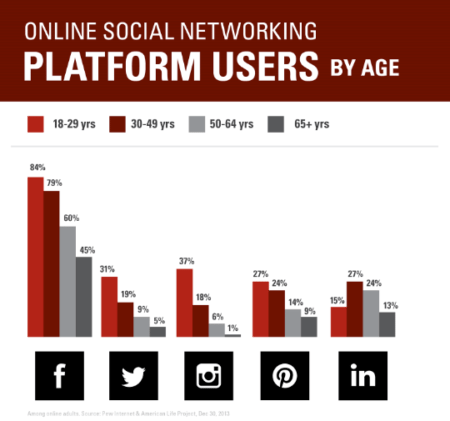 According to Pew Research, 72 percent of all adults online in the U.S. visited Facebook at least once a month in 2015, and those numbers have only grown.
This creates an opportunity to capture new leads, engage them in a meaningful and informative manner and retain them as potential clients.
Make the most of your time on Facebook by following these four quick tips:
1. Add value for your existing audience
Although Facebook has an incredible ability to target an audience and significantly boost exposure of your posts and advertisements, your existing Facebook friends will give you the most bang for your buck.
If you share relevant articles and resources that meet the needs of your current audience, they will share the information on their page, too.
Kris McWilliams, owner of EST Home Mortgage, says he creates a short video every week related to mortgage topics and gets incredible exposure because his audience shares these videos with their friends.
McWilliams says sharing this kind of relevant, valuable content leads directly to more business.
Eagle Home Mortgage loan officer Miguel Jose agrees: "I'm not necessarily trying to go out and meet new people," he says. "I'm trying to remind my database of what I do and position myself as the go-to person.
"So, what ends up happening naturally is that when I provide a video with good content, people will tag their friends in it and then those friends will reach out to me just because they saw my video."
2. Be authentic and personal
People feel less intimidated about reaching out to you when they feel like they already know you.
Facebook videos make you seem approachable, and give viewers an opportunity to contact you without hesitation.
Successful loan officers using Facebook leverage both their personal page and business page to share content.
CRM Lending loan officer Gary Miller says, "The key is just being a person. That's why we do the personal page and a business page. We want people to know we're not just a suit and tie."
By sharing honest, helpful videos and authentic photos, you can create a genuine, transparent relationship with your audience.
"The video makes people really think that they know you," says McWilliams. "That makes people feel more comfortable and breaks down that barrier. There's no reluctance to reach out to me."
Miller shares videos and images from closings, and tags everyone in photos to gain greater exposure.
"I can run an advertisement, and everyone will say 'oh, they're just trying to get business,' but when you can see that people are happy, that goes so much further."
3. Use targeted advertising
Facebook and social media platforms have incredible hyper-targeting abilities that guarantee specific types of people will see your posts.
You can also "boost" posts, which means they'll be seen by a larger number of targeted people, or you can create an advertisement specifically for a targeted audience.
Miller shares a flyer targeting first-time homebuyers, so when he boosts that flyer on Facebook, he ensures that only people who are first-time homebuyers are seeing that post.
He also targets an audience of Realtors for other types of posts and flyers: "Facebook allows you to tailor your audience to match the one you're trying to reach," Miller says.
4. Maximize productivity through scheduling and client lists
Facebook is an incredible tool for business, but it can also be a huge waste of time if you are not careful; designate a specific time for using Facebook for business every day, and minimize the amount of time spent.
You can increase productivity by using a scheduling software to get posts ready for sharing. Once per month, identify what kind of relevant content you plan to disseminate over the next several weeks; create a video (or a few) and find some relevant articles and company flyers to share.
Leveraging your Facebook friends list is always a great way to up your marketing game and boost business. You can create specific friend lists, which means you can place certain friends (or past clients and referral partners) into one list so that when you click on that list, they are the only people you see in your newsfeed.
If you are spending business time on Facebook, click the business friend list so you can quickly and efficiently go through your newsfeed to like and comment on their posts.
This keeps you visible and engaged with your audience, which will improve the likelihood of getting referrals from these friends.
If used correctly, Facebook can be an incredible tool for business, and understanding how to speak the language of this platform is essential to reaping its benefits.
Kristin Messerli is the managing director and founder of Cultural Outreach Solutions. Follow her on Twitter or connect with her on LinkedIn.