Giving clients the best shot at their dream home requires a mix of creative thinking, doggedness, consistent communication and not taking "no" for an answer; and becoming the go-to buyer's agent in your market means rolling up your sleeves and being a patient warrior through days, weeks and months of an "exhausting escapade." At times, buyer's agents' biggest problem will be their own clients, who may come to an agent "information-rich" but in denial about this market in which sellers hold all the power.
You might call buyer's agents the unsung heroes of real estate. These scrappy, loyal and ever-so-patient confidantes guide clients through endless tours, play family counselor during hectic bidding wars and ride a rollercoaster of emotions.
Without the glory of a flashy listing, they navigate the home search jungle and ensure buyers have an adviser looking out for their best interests alone — a U.S. norm that isn't mirrored around the globe. As Chris Dietz, global EVP of Leading Real Estate Companies of the World points out, in the end, the buyer is the only one bringing money to the closing table in a real estate transaction. Their interests, which are innately at odds with those of the seller, matter too.
On the buy side, the stakes are high, the work is grueling and the process can be highly charged. While many sellers are ready to offload their property to move on to the next stage — whether it be a bigger house or a new job and location — buyers often have stars in their eyes with every twist and turn.
Giving clients the best shot at their dream home requires a mix of creative thinking, doggedness, consistent communication and not taking "no" for an answer; and becoming the go-to buyer's agent in your market means rolling up your sleeves and being a patient warrior through days, weeks and months of an "exhausting escapade," as one respondent to Inman's Special Report survey described it.
At times, buyer's agents' biggest problem will be their own clients, who may come to an agent "information-rich" but in denial about this market in which sellers hold all the power.
When the deal is done — and it can take a number of attempts, losses and failed bids to get there — buyer's agents have typically won a friend for life and will receive a number of referrals from that single deal.
This side of the job lacks prestige in an industry where — as one survey participant put it — "no one wants to be a buyer's agent." Over a quarter of survey respondents said they'd rather not be advising buyers (more work, less money) and only do so to stay afloat in this super competitive market. But many successful buyer devotees are both hardworking and proud. Seeing people realize their dream of owning their own home never gets old, they argue, and buyers can be more appreciative.
"I like 'welcome to the neighborhood' better than 'goodbye,'" explained another.
Buyer representation: Not guaranteed around the globe
Whether being a buyer's agent is your goal or not, many buyers probably appreciate that the U.S. real estate industry provides a space for them in the workforce — because many other countries don't. And in the U.S., they have only been operating since the 1980s.
According to Dietz of LeadingRE: "Globally, most countries do not have buyer's agents. In most markets, the listing agent is responsible for the entire transaction, and this includes advising the buyer as well as the seller to successfully close the deal. This sounds like a possible conflict of interest."
Andrew Show, an exclusive buyer's agent with his own firm in Ohio — Buyer's Resource Realty Services — and a former president and regional director of the National Association of Exclusive Buyer's Agents (NAEBA), takes great pride in never acting for a seller, even when he was selling his own house. His argument: "What if one of my buyers liked the house? Whose side would I have been on?"
When he sold his home in 1994, the listing company represented the buyer as well as the agent. "So when they sent over the offer, it included their address, how much money they would put down, that they were moving on a transfer," Show said. "They spilled their guts about the buyer to me because that's how to do business; you share that information with the seller. I knew they were so motivated; I didn't have to negotiate very hard on price. I got almost 99 percent of the asking price."
The way the sale unfolded in his favor reaffirmed his resolve to remain an exclusive buyer's agent.
Executive Director of NAEBA Kimberly Kahl, who notes buyer's agents also operate in countries such as Canada and France, says the top traits of good buyer's agents are their attention to detail and negotiating skills. In addition to helping buyers make competitive offers, they should also be adept at getting their client out of a deal, she adds.
You won't make it as a wallflower
If you call yourself a "people person," you might have an edge as a buyer's agent, which is all about having "mad people skills" — even more so than listing agency, according to the survey.
"When I list, this seems to be a good deal less important," said one agent.
"Buyer's agents are less salespeople and more consultants," added a successful broker in Hawaii. "I never try to sell a buyer a house. I help advise them with options which will work and benefit them the most."
"Buyer's agents enjoy working with people versus working for them," added a broker associate.
Buyer's agents are primarily finding buyer leads through past clients, their sphere of influence and from business-to-business referral partners.
How tough is it out there for buyer's agents once they find these clients? We asked respondents what challenges their buyers were currently facing.
Respondents ranked the obstacles as follows:
Low inventory (90 percent)
High prices (61 percent)
Difficulty in getting a mortgage (18 percent)
Rising mortgage rates (12 percent)
Declining incomes or wage growth (9 percent)
Multiple-offer situations were an inevitable part of the picture too, they added.
As for how to handle bidding wars, agents should make sure buyers understand they need to be prepared to write an offer immediately upon seeing the home, NAEBA's Kahl advises.
"Another reason why having an experienced buyer's agent is so important right now is that you have to commit all that money and you've no time to think about the decision," Kahl said, noting that buyers rely on their agent to point out any problems that could stop them from making a monumental mistake.


In this environment, respondents said, consumers are looking to their agent for help most with:
Finding the right home to purchase (29 percent)
Negotiating the terms of sale (18 percent)
Emotional support/counseling (11 percent)
Help negotiating price (10 percent)
Determining what comparable homes are selling for (6 percent)
In reporting the laundry list of services they provide when working with buyers, respondents overwhelmingly indicated that these clients require and expect a multipronged approach and — even in the age of open information and listing data — look to agents for help during the home hunt and beyond.
Buyer's agents said they are responsible for:
Negotiating the offer (99 percent)
Finding the right property (98 percent)
Educating the buyer on current market conditions (98 percent)
Showing homes (97 percent)
Recommending other professionals (94 percent)
Making appointments with sellers to tour homes (93 percent)
Providing emotional support (91 percent)
The top qualities or skills that were important to a buyer's agent's success were:
Listening (94 percent)
Strong market knowledge (91 percent)
Responsiveness/availability (89 percent)
Perseverance (81 percent)
Consulting/advising skills (80 percent)
"These skills are the minimum price of admission to be effective as a buyer's broker," said a senior executive from a title company. "Wallflowers are not acceptable substitutes to persistent brokers who have the cognitive skills to manage expectations and creatively think about the structure of the transaction to frame it in a fashion that's appealing to the seller and listing broker."
In this strong seller's market, buyer's agents must think outside the box; knowledge is one thing, but being a master strategist is another.
"When your agent presents a strong, thorough offer package and their assurance that the listing agent will have a strong transactional partner in the process, you are in a better position than a similar offer presented in a less professional manner," said an agent and productivity coach. "It matters who you hire.
"I've had buyers win multiple offers because I had a prior transaction with the agent and they knew that I would go above and beyond to create a win-win for buyer and seller," she added.
Because today's clients have access to so much information online, they need to be educated on the value of using an agent to get the house once they find the house — and that reality increases the pressure for agents to be rockstar negotiators and market experts to prove their value.
One successful Illinois agent is doing just that; her market knowledge is paramount and sets her apart. "The buyers come in to a place like Barrington, Illinois, and have no real idea about the nuances of the different local flavors in the 90 square miles that comprise this one real estate market," she said. "The different neighborhoods, the traffic patterns, timing to get to the Metra, the street fairs, local shopping and more. This understanding of the area, combined with caring about your clients' goals, is critical to success as a buyer's agent."
Lack of inventory on the market is adding another layer of frustration for buyer's agents and their clients right now, so if you've got negotiation and market intel down to a T, it's all about perseverance. And what does perseverance look like when your buyer is losing hope?
A Michigan buyer's agent explains: "Perseverance means doing extra work to find a 'coming soon' property, door knocking in neighborhoods my clients are interested in, and calling on FSBOs [for sale by owners] to explain why they should offer a 3 percent buyer's agent commission.
"That can really go a long way when there's little inventory in the MLS. My clients seem to appreciate that."
A seasoned San Francisco Bay Area agent added: "When agents know you will get the deal done and contain the drama, they want to work with you. In multiple offers, that can be one of the factors that allows an agent to succeed on their clients' behalf."
Service on steroids: How to go above and beyond
Buyer's agents are going above and beyond every day for their clients, and the little things go a long way.
One agent just recently took hazardous waste — old paint, gasoline cans and propane tanks — to the county hazardous waste recycling event for a client. "I was going with my own stuff, but [this] made it easier for my client to get a clean property," he said.
Another agent who works predominately with buyers meets with building inspectors to get insights into the latest developments, speaks with the police to get updates on crime developments in person, makes appointments for parents to get to know the schools and, on top of that, provides clients with a lunch certificate at a restaurant in their chosen area of interest.
In another example of five-star customer service, a broker said she connects buyers with contractors and other service providers, previews homes for out-of-area buyers using detailed photos and videos, and has even allowed clients to stay at her house temporarily when needed. "My buyers are like family," she said.
It's important that buyers always know where the process stands and stay in the loop with consistent communication from their agent. From the beginning, be proactive with sharing potential listings that match their criteria, rather than leaving it up to the client to provide the listings.
In addition to the soft skills, agents must also exhibit the capacity for hard strategy. An agent should educate buyers, for example, about a common seller strategy right now to price low to generate as many bids as possible, which then escalates into much higher sales prices.
Buyer's agents should also follow their clients' lead in working according to a buyer's level of comfort with technology, communicating in their preferred method (phone, email, text message, etc.), and moving at a pace that's in line with their motivation.
Allow them to make mistakes they can learn from, and understand the big picture rather than simply focusing on the transaction at hand, suggests one agent who spends the majority of her time with buyers and has a very good track record.
An Illinois broker, who says up to two-thirds of her clients are buyers, describes her approach like so: "I like to think of being a buyer's agent much like the spokes on a wheel. You have to do some of everything in order to give the client the best experience.
"So, show them the houses they want to see, but also show them a few they may have overlooked. Give them names of people in your trusted group of advisers who will work alongside of you to advocate for them during the process of home inspections, attorney reviews, making repairs and getting
quotes.
"Help them create the vision for what they can do and follow up on their financing as they may not realize how important getting that clear to close on time can really be to keep the deal together, even later on in the game.
"Their excitement may not always allow them to think or see as clearly as you do," she added. "It is a lot like being a mother (which I am) and therefore you need to keep constant watch over them throughout the entire transaction."
And staying in touch after the closing is well worth the effort — be sure to circle back on whether they need any help adjusting to the home, neighborhood, skills or city.
"Sometimes just a friendly voice on the end of the line is reassuring when there is so much that has changed," said an agent in Texas.
The success stories that keep you going
We asked for anecdotes of agents' best success stories with buyers, and respondents revealed their sheer unwillingness to give up, extreme patience and savvy dedication to solving problems with creative workarounds.
A closing date to remember
An agent in California was working with a buyer who wouldn't believe he was ready to buy. "I saw him wasting money on rents year after year," the agent said. "I met with him and the tax man, the lender, the insurance company, his accountant, and set up a day of driving and showing homes.
"Five contracts later, he bought a home and to this day he sends me an anniversary card every year on his closing date," she said.
Bending over backward
An exclusive buyer's agent recently closed with a first-time buyer couple that had made five offers before getting into contract due to extreme competition. Each home attracted an average of 15 to 20 bids with cash offers winning out due to large appraisal gaps, so it took quite a few contortions.
"To get them their home, we offered $1,200 over any other offer, no repair request, paid the first $1,000 of the seller's closing costs, offered to rent the home back to the sellers and $6,100 was paid by the buyers toward the gap between the appraised price and purchase price." Phew.
The 7-year journey
How long is too long to be working with a buyer? A broker in Texas showed incredible tenacity working with a couple for seven years, but she was at her wit's end. The husband was an engineer and had vocalized issues with almost every home.
"They called me one day and asked to see a home in another county, and they were bringing a friend to see another home in the same area," she said. "I called the listing Realtor about the home their friend wanted to see. I felt I should ask the Realtor if she knew of a real special home that was coming up. She said she did have a special home she would be listing in about three weeks.
"I asked if I could show the home after I showed my customers another house. I was able to show the (special) property. The husband walked in and almost immediately said: 'I want to put a full price offer on this home. I don't want anyone else to even see it.'"
He walked right through that transaction without even a question. "What a relief and what a joy," said the broker.
Tugging at the developer's heartstrings
When your buyers miss out on their dream home, don't give up — an agent on a successful team was able to engineer a happy ending for her client even after it appeared all hope was lost.
"The buyer fell in love with a house but was outbid by a developer," she said. "Six months later they were still heartbroken over the loss. I called the developer and talked them into selling it to my buyer instead of flipping it."
Digging up the dirt
And let's not forget, buyer's agents should be advising against deals as much as making them happen in the course of their work.
A Michigan buyer's agent did some extra digging on a property by calling the township and looking up the past history of the home's well and water quality tests.
"I noticed the well had been moved several times over the years, and the level of nitrates was rising significantly over time," she said. "The home was also surrounded by several septic fields, and we found out the listing agent was lying. My clients were so thankful I saved them from a bad deal.
"Now they refer their friends and family to me often. It goes a long way when your client can see you are in it to help them, and not just in it for the commission."
'Please sign on the dotted line'
The trust and good working relationship between buyer's agents and their clients is something that, in many cases, must be earned. Getting buyers to sign a buyer-broker agreement — which stipulates the compensation a broker will earn and the length of contractual terms between broker and client — appears to be getting harder for agents, the survey found.
Close to a third of agents do not have their clients sign a buyer's agency agreement at the outset, preferring instead to show clients some homes first. And a number of agents are waiting to ask them to sign the agreement until around offer time.
An additional 20 percent of respondents said they only make buyers sign the agreement "sometimes." More than 20 percent said they often face resistance to making the relationship formal.
NAEBA shrugs its shoulders at this news. The organization said that having the buyer sign an agreement used to be a required step in its standards of practice, but now it is just a recommendation. Consumers don't like the pressure of signing up early on, said Kahl.
According to the executive director, agents were getting too much push back from buyers who didn't want to be "locked-in" with one agent.
NAEBA allows its exclusive buyer's agent brokers to make that decision themselves.
"If they are comfortable with a less formal relationship, that's OK. It's all about what the buyer wants," Kahl said.
Bernice Ross, a real estate trainer and coach, encourages agents to conduct extensive buyer interviews in order to get to know their clients right off the bat. This is an area where many surveyors admitted to falling short.
The extensive buyer interview should be comprised of about 22 questions, said Ross, and include queries such as:
How many family members will be living at the new house?
Are there any household pets?
Does anyone have any special needs?
Where do you spend most of your time while in the home?
Is the kitchen mainly for show or do you enjoy cooking?
Do you need additional bedrooms or a private office?
Room for improvement among buyer's agents
Consumers are perhaps wise to try out a few agents before they commit to one. While some buyer's agents may feel they are getting it right, plenty are not.
Respondents felt buyer's agents could improve their availability and attentiveness to client needs (20 percent), use of systems to keep clients informed step by step (17 percent), market knowledge (14 percent) and patience (11 percent).
Buyer's agents could also exhibit more competency in evaluating property and managing transactions, pay greater attention to detail while writing offers, finesse their agent-to-agent communication, more aptly guide clients to the
right lender and generally have a better understanding of the contract process.
And then there are the many mistakes that buyer's agents in the trenches have made and recovered from, only to come out stronger on the other side (and with sage advice in hand so others don't have to learn the hard way!) Here are just a few examples.
Never brush off the inspections
Failing to perform all the necessary inspections and tasks before closing was a common area in which buyer's agents talked about failing. An easy solution: Make a checklist of items that need to be addressed at the house and get reassurances in writing of what the seller plans to take and has agreed to leave.
"Having been in several escrows, my buyer was frustrated with having to pay for so many inspections," one agent shared. "In the home she finally purchased, she later discovered serious termite issues. I should have insisted."
Don't wait until the last minute
Another agent who works exclusively with buyers didn't check the repairs until right before closing, only to find that "everything had been done half-assed and not fixed by professionals," she said. "The buyers were extremely upset and refused to close that day. I learned that waiting until the last minute was the worst thing I could've done."
You can't be more motivated than the client
Pushing too hard on her clients to take action did this successful agent no favors: "They came to me thinking that they could not buy, but I made it happen. Once we started looking, every house they loved, I would get them under contract and they would pull back. I learned that I cannot be more motivated than my client; that even though I made it happen, they were not ready for it."
Keep your mouth shut when it counts
It also may be more beneficial to bite your tongue than to blab on about your opinions with clients: "I was talking about some dated features, and the buyers said they actually really liked them. I learned that it's never about me; it's always about asking what their impression is," said an agent and productivity coach.
Call before you book the showing
Do your homework before showing a client a home because it may not actually be available.
"I booked a showing appointment for a client but didn't call the listing agent ahead to find out if they had any offers on the property," said a seasoned Midwest agent. "My client decided he liked the home and wanted to place an offer, but by the time I submitted it, the seller had already accepted another offer.
"Now I call every single listing agent before I schedule the appointment to see if they have or are expecting any offers. If you find out there are other offers, you can move the appointment up and get your client in so they can compete."
The devil's in the details
A broker made an expensive mistake — he got the closing date wrong. And then he had to make up for it: "I paid for them to live in a hotel for a week till the closing date came up. I learned to double check the details carefully."
Be responsive, even after the sale
When a client gets angry, the worst thing you can do is turn away. An agent is still paying the price for doing that after a client got mad about something that went wrong in the house after the sale.
"I should have done whatever was needed to placate him," she said. "Even though I went above and beyond during the sale, he is now bashing me to his flock."
Are buyers demanding more than ever before?
Buyers can also be their own worst enemies, and having the internet at their fingertips doesn't make them any more skilled than past generations. If they are disorganized with their finances, unreasonable about what they c
an expect in their "dream" home or don't understand the market, they are automatically at a disadvantage and buyer's agents must level up to get them prepared.
Buyers have a way of doing "selective research," meaning they might see a property in a certain neighborhood selling at $150 per square foot and assume all other nearby homes will be the same. Experienced buyer's agents also say that today's buyers, especially millennials, can be very demanding
about what they require of a seller in terms of repairs.
"The move-up generation is paying for trades to do everything and therefore want the home in perfect
condition at every level — decorating, age of appliances, landscaping, updated kitchens and baths," said one senior broker.
A number of those surveyed remarked on their client's mistaken impression that if they went directly to the listing agent, they would get a better deal. And for all their ability to research the market, many homebuyers today still refuse to believe it is a seller's market, sa
id a number respondents.
"A lot of buyers seem to think they can still make lowball offers, which is definitely false in this market," commented one agent. "They are also under the impression that the process is significantly
faster than it actually is. Low inventory and multiple offers are increasing the time it takes to find a home and decreasing negotiating ability."
Love letters: Adding warmth to the cold transaction
Buyers can make a helpful contribution to their agent's efforts by writing a moving "love letter" to the seller in some cases. This is an increasingly popular approach by agents and their buyers in competitive multiple-offer markets, but do your homework first, warned respondents.
In our research, we found that more than half of respondents are advising buyers to send these letters to stand out, but the method is still controversial — over 43 percent of respondents don't use it.
Realtor Keryn Giguere understands the pressure of low inventory in her Tacoma, Washington, market but "questions the ethical validity" of love letters.
"Sure, for the heteronormative, cis pair with an adorable child and golden retriever this sounds like a wonderful tactic. But what if you are a gay couple? A single woman? What if you are a trans person trying to compete for the same house?" she wrote in a column for Inman.
Attorney Jon Goodman expressed related concerns at a National Association of Realtors conference, specifically for buyers of protected classes who submit photos with their letters, and how this strategy may cross into fair housing territory.
Agents might find safer grounds with letters that admire a home's historical significance and promise to keep up the landscaping — because the law doesn't prohibit discrimination against people who like history or gardening, Goodman explained.
"An effective love letter should be geared to address the needs of the seller, not the wants of the buyer," advised a broker who works with both sellers and buyers.
Chiming in with her perspective as a real estate trainer, Ross said she is a firm believer in the power of love letters. In fact, part of her training involves teaching agents how to properly leverage those letters to their buyers' advantage.
It's important to get in the minds of the sellers, Ross said; tug at their heartstrings, and let it be
known that you love their home as it stands. Articulate your connection with the home so the sellers feel as though they are leaving it in good hands.
As an example, Ross points out that some buyers might look at a home and see the potential it has to be something more; they want to tear down walls and create an open, contemporary floorplan.
Other buyers might love the house as is. They might be reminded of their grandmother's house — or some other nostalgic setting — and see themselves raising children in the place as it sits. A letter expressing the latter is more likely to win the home.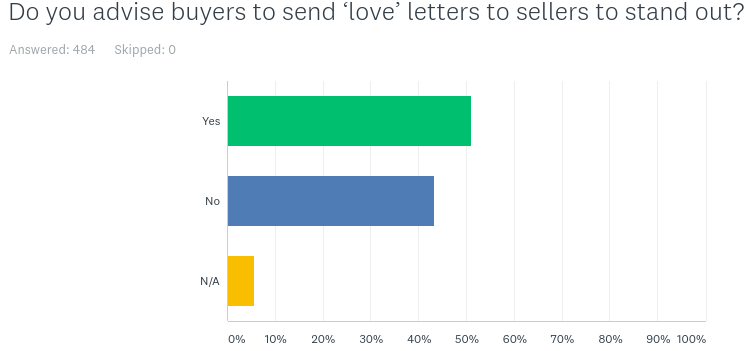 Ross says the right letter can inspire sellers to take thousands off the asking price. She has seen sellers knock off $30,000 because they liked what they read.
Those in favor of love letters caution that buyers should be strategic about it.
One agent advises her buyers to make some kind of connection to the seller if possible. After touring a family home owned by a teacher, her client took a targeted approach: "My client was also a teacher and wrote a letter saying that they loved the home and could see their children playing in the huge backyard for hours. She also shared that she hoped to stay home once she started having children, yet to continue educating children by offering childcare in the home and said the basement was perfect for playing/learning areas."
Another successful buyer's agent added: "I tell my buyers to compliment the seller's taste and feed their ego. And I also make sure that we end every letter with: 'We will do whatever it takes to make this transaction as effortless as possible for you.' Sellers like to hear that."
"These love letters bring the human side to the black-and-white documents that seem so cold and calculated and daunting to address when the parting of the ways can many times be with hesitation, reservation and a difficult step for many sellers," said an Illinois broker.
"I like to bring joy to the table right away in the hopes that the negotiations and other business matters in the transaction are more palatable to the sellers, and also it allows my buyers to attach themselves to the idea of being the next owner of the home," the broker added.
Other agents were not fans of the approach that's seen by some as "hokey." Money talks, the dissenters say.
As one respondent put it: "A well-written offer/contract is the best love letter of all."