Having a business plan will help you make more money, have less stress and enjoy life more. Eliminate digital time sucks, and you'll free up more time for your business.
Over time an agent earns honorary degrees in contracts, negotiation, counseling, patience and juggling — the art of keeping many things in the air at once.
Most people aren't natural jugglers — it takes years of practice. Any good jester will tell you, it's a lot easier when there are fewer balls to catch.
As an agent, reducing your task load means using a bit of magic in the form of hacks.
Below are three simple hacks that'll increase your productivity and decrease aggravating digital hassles.
1. Do your business plan in October
Agents without a written business plan seldom hit their lead generation goals, often lose past clients to other agents because they fail to stay in touch and miss family events because they're too busy.
This leads to increased stress and cortisol levels, which in turn, are highly correlated with serious illness including cancer and heart disease.
Completing your business plan in October allows you to start implementing it now and hit the ground running in 2018. Besides, trying to create your plan during the holidays is next to impossible.
Most agents believe that creating and following a business plan is hard. In truth, business planning can be quite simple. This multi-purpose, one-page business plan can be used for a monthly, weekly and/or daily plan.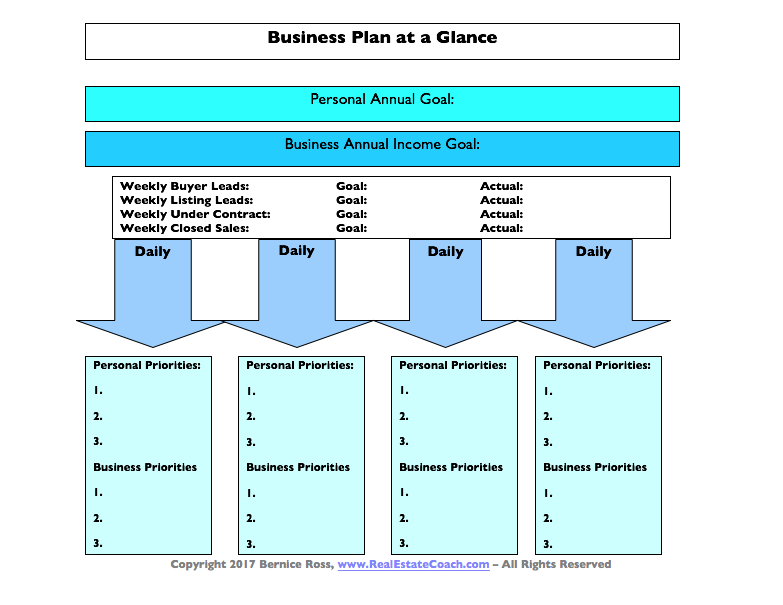 Here's the secret to making your business plan work: each day, write down the three business items you absolutely must complete and the three personal activities that are your greatest priorities.
If you complete all six of these each day, you'll find yourself being more productive, having less stress and feeling a lot happier and healthier.
Another important tip comes from Brian Tracy's book, Eat That Frog!: 21 Great Ways to Stop Procrastinating and Get More Done in Less Time.
Tracy recommends that you do the biggest, ugliest task (the "frog") of the day first to get it off your plate. Otherwise, that big old ugly frog will be croaking at you until you handle it.
2. Time to freeze your credit?
How much time have you spent in the past year worrying about identity theft or dealing with phishing scams, viruses and worms?
The latest breach at Equifax shows that your data is probably vulnerable no matter where you put it. Although Equifax has provided a solution to its problem, there are some phishing scams that mimic Equifax's legitimate communication.
A simple solution to this mess is to freeze your credit.
This gives you a relatively high degree of protection against credit scams, though it doesn't prevent tax refund fraud or education loan fraud.
Please be aware that the credit bureaus may try to persuade you to use their products by explaining what they provide is "better than a security freeze."
The real reason? Their tools allow them to continue to sell your data to third parties. A credit freeze prevents them from doing so.
The fees to freeze your credit typically run $5 – $10 per credit bureau. Click here to determine the cost in your state.
To place a security freeze on your accounts, call the four major credit bureaus, and use the automated prompts listed below. Due to the Equifax breach, its websites are experiencing crashes and delays due to the heavy amount of traffic. Consequently, calling is the best approach for now.
Equifax: 866-349-5191
Choose option 3 for a security freeze.
Experian: 888-397-3742
Press 2: To learn about fraud or add a security freeze.
Press 2: For security freeze options.
Press 1: To place a security freeze.
Enter your information when prompted.
Innovis: 800-540-2505;
Press 1: For English.
Press 3: To place or manage an active duty alert or a security freeze.
Press 2: To place or manage a security freeze.
Enter your info when prompted.
Transunion: 888-909-8872
Choose option 3.
Please note that when you call these numbers, you may have to navigate through several sets of prompts before you get to the options described above.
Caveat: If you are about to buy a car, a house or engage in any other activity that will require you to obtain new credit in the next few months, hold off on doing the freeze until that activity is complete.
3. Speed up your computer
Here are some simple steps to take to spend less time at your computer due to slow load speeds, annoying pop-ups and ads.
Test your internet speed: Use Ookla, XFINITY or the speed test provided by your cable or internet provider. If the speeds are too slow, contact your ISP. If you're paying for high-speed internet, make sure you're getting it.
Use GetAdBlock to speed up your browsing time exponentially: To give you an idea of how many ads this service can block, I clicked on an article from StumbleUpon. As you can see from the screen shot below, GetAdBlock blocked a whopping 217 ads associated with this site. The service is free.

Use different browsers: Earlier this year, I picked up a "browser highjacker" on my Mac that kept me from using Chrome or Safari and forced me to use its browser that was jam-packed with especially annoying ad content. Fortunately, it didn't impact Firefox, and I was able locate how to remove the highjacker software from my system.
Get anitvirus protection: After the browser highjacking, I decided my Mac needed antivirus protection. If you aren't using a system, order one now. I researched the various options and purchased TotalAV (the top ranked), which makes removing all those cookies, malware, worms and virus threats simple. Click here to see a ranking for the top 10 best antivirus systems for 2017.
The bottom line is that having a business plan will help you to make more money, have less stress and enjoy life more.
Reducing the risks from credit card scams, identity theft, worms, viruses and browser highjackers, frees you up to spend more time on your business as well as create an opportunity to take time off as well.
Bernice Ross, CEO of RealEstateCoach.com, is a national speaker, author and trainer with over 1,000 published articles and two best-selling real estate books. Learn about her training programs at www.RealEstateCoach.com/AgentTrainingand www.RealEstateCoach.com/newagent.