A Las Vegas-based MLS will shut off its listing feed to realtor.com on Dec. 18, citing a failure to come to terms with the News Corp.-owned website.
The Greater Las Vegas Association of Realtors will shut off a listing feed to realtor.com next month after negotiations between the trade group and realtor.com operator Move Inc. fell apart, according to a notice sent out to GLVAR's 14,000-plus members Thursday.
GLVAR President David Tina wrote in the message:
"For more than a year, GLVAR has been negotiating with realtor.com and its owner, Move, Inc. in good faith in hopes of forging an agreement that meets the needs of our members. In fact, we've worked tirelessly to try to come to an agreement. Unfortunately, they would not agree to meet the same terms and data security requirements that GLVAR requires from all such vendors. In the end, we listened to our members, who have told us repeatedly that GLVAR's MLS data must be protected so it can't be misused by others."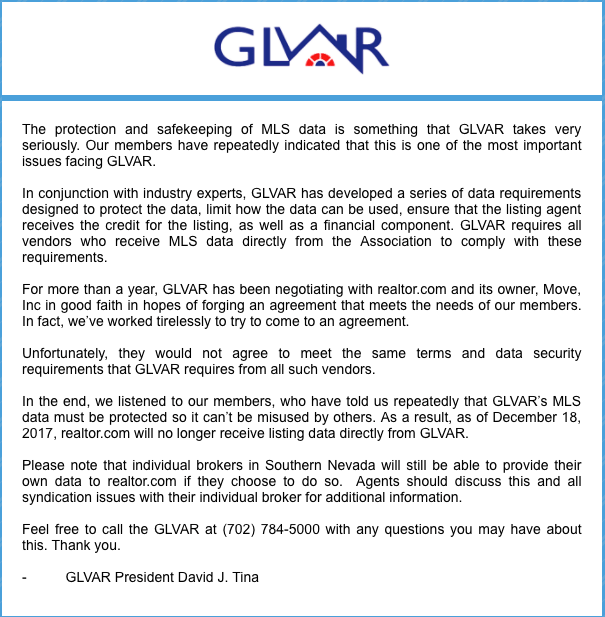 In the notice, GLVAR said that along with industry experts, it had developed data requirements that were "designed to protect the data, limit how the data can be used, ensure that the listing agent receives the credit for the listing, as well as a financial component."
Realtor.com will no longer receive listing data directly from GLVAR as of Dec. 18, though brokers can continue to provide their own data to realtor.com on a individual basis, Tina said.
GLVAR, through its general counsel, declined to comment on GLVAR's history with realtor.com, the specific terms and data requirements GLVAR was asking for, which industry experts helped develop the terms, which other third-party sites complied with those terms, and what type of misuse the trade group was trying to avoid.
Move, a News Corp. subsidiary, also declined to comment on specific MLS negotiations, but said realtor.com takes the protection of MLS data "very seriously."
"[W]e disagree with GLVAR's assertion that we were not agreeable to its data security requirements," Christie Farrell, a Move spokesperson, told Inman via email. "For more than 20 years, we have built a reputation for upholding the most stringent data integrity standards in the industry and there is nothing more sacred than the information our customers trust us with."
Farrell highlighted the listing exposure value that realtor.com offers Las Vegas real estate professionals and consumers and said that the company planned to approach local brokers with a solution involving ListHub, Move's listing syndication tool.
Moreover, Farrell said, realtor.com is a "strong and committed partner" to the real estate industry.
"We invest dollars, time and resources to ensure that Realtors remain at the center of the transaction at a time when many others are looking to disintermediate and de-emphasize their role," she said.
Farrell cited a number of offerings realtor.com does not allow on its site that its chief rival, Zillow, does, including the ability to post for-sale-by-owner listings and set "Make Me Move" prices on homes, home value estimates on active listings that are already priced by an agent, and Zillow Group's iBuyer marketplace — Zillow Instant Offers — that lets consumers cut Realtors out of the transaction. (Zillow has maintained that it encourages Instant Offers customers to work with an agent).
Neither Move nor GLVAR would disclose how many listings GLVAR is currently sending realtor.com or whether the trade group's data cut-off will include other types of listing data besides active, for-sale listings.
Move offered these stats for the Las Vegas real estate market:
Over the past 12 months, realtor.com generated an average of nearly five million detail page views on Las Vegas listings each month.
Each month sees 25,000 consumer views on agent profile pages on realtor.com.
Nearly 40 percent of consumers in Las Vegas visit realtor.com exclusively when searching for homes and Realtors, the company estimates.
In the past, similar moves to cut off listing data to third-party websites have elicited varying responses from those in the real estate industry.
Those in favor of such moves generally decry third-party sites for selling advertising to competing agents that appears on other agents' listings, allowing those competing agents to receive leads that some listing agents feel should go only to them. The accuracy of listing data on such sites is also often a concern.
Those that oppose such data cut-offs say they're anti-consumer because they limit the exposure of seller's listings and limit the information that potential homebuyers have about the affected market. GLVAR declined to comment on the effect its decision would have on consumers.