News Corp., the global company that owns and operates realtor.com through its subsidiary, Move Inc., reported $2.06 billion in revenue for the first quarter of fiscal year 2018, up from $1.97 billion the year prior, and net income of $87 million compared to nil in first quarter 2017. The digital real estate services segment of the business was "once again" the biggest contributor to the mass media company's profitability, according to News Corp CEO Robert Thomson.
"In the first quarter, revenues and Segment EBITDA increased across every segment of our business, in particular, in digital real estate services, which have become core to our character and are on track for significant growth in coming quarters," said Thomson in the earnings announcement.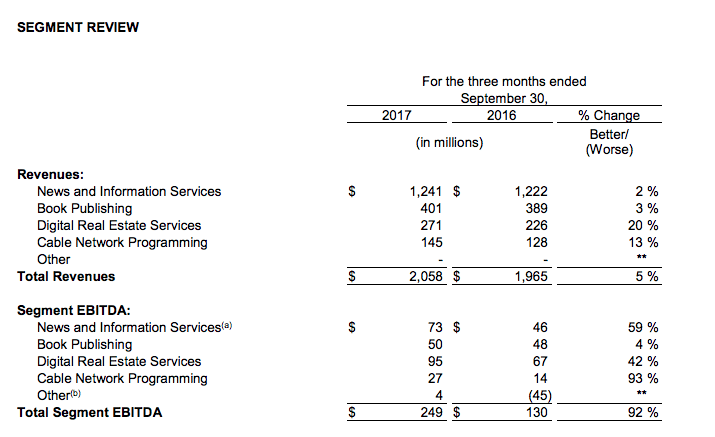 Overall EBITDA (earnings before interest, taxes, depreciation and amortization) for News Corp's digital real estate services, which include realtor.com operator Move Inc. and Australia-based REA Group, was up 42 percent in the first quarter with 20 percent revenue growth year over year.
Move revenues rose to $107 million, a 15 percent year over year increase, offset by a $3 million revenue decline attributed to the sale of TigerLead last November, when News Corp decided to "focus on the core leads and listing space business," Thomson said.
Core real estate revenues at realtor.com grew 21 percent as the U.S. housing market continues to gradually recover from the recession. Average monthly unique users to realtor.com's web and mobile sites for the fiscal fourth quarter clocked in at over 55 million, with over half of users visiting from a mobile device.
In the earnings conference call, Thomson also snidely alluded to the drama that went down earlier this year between Zillow's StreetEasy and brokers in New York.
"We are also increasing our focus on New York City, where realtor.com is developing its services, brand, and reputation, taking advantage of the conflict between a lesser competitor and real estate companies, agents and brokers who have wearied of its arrogance and impetuosity — and who rightly fear its long-term ambition to disintermediate agents and brokers," Thomson said.
In a power struggle over New York listings, in July, Zillow — the competitor that Thomson refers to — rejected the Real Estate Board of New York's (REBNY) single, centralized syndication feed, the Residential Listing Service (RLS), REBNY's own version of the MLS. In its reason for doing so, Zillow cited RLS content licensing terms that would "degrade and limit the consumer experience."
A month later, realtor.com announced that it would be the first national portal to receive a direct syndicated feed from REBNY, which includes the residential for-sale and rental listings from more than 600 leading New York City residential brokerage firms, highlighting the rivalry.