We'll add more market news briefs throughout the day. Check back to read the latest.
Most recent market news
Thursday, January 11
Freddie Mac Primary Mortgage Market Survey
30-year fixed-rate mortgage (FRM) averaged 3.99 percent with an average 0.5 point for the week ending January 11, 2018, up from last week when it averaged 3.95 percent. A year ago at this time, the 30-year FRM averaged 4.12 percent.
15-year FRM this week averaged 3.44 percent with an average 0.5 point, up from last week when it averaged 3.38 percent. A year ago at this time, the 15-year FRM averaged 3.37 percent.
5-year Treasury-indexed hybrid adjustable-rate mortgage (ARM) averaged 3.46 percent this week with an average 0.4 point, up from last week when it averaged 3.45 percent. A year ago at this time, the 5-year ARM averaged 3.23 percent.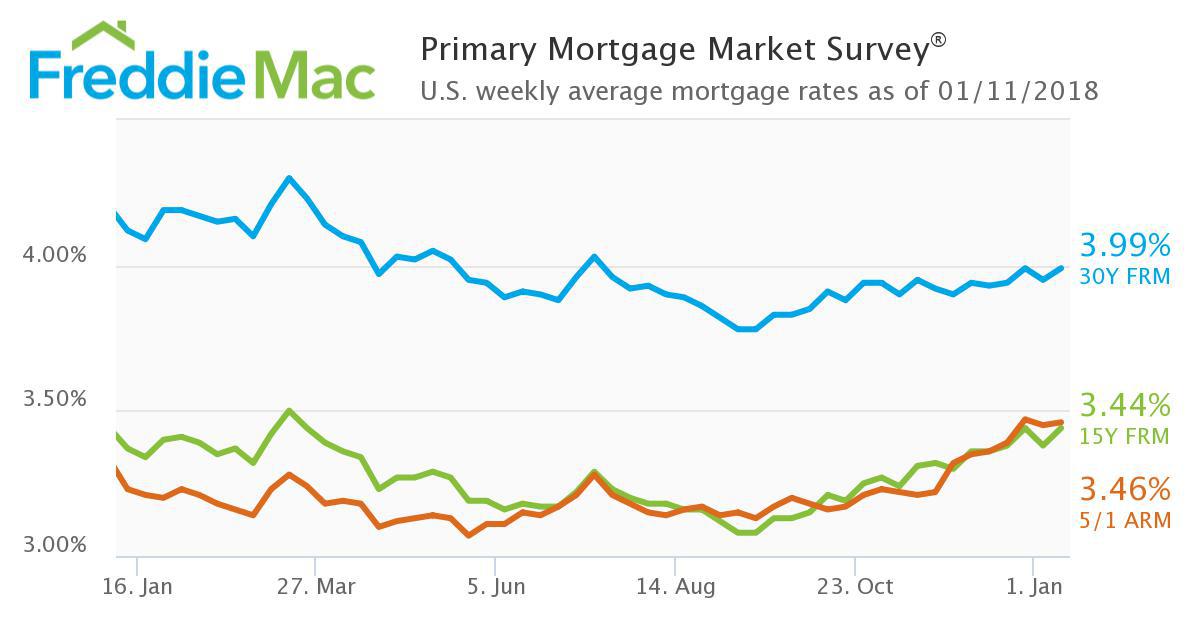 "After dipping slightly last week, Treasury yields surged this week amidst sell-offs in the bond market," said Len Kiefer, deputy chief economist. "The 10-year Treasury yield, for instance, reached its highest point since March of last year.
"Mortgage rates followed Treasury yields and ticked up modestly across the board. The 30-year fixed-rate mortgage averaged 3.99 percent, up 4 basis points from a week ago."
Mortgage Bankers Association (MBA) Builder Applications Survey (BAS)
Mortgage applications for new home purchases increased 7.8 percent compared to December 2016.
Compared to November 2017, applications decreased by 18 percent relative to the previous month. This change does not include any adjustment for typical seasonal patterns.
Conventional loans composed 72.5 percent of loan applications, FHA loans composed 15.1 percent, RHS/USDA loans composed 2.3 percent and VA loans composed 10.1 percent.
The average loan size of new homes increased from $337,427 in November to $339,203 in December.
The MBA estimates new single-family home sales were running at a seasonally adjusted annual rate of 554,000 units in December 2017, based on data from the BAS.
The new home sales estimate is derived using mortgage application information from the BAS, as well as assumptions regarding market coverage and other factors.
The seasonally adjusted estimate for December is a decrease of 16.4 percent from the November pace of 663,000 units.
On an unadjusted basis, the MBA estimates that there were 40,000 new home sales in December 2017, a decrease of 14.9 percent from 47,000 new home sales in November.
"After playing catch-up for 2 months following the slowdown caused by hurricanes Harvey, Irma and Maria, mortgage applications for new homes declined in December to a more normal growth rate of 7.8% on a year over year basis," said Lynn Fisher, MBA Vice President of Research and Economics.
"Looking at all of 2017, applications increased by 7.1 percent compared to 2016. Based on December applications, we forecast that new home sales fell in December but remained nearly 16 percent higher than a year ago, and we are anticipating only modest year over year growth for new home sales in 2018. Despite robust demand, a lack of labor and land will continue to constrain homebuilders."
Wednesday, January 10
The 30-year fixed mortgage rate on Zillow Mortgages is currently 3.88 percent, up twelve basis points from this time last week.
The 30-year fixed mortgage rate stayed around 3.76 percent for most of the last week, and has climbed steadily since Monday.
The rate for a 15-year fixed home loan is currently 3.29 percent, and the rate for a 5-1 adjustable-rate mortgage (ARM) is 3.40 percent. The rate for a jumbo 30-year fixed loan is 4.04 percent.
"Mortgage rates moved decisively higher this week as markets returned from the holiday season with vengeance, touching their highest levels since July," said Aaron Terrazas, senior economist at Zillow.
"Mortgage rates are still lower than they were a year ago, but the momentum is clearly on an upward trend, as markets grapple with a growing consensus that the American economy is at full capacity, softer international demand for US debt, and larger fiscal deficits on the horizon.
"Inflation and consumer spending data due this week could reinforce the narrative of a strong U.S. economy, particularly if December retail sales are in line with or above expectations."
Email market reports to press@inman.com.