Existing-home sales decreased 3.2 percent to a seasonally adjusted annual rate (SAAR) of 5.38 million in January — dipping from a downwardly revised 5.56 in December 2017, the National Association of Realtors (NAR) reported today.
This month's sales pace is 4.8 percent below January 2017 and is the largest annual decline since August 2014 (5.5 percent) and the slowest pace since September 2017 (5.37 million)
Low inventory is holding the market back once again
The median existing-home price for all housing types rose 5.8 percent to $240,500, making January the 71st month in a row to see year-over-year gains.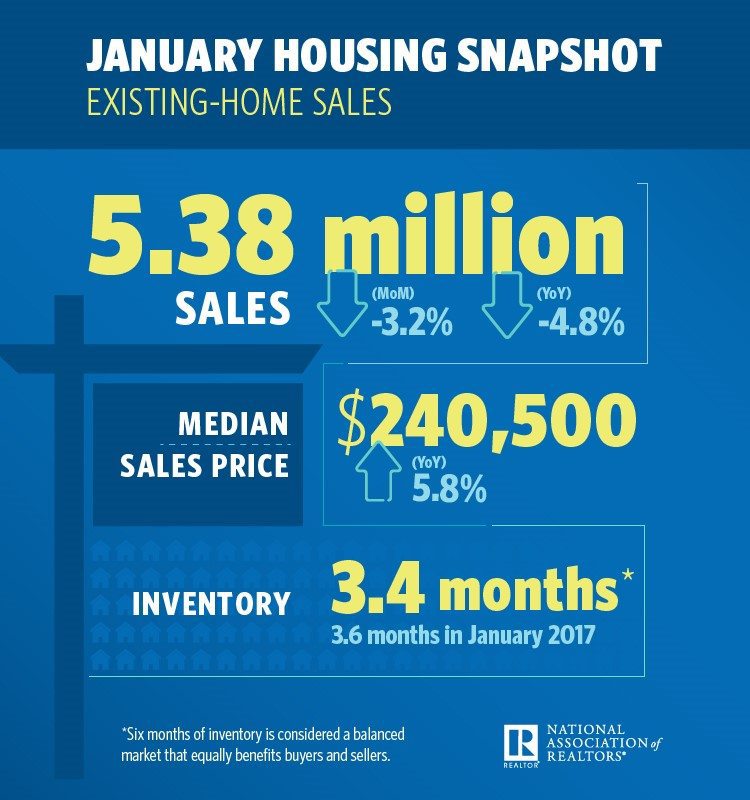 At the end of January, total housing inventory rose 4.1 percentage points month-over-month to 1.52 million homes for sale, while year-over-year inventory dropped 9.5 percentage points. It was the 32nd consecutive month of year-over-year declines.
Unsold inventory is at a 3.4-month supply.
NAR chief economist Lawrence Yun says dangerously low supply is hampering the sales pace once again, although buyer demand remains robust in the face of rising wages and an overall healthy economy.
"The utter lack of sufficient housing supply and its influence on higher home prices muted overall sales activity in much of the U.S. last month," said Yun in a statement. "While the good news is that Realtors in most areas are saying buyer traffic is even stronger than the beginning of last year, sales failed to follow course and far lagged last January's pace."
"It's very clear that too many markets right now are becoming less affordable and desperately need more new listings to calm the speedy price growth," he added.
While existing-home sales are struggling right now, Yun says there's a silver lining — healthy new residential construction starts.
"Another month of solid price gains underlines this ongoing trend of strong demand and weak supply," finished Yun. "The underproduction of single-family homes over the last decade has played a predominant role in the current inventory crisis that is weighing on affordability."
"However, there's hope that the tide is finally turning. There was a nice jump in new home construction in January and homebuilder confidence is high," he added. "These two factors will hopefully lay the foundation for the building industry to meaningfully ramp up production as this year progresses."
Keller Williams economist Ruben Gonzalez says if inventory doesn't begin to pick up, buyers should be ready to grapple with even quicker home price growth in addition to higher mortgage rates.
"Strong demand generated by several years of economic growth continues to drive prices higher, and if inventory remains sluggish to come onto the market, we could see price growth accelerate," he said in an emailed statement. "The recent upward trend in rates may urge some buyers to accelerate their timelines in an effort to lock in lower rates, but we likely won't see evidence of this until February or March sales data are released."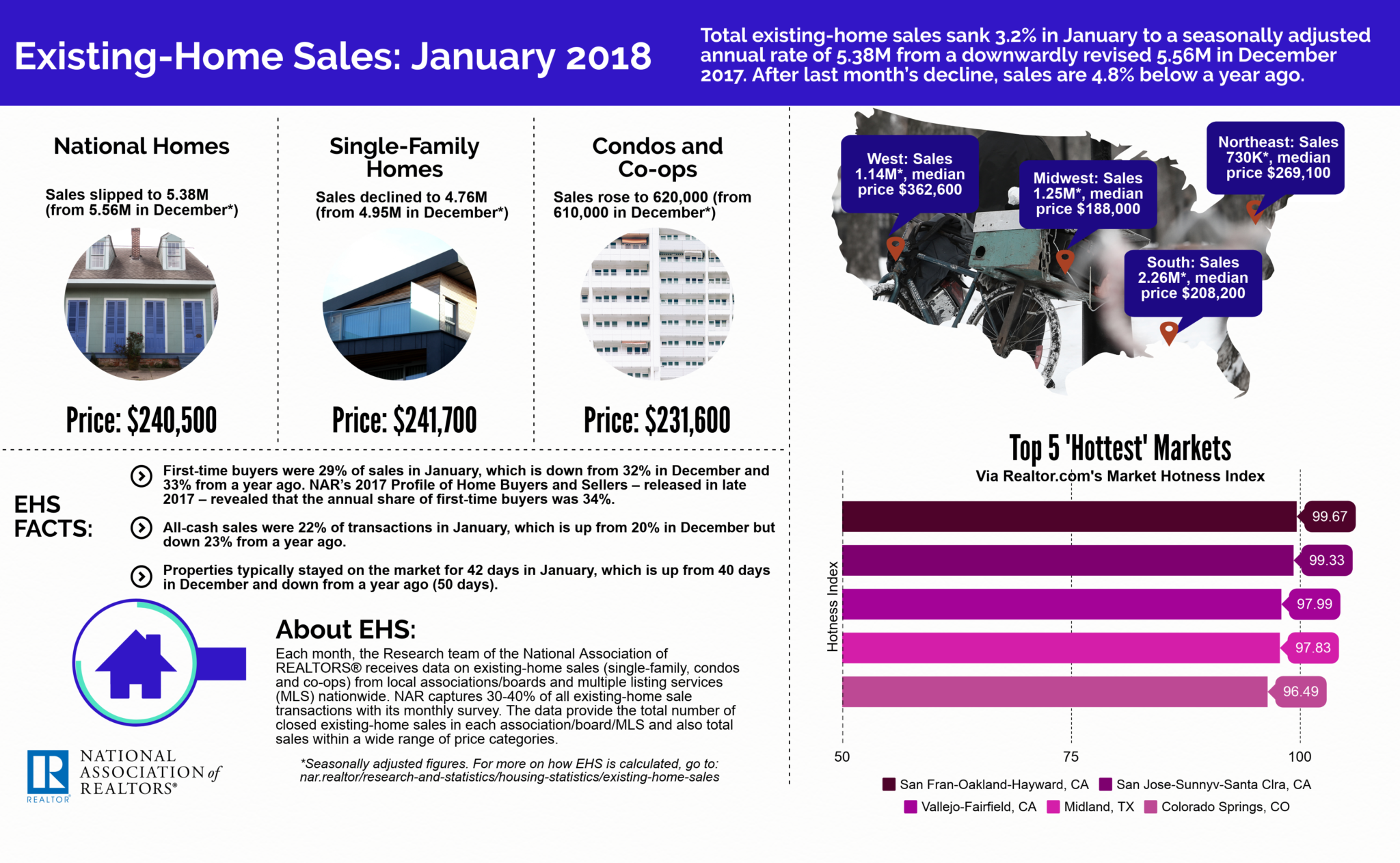 Distressed sales, which include foreclosures and short sales, were at 5 percent — unchanged from last month and down 2 percentage points from a year ago. Four percent of January sales were foreclosures, and 1 percent were short sales.
Single-family home sales were at a SAAR of 4.76 million — a 3.8 percentage point month-over-month and a 4.8 percentage point year-over-year decrease. The sales price for single-family homes increased by 5.7 percentage points to $241,700.
Existing condominium and co-op sales increased 1.6 percentage points to a SAAR of 620,000 units, 4.6 percentage points below a year ago. The median existing condo price in January was $231,600 — up 7.1 percentage points from 2017.
How did buying patterns vary across the country?
Here's the regional breakdown, straight from NAR:
"January existing-home sales in the Northeast declined 1.4 percent to an annual rate of 730,000, and are now 7.6 percent below a year ago. The median price in the Northeast was $269,100, which is 6.8 percent above January 2017.
In the Midwest, existing-home sales dipped 6.0 percent to an annual rate of 1.25 million in January, and are now 3.8 percent below a year ago. The median price in the Midwest was $188,000, up 8.7 percent from a year ago.
Existing-home sales in the South decreased 1.3 percent to an annual rate of 2.26 million in January, and are 1.7 percent lower than a year ago. The median price in the South was $208,200, up 4.3 percent from a year ago.
Existing-home sales in the West fell 5.0 percent to an annual rate of 1.14 million in January, and are now 9.5 percent below a year ago. The median price in the West was $362,600, up 8.8 percent from January 2017." 
NAR's existing-home sales are based on transaction closings from multiple listing services (MLSs) and include single-family homes, townhomes, condominiums and co-ops. Seasonally adjusted annual rates are used in reporting monthly data to help accommodate for seasonal variation; the annual rate for any given month represents what the total number of actual sales for a year would be if the pace for that month were maintained for a whole year.