Sidewalk Labs, a division of Google's parent company Alphabet, has offered eye-popping portraits of its forthcoming project to transform and revitalize an expanse of unused dockland near downtown Toronto, Canada, which it aims to turn into the site of Google's Canadian headquarters and one of the world's first operational "smart cities."
Called Quayside, the project would span 12 acres and be part of a larger 800-acre redevelopment, ArchDaily reports. Sidewalk Labs and the City of Toronto reportedly hope to break ground on the project in 2020, with Sidewalk footing $50 million of initial development costs, according to Fast Company.
Sidewalk Labs describes the project as a place that could serve as a "beacon" of urban innovation to others.
Renderings released by Sidewalk Labs this week feature sustainable buildings made of Canadian timber, along with ample amenities and shape-shifting public spaces. Sidewalk would take a "manufactured approach to buildings" that could reduce cost and the speed of construction, according to a report recently presented to Toronto residents.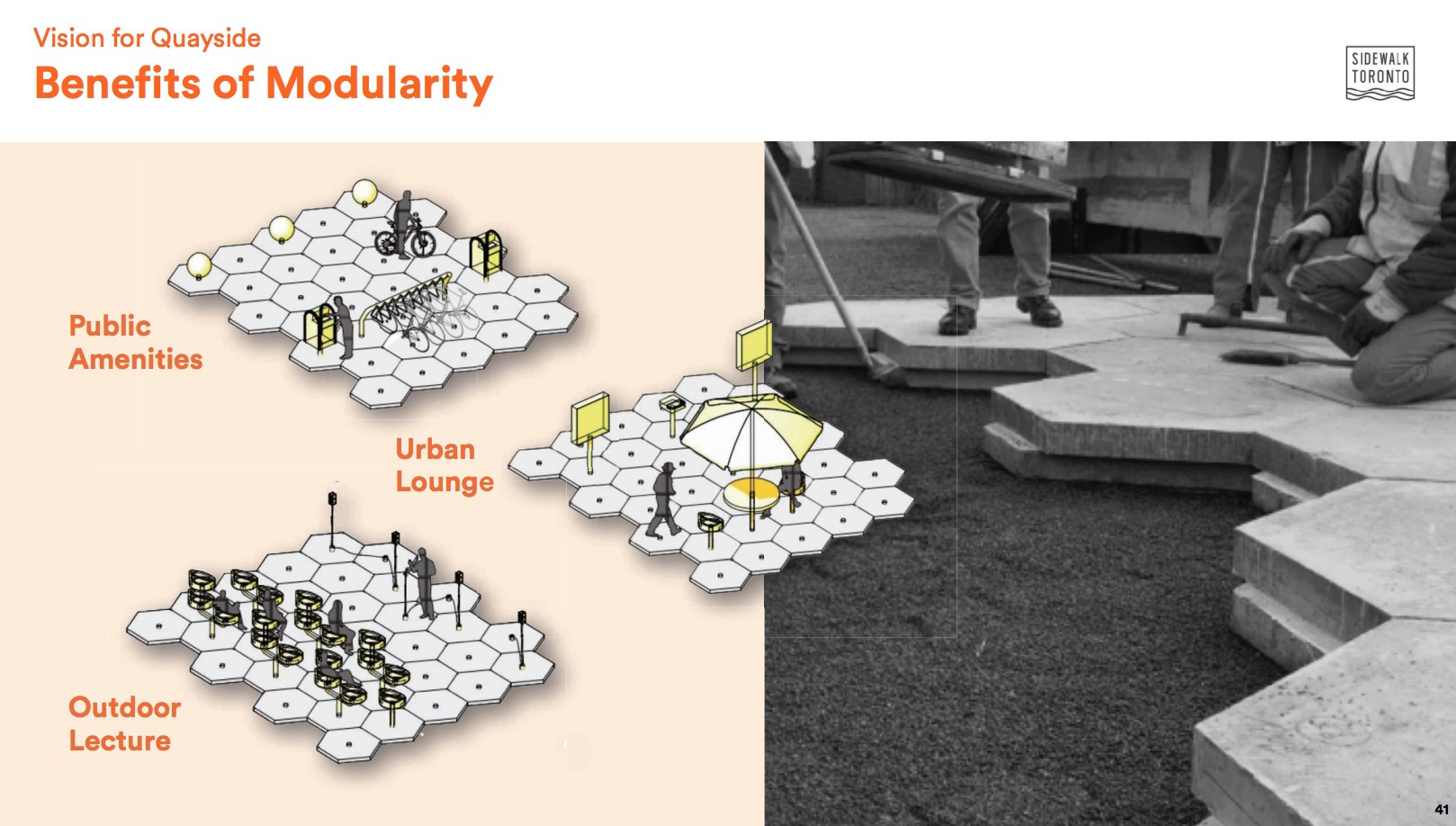 The images provide more catnip for techies who eagerly await the arrival of smart cities, coming after word of funding from Bill Gates for the development of a smart city on the outskirts of Phoenix — a plan applauded by some real estate agents.
Sketches show streets paved with smart concrete tiles that are easier to maintain and can adjust depending on the season, such as by melting snow. LED lights would "signal changes in road use throughout the day," according to the report.
Ninety percent of a planned 3 million square feet of development would be residential. And housing would purportedly exceed affordability requirements. Google also plans to move its Canadian headquarters to the project
Sidewalk Labs says on its website that new construction methods and flexible designs can "enable radical mixed-use walkable neighborhoods" that reduce the cost of real estate.
In Quayside, weather analysis could help to optimize indoor and outdoor spaces, while the ground floors of buildings — modeled after ancient Greek walkways — could be reconfigured for different uses.
"Moveable walls, fast floor installations, and flexible wall panels make it easy for new retailers or community organizations to activate the space," the report said.
The project has raised some privacy concerns, as the development would draw on data from sensors and cameras for purposes such as tracking traffic and user behavior, according to Fast Company. Sidewalk said it's using privacy standards laid out by Ontario's privacy commissioner.