The American Civil Liberties Union on Monday announced a victory in a three-year discrimination suit against A Country Place, a New Jersey condominium community for seniors that enforced a policy that limited tenants' pool usage based on their gender.
A Country Place Condo residents Diana and Steve Lusardi and Marie Curto filed a complaint against the Association in June 2018 for its policy that limited men and women's usage of the pool to 32.5 and 33.5 hours per week, respectively.
A copy of the swim schedule revealed that women's swim hours were primarily during business hours, while men's swim hours were primarily during the evening. The only time both genders were able to use the pool was on Saturdays and 1 to 3 p.m. Sunday through Friday.
"We just won our case challenging a condo association's rule that segregated women and men in the pool, even spouses," tweeted the ACLU. "The policy restricted women almost exclusively to daytime business hours, while men disproportionately had evenings."
"The condo association argued their policy was fair to our clients because it allowed equal hours to men and women, but policies relating on gender stereotypes — such as assuming women are free during traditional business hours — will never be fair."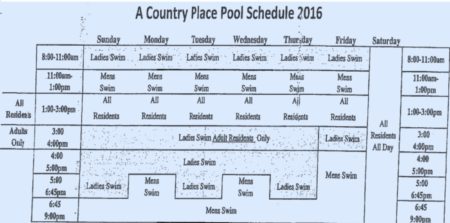 According to court documents, the A Country Place's Orthodox Jewish owners first enacted the gender-specific pool policy in 2011, in response to the growing number of Orthodox Jewish tenants who adhered to strict rules regarding modesty. But, ACP never added the new pool policy in its community rules and regulations packet, which was last updated in Sept. 2008.
"[The Board] started instituting special hours," explained ACP board trustee and treasurer Fayge Engleman in a deposition. "And as the years went along, as the orthodox population increased, we amended the hours."
Over the following five years the pool hours became more segregated and despite complaints from residents, ACP decided to maintain the policy and begin issuing fines for residents who broke the rule.
In June 2016, Curto was reported for swimming during men's hours, and during a subsequent Board meeting about the incident, Mr. Lusardi asked ACP to amend their rules because the Fair Housing Act prohibits gender discrimination. He also noted that he purchased a condo at ACP because of the pool, which was part of his wife's post-stroke rehabilitation plan.
ACP's board said they wouldn't change the policy, and in the following weeks Curto and Mr. Lusardi both swam outside of their designated hours. Each received a $50 fine and Lusardi received a letter saying he was being "inconsiderate of the majority and wish[ing] for minority rule," after he complained about the fine, which wasn't listed in ACP's policy.
By August, ACP listed an updated pool policy in the community's newsletter, which outlined  escalating fines of $50, $100, and $250 for each offense.
The United States District Court of New Jersey originally ruled in favor of ACP, Third Circuit ruled in favor of Curto and the ACLU after an appeals hearing last month.
The ACLU argued that ACP's pool policy violated the Fair Housing Act, which was amended in 1974 to make discrimination based on sex illegal. Furthermore, the ACLU said ACP wasn't exempt from following FHA guidance because it's not classified as a religious organization under the FHA.
The ACLU specifically pointed to sections 3604(b) and 3604(c) of the FHA, which makes housing discrimination based on a protected class illegal, and bans housing authorities, such as ACP, from making a policy that favors one tenant over another based on their race, color, religion, sex, handicap, familial status or national origin.
"To the same end, the FHA takes aim at discrimination in many shapes. At least two are relevant to this case," the ACLU argued. "First, section 3604(b) makes it unlawful to "discriminate against any person in the terms, conditions, or privileges of sale or rental of a dwelling, or in the provision of services or facilities in connection therewith, because of race, color, religion, sex, familial status, or national origin."
"Second, under section 3604(c), it is unlawful to "make, print, or publish . . . any notice, statement, or advertisement, with respect to the sale or rental of a dwelling that indicates any preference, limitation, or discrimination based on race, color, religion, sex, handicap, familial status, or national origin . . . ," the ACLU added.
"Today's ruling is a victory for gender equality," said ACLU senior staff attorney for the Women's Right Project of the American Civil Liberties Union Sandra Park in a prepared statement. "The association's pool policy not only impermissibly segregated swimming time by gender but it doubled down on that discrimination by allotting swimming hours based on stereotypes about the roles men and women play in the home and the workplace."
"This type of discrimination has no place in housing or anywhere else."