National starter home inventory fell 10.7 percent, trade-up homes dipped 9.2 percent and premium homes fell 3.6 percent annually in the third quarter of 2016.
Florida metros Cape Coral-Fort Myers and Miami came in the top two spots for annual increasing inventory rates, at 36.7 percent and 33.1 percent, respectively.
Florida and California each had five cities each on the list of major metros that saw annual inventory increases in Q3 2016.
Low inventory rates have been putting a damper on the housing market throughout the nation, and these rates continue to drop nationally in the third quarter of 2016, according to a new report.
Trulia recently released its Inventory and Price Watch trend report, finding inventory rates have dropped for the fifth straight quarter to near-record lows.
The downward trend is the longest such streak since 2012, the report says, and starter homes and trade-up homes are seeing the biggest overall impact. And while starter home and trade-up home inventory dipped 10.7 percentage points and 9.2 percentage points annually in Q3 2016, premium home inventory dipped 3.6 percentage points in the same time frame, also.
In the third quarter of 2015, overall inventory was 1,345,634 — of which 23.4 percent were starter homes, 24.9 percent were trade-up homes and 51.7 percent were premium homes. Today, that inventory sits at a total of 1,254,606, Trulia says, comprised of 23 percent starter homes, 24 percent trade-up homes and 52.9 percent premium homes.
According to the report, homes are becoming more expensive for homebuyers, but incomes aren't growing at the same rate. Trulia reports buyers needed 38.5 percent of their income on average to buy a home in 2016 compared with 36.8 percent last year. Percentage of income needed for a home increased from 24.6 percent to 25.5 percent for trade-up homes and from 13.3 percent to 13.9 percent for premium homes.
Of the 100 largest markets throughout the nation, only 21 had reported increases in inventory on an annual basis in the third quarter of 2016.
The largest annual gain was seen in southwest Florida's Cape Coral-Fort Myers, which saw an uptick of 36.7 percentage points in total inventory to 6,825. Miami ranked in the no. 2 spot, with a 33.1 percentage point inventory increase, bringing the total Q3 housing stock to 14,928 units. North Port-Sarasota-Bradenton ranked no. 5, seeing a 23.4 percentage point rise in inventory, while West Palm Beach (no. 8) and Fort Lauderdale (no. 9) saw respective increases of 17.8 percentage points and 15.9 percentage points.
California also made a big appearance on the list, with five cities witnessing an inventory in the third quarter. San Francisco (no. 7) saw a 19.3 percentage point uptick to bring the total number of housing units to 1,269 in the third quarter.
The City by the Bay saw the highest increase of premium homes (40 percent), while the starter home inventory only increased 14 percentage points and trade-up home inventory dipped 2.8 percentage points annually. San Jose saw an 8.7 percentage point increase year-over-year in overall inventory
Houston was one of two Texas cities to make the list, with a 5.1 percentage point change in inventory in the third quarter of the year. Today, the metro has an inventory of 24,248, which was the largest total inventory of metros that saw increases. San Antonio saw a slight annual increase from 7,549 to 7580 — a 0.4 percentage point rise.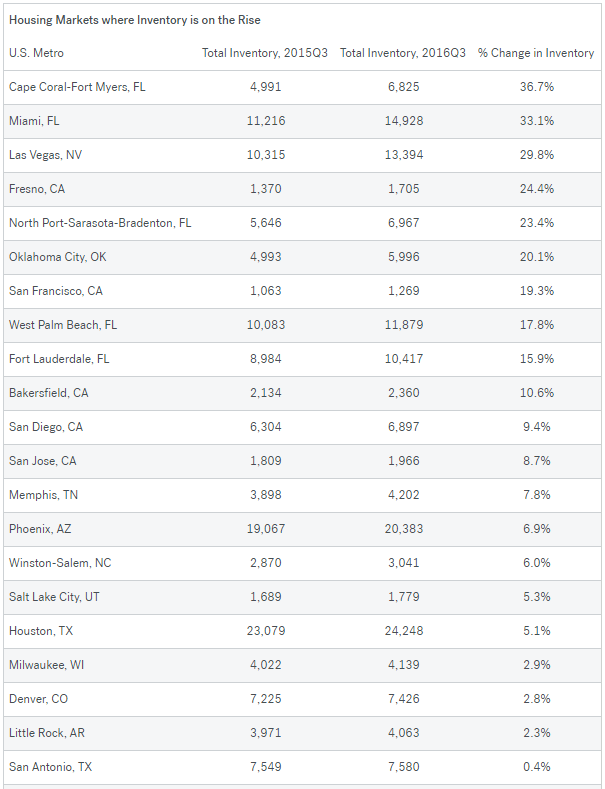 In Los Angeles, the total inventory of homes dipped 12.2 percentage points year-over-year to a total 11,236 housing units. All categories saw falling trends: premium homes fell 3.7 percentage points, trade-up homes fell 15.7 percentage points and starter homes dropped 24.9 percentage points. Premium homes saw the biggest jump in prices, at 11.7 percentage points.
In Chicago, the total inventory of homes decreased 1.2 percent year-over-year in the third quarter. The biggest dip was a 6 percentage point drop in starter homes, followed by a 3.1 percentage point decrease in trade-up homes. However, premium home inventory increased 2.7 percentage points.
The annual drop in starter home inventory was even more significant in Washington D.C., where that sector of the inventory dropped 7.1 percentage points. Trade-up home inventory fell 3.3 percentage points in the same time, and premium homes fell 0.9 percentage points. The total amount of inventory in the nation's capital fell 3.5 percentage points, with a total count of 11,923.
An even bigger drop in starter homes was reported in New York City, at 24.9 percentage points. The nation's biggest city saw an annual dip in overall inventory of 12.2 percentage points, aided by a 15.7 percentage point dip in trade-up homes and a 3.7 percentage point fall in premium homes. Starter homes also saw an annual jump in prices, at 9.6 percentage points. NYC's premium homes increased in price by 11.7 percentage points.