Dozens of innovators in technology and real estate spent last weekend in a fourth-floor midtown Manhattan tech incubator to devise creative ways to tackle some of the biggest problems plaguing the real estate industry.
The Real Estate Board of New York's (REBNY) 2017 hackathon, taking place at Grand Central Tech — a tech breeding place that provides office space, resources and educational opportunities to startups at a cost — tasked 16 groups with solving issues related to building and renting housing in New York City and nationwide. Teams were given access to APIs (application programming interfaces) and datasets from REBNY and their partners.
The results were projects that ran the gamut from digitizing the antiquated lease signing process, to scanning buildings with a combination of robots and drones; and even making it easier to text building maintenance if you or a guest clog the toilet.
A judging panel of industry experts Duke Long, Sandy Jacolow, Valerie Rosenberg, Leila Collins and Damon Hernandez grilled the participants on what solutions they could offer real estate and development leaders, how they spent the weekend bolstering their tech and how, if at all, they can use their product to make money.
As a word of advice, Long let participants know halfway through that brokers "aren't interested in paying for shit" so their marketing strategies may need to look outside of traditional subscription-based models.
The winners were broken down into several categories: AEC (architecture, engineering and construction) and development; brokerage; sustainable maintenance and operations; open hack; geospatial intelligence; and cybersecurity. Winners in each category were awarded cash prizes of $2,500, free office space for three months and a chance to compete in a three-month gauntlet challenge where they will eventually be given the opportunity to compete for additional cash and prizes.
AEC and development
Avvir, a company that utilizes a light detection and ranging sensor method (LIDAR) to create comprehensive maps of development projects in an effort to eliminate costly re-work, took home the first place prize in the AEC and development category.
According to Avvir's Raffi Holzer, construction is the world's largest industry, but 10 percent of the money spent in the industry is wasted due to redoing work. Construction at 151 Maiden Lane in downtown Manhattan is a stark example of a costly six-week rework that resulted in the reconfiguration of an entire HVAC system.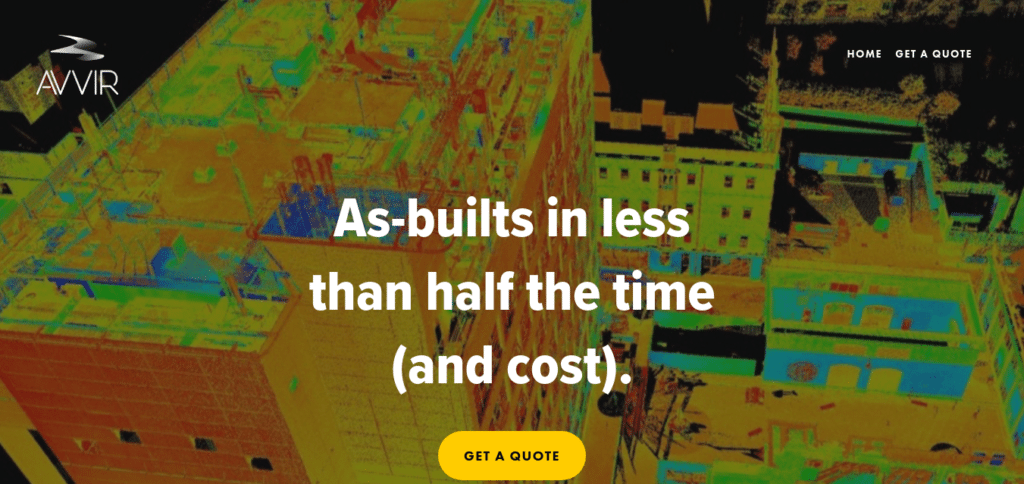 Avvir uses autonomous drones, which are capable of navigating indoors by themselves, to capture the reality of buildings through laser scans. Those scans are then compared to a high-tech 3-D blueprint to see where deviation occurs.
Brokerage
Brian Yang took home first place in the Brokerage category for his simplified process of adding 3-D and virtual tours to listings. His method requires only one line of code for a website.
According to Yang, 90 percent of users search for homes online, and listings with VR tours get clicked on 40 percent more.
It's difficult to add these tours because brokerages don't often set a budget for them, Yang said, noting that on average it costs about $200 to make a 3-D tour of a property and add it to the listing. "It's just not something that's really easy to do," Yang said. Though we think Zillow would beg to differ with its new 3-D capture iPhone app.
Still, Yang's option could offer 3-D tour options outside of Zillow or other big companies' walled gardens. Get 3-D Tours is a plugin that works like Disqus, a web commenting plug-in for sites. Simply add the line of script to the site and the plugin adds a 3-D tour button.
The brokerages have to create the tour themselves and upload the images to the site, which then uses Yang's technology to create the tour. The whole process can take less than 10 minutes with a 3-D camera, according to Yang, who hours earlier did exactly that for a multi-million Manhattan apartment listing.
Sustainable maintenance and operations
Augmented Estate and Enertiv split the top prize in the sustainable maintenance and operations category.
The former uses augmented reality to display a building's sensor and factual data in real time as a user walks around the space. There's a large tactical and practical use for myriad customers. Renters could see when the windows were replaced, for instance, or learn other details about a place they are interested in signing a lease on; or a building manager could use the app to see where HVAC work was located in the ceiling.
Anecdotally, Jacolow seemed like he could have used Augmented Estate just last week at one of Silverstein's properties:
"My guys spent two hours trying to find access points in the ceiling," he said.
With Augmented Estate, they would have had a colorful diamond beacon to guide the way.
Splitting the money with Augmented Estate was Enertiv, a point and shoot analog meter scanner that allows for tenants to invoice online via a cloud server, and gathers building data.
Open hack
In the open hack category, Cherre won over judges with a tool that separates a home's closing price from the ACRIS (automated city register information system) sale price.

ACRIS, the official New York City register of homes sold, includes both city and state taxes, as well as recording fees, all of which are often paid by different parties during a real estate transaction. That complicates the process of finding a sell price (especially to aggregate for statistics) because analytics experts are having to deal with "packed numbers."
Geospatial intelligence
While it's not explicitly marketed to real estate leaders, Rescue was winner in the geospatial intelligence category with their app that aims to eliminate the middle-man of calling a dispatcher in an emergency situation. Instead, the app lets users report an emergency to authorities directly using cellular data or wireless internet.
The app locates the user's exact address and floor in a building or pinpoint on a map. Users create a profile with as little or as much information as they choose to provide about medical history and emergency contacts.
As data is collected over time, it could be useful to planners in terms of creating heat maps of emergency response times, or common issues that plague an area, ie: too many traffic accidents in one area, making for a perilous walk to school for kids or poorly cleared sidewalks during snowstorms resulting in a lot of slip-and-fall injuries.
Cybersecurity
David Bren of MapD won the cybersecurity category with a tool he built to stop malware and ransomware. The tool constantly performs scans, analyzing every bit of data running on the computers, and immediately removes anything out of the ordinary.
Users have access to a control panel and could decide to allow or disallow any new applications, so the machine doesn't automatically delete all new applications. Because of this, no internal processes would be changed without the knowledge of an administrator.
Currently it will only run on Windows, but Bren is working on the backend to make it compatible with both MAC and Linux in the near future.