The National Association of Realtors (NAR) Pending Home Sales Index (PHSI), a forward-looking indicator that tracks home sales in which a contract is signed but the sale has not yet closed, decreased 4.7 percent in the month of January to 104.6 from a downwardly revised 109.8 in December of last year.
NAR chief economist Lawrence Yun says the sharp downturn in contract signings is due to continued inventory shortages and the 0.2 percent uptick in mortgage rates (4.4 percent):
"The economy is in great shape, most local job markets are very strong and incomes are slowly rising, but there's little doubt last month's retreat in contract signings occurred because of woefully low supply levels and the sudden increase in mortgage rates," said Yun in a statement.
"The lower end of the market continues to feel the brunt of these supply and affordability impediments," he added. "With the cost of buying a home getting more expensive and not enough inventory, some prospective buyers are either waiting until listings increase come spring or now having to delay their search entirely to save up for a larger down payment."
This month's PHSI is 3.8 percent below January 2017 and is the lowest reading since October 2014 (104.1). Inventory has continued to decline for the 32nd consecutive month.
Despite the dip in pending home sales, Yun says buyer traffic remains strong and housing starts are finally nearing the historical annual average of 1.5 million. But in order to solve the inventory crisis, Yun says institutional investors will need to unload their portfolio of single-family properties back onto the market, and hesitant homeowners will need to put their homes on the market.
"As new multi-family supply catches up with demand and slows rents, some large investors may begin putting their holdings of affordable single-family homes up for sale, which would be great news, particularly for first-time buyers," he said.
"Furthermore, sellers last year typically stayed in their home for 10 years before selling (an all-time high); although higher mortgage rates will likely discourage some homeowners from wanting a new home with a higher rate, there are possibly many pent-up sellers who may look to finally trade-up or move down this year."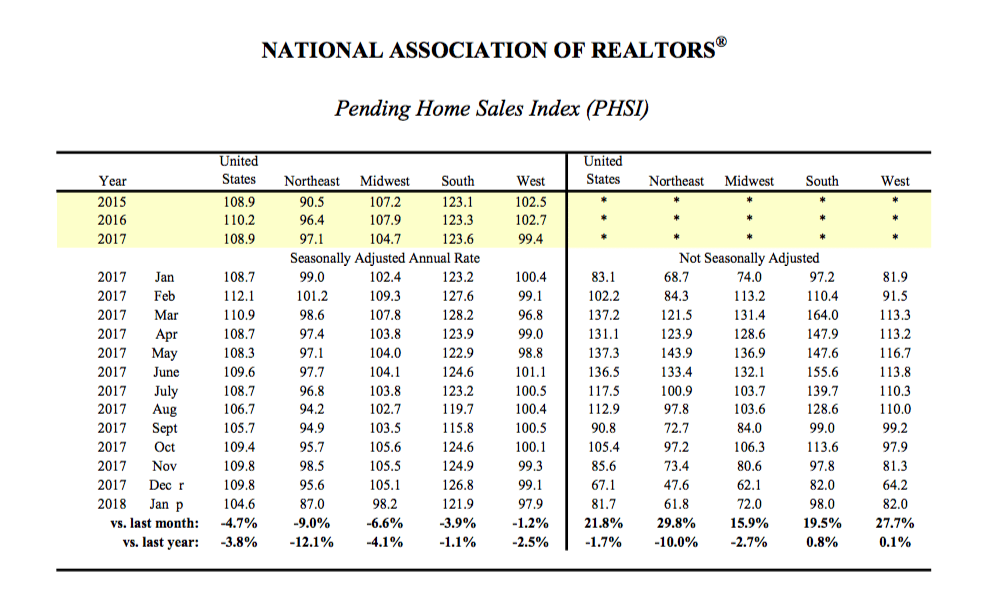 NAR uses a large national sample of signed residential property sale contracts to build its monthly pending home sales index. The sample size typically represents about 20 percent of transactions for existing-home sales.
The index level was benchmarked to 100 in 2001, which was the first year to be examined. Existing-home sales in 2001 were in the 5 million to 5.5 million range, which is considered normal for the population in the U.S.