This ZipForm Plus add-on allows agents to quickly broadcast a listing to brokerage colleagues before they reach the MLS.
Have suggestions for products that you'd like to see reviewed by our real estate technology expert? Email Craig Rowe.
In an effort to increase pre-market listing exposure for its customers, zipLogix has introduced a new product called listFlash, which gives agents a way to rapidly distribute new listings to brokerage colleagues before they land on the multiple listing service (MLS). It's a "coming soon" alert, in essence.
The product can be added to zipForm Plus accounts (accessed by a lightning bolt icon on the listing input screen), and no new apps or major update processes are needed to introduce it.
Brokerages must pay to have listFlash installed, and the price varies depending on the number of agent users — the more agents, the higher the cost.
Users have the option to create a listFlash after a listing is added to zipLogix. Property information and imagery is automatically pulled from parent data screens, but there will be a few text fields left to fill.
A listFlash will expire on default one week from creation, which provides an ideal time frame to generate a sense of urgency around a listing without sacrificing its exposure to the open market.
When I last worked as an agent, we sent listings to an "insider list" for this exact purpose, distributing alerts one week before MLS publication. This regularly led to multiple showings before hitting the open market.
While brokers first have to sign up, approve use of the product and be in accordance with local MLS rules about such marketing tactics, agents are free to leverage the tool with each new listing.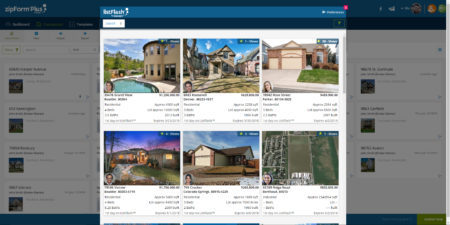 ZipLogix installed alert controls to avoid being inundated by overuse of the product. (It would be wise for brokers to offer suggestions for what listings would best suit the product.)
Users can opt out of receiving notifications as they come and instead access a designated listFlash page within zipForm Plus to review many notifications at once. Another option is to receive a daily or weekly digest.
A listFlash window presents a large image of the property, price, basic details and agent contact information. From that window, agents can start writing an offer (within zipForm Plus) or share it on social channels.
This kind of "inside knowledge" of a listing before it's on the market is powerful a argument for the value of agents, especially given the state of today's rapidly evolving business models and inventory concerns.
It can also increase the odds of getting dual agency.
The listFlash price breakdown is as follows:
Up to 20 agents: $249
21-50 agents: $499
51-100 agents: $999
101-1,000 agents: $1,999
1,100-2000 agents: $2,999
2000+ agents: $4,999
ListFlash is available now to customers of zipLogix's zipForm Plus.
Have a technology product you would like to discuss? Email Craig Rowe.