In most industries, one or two companies emerge as category winners after they reach enough market share to unlock massive new competitive advantages that the rest of the market can't replicate. I call these advantages superpowers.
In the residential real estate market, this process of market share domination is at an early stage now with the aggressive rise of venture capital-backed brokerage models.
For real estate brokerages to compete effectively in this changing market, it's critical to understand how this process is playing out in real time — who the key players are, what superpowers they're developing and the steps you can take to develop superpowers of your own. That is my purpose with this article.
Before we focus in on real estate, let's take a general look at the market forces at play and how they tend to work out.
Reaching the tipping point to unlock competitive superpowers
To reach a position of dominance and compounding growth, companies must first reach a tipping point in market share that enables two critical superpowers:
Superpower 1: With enough market share, companies can literally make the market because they control so much of it.
Superpower 2: Dominant market share also enables a company to leverage data to differentiate and dominate.
How do companies reach the initial market-share tipping point and how can they leverage these superpowers when they do? Two companies in other industries can give us a blueprint: Airbnb in the alternative accommodation market, and Google — specifically Google Assistant — in the arena of artificial intelligence.
Superpower 1: How Airbnb grew market-making might
Airbnb is a great example of the market-making superpower. Founded in 2008 by two 27-year-olds struggling to pay their rent, the room-renting service simultaneously revolutionized the hotel, vacation rental and long-term rental markets while proving the viability of a new type of "sharing economy."
By just about any measure, Airbnb reached the tipping point long ago and now dominates the alternative accommodation market:
Morningstar foresees Airbnb continuing to leverage "its strong network advantages to … maintain momentum for higher profitability despite increasing competitive and regulatory pressure."
Airbnb has clearly achieved the minimum viable liquidity needed to reach the tipping point and make the market.
Minimum viable liquidity is the amount of supply and demand that you have to control to be able to make the market by yourself.
But that's today. As an early-stage company, Airbnb's dominance was by no means assured. Growth was slow at first, and the company commanded a sliver of market share compared to competitors.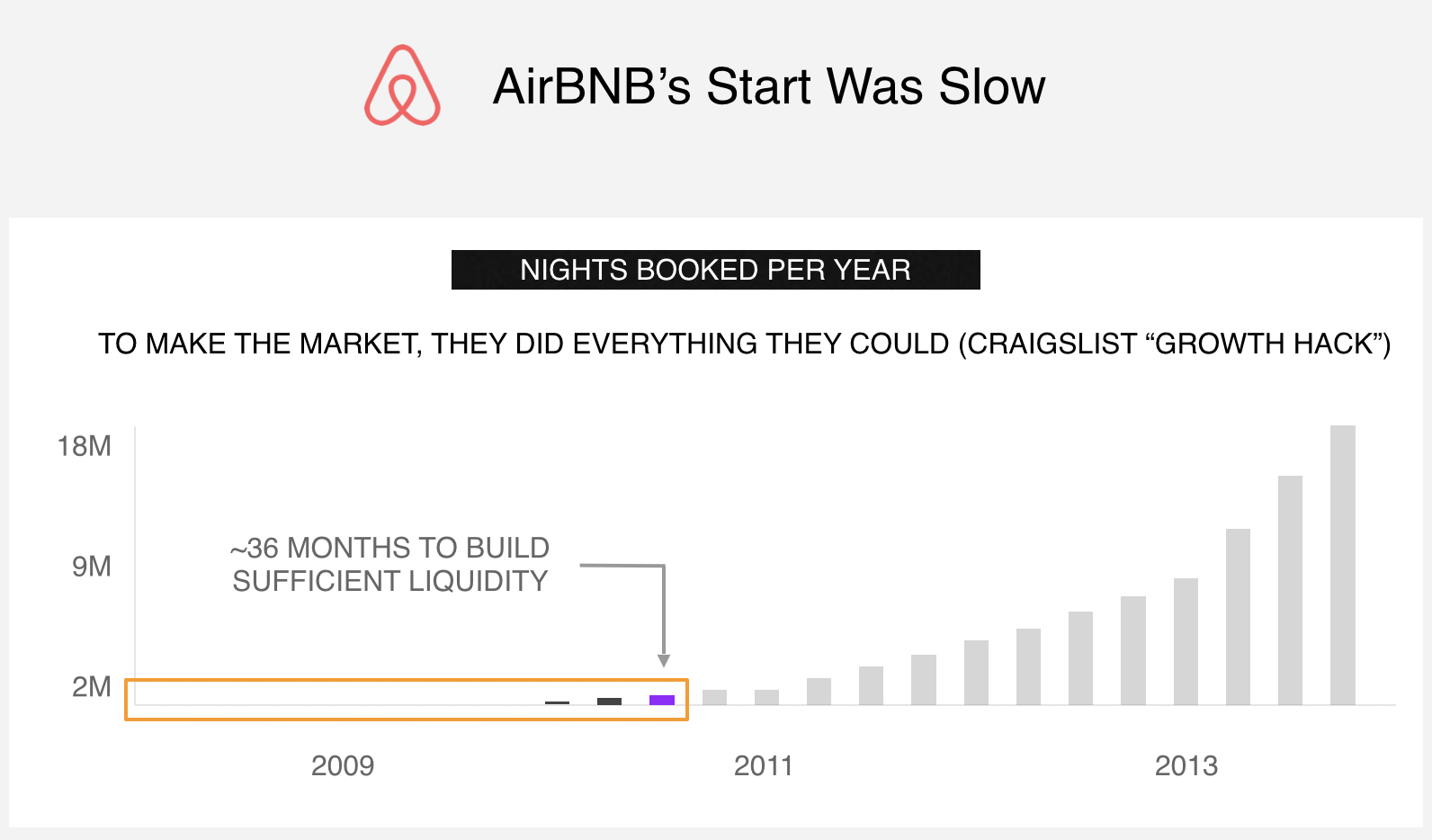 On the contrary, Craigslist had a massive user base in those early years. Further, Craigslist was the place where people who wanted alternative accommodations (besides hotel rooms) looked for listings — which is Airbnb's exact target market.
So, Airbnb performed what has now become a legendary growth tactic by creating a bot that automated posts on Craigslist, unbeknownst to Craigslist and contrary to its terms of service (be aware, however, that Craigslist could have sued AirBNB for effectively hacking its web site, as the term is currently defined under federal law.) The ploy to pool data and gain critical mass worked, helping Airbnb quickly grow its listings and users at almost no cost on its rapid rise to the tipping point.
Superpower 2: How Google Assistant dominates through data
While Airbnb is a great example of superpower 1 (the ability to make the market), Google Assistant is a great example of superpower 2 (the ability to differentiate and dominate through data).
Survey after survey finds that Google Assistant is the smartest and most helpful of all voice assistants. How did it get so smart?
Artificial intelligence is driven by data. To reach the data-domination tipping point, you need to amass a minimum viable data set.
Minimum viable data set is the amount and quality of data that you need to kickstart a learning loop.
A learning loop is a positive feedback system that is self-reinforcing.
A learning loop enables you to provide significantly better services to customers than the competition, thus gaining more customers faster, thus improving your ability still more to provide better services, and thus gain still more customers, and so on in a powerfully self-fueling loop.
There's no question that Google Assistant has far more than the minimum viable data set today. Because Android is the world's largest mobile operating system, Google can learn from its 1 billion users. This is double the amount from just last May, and more than 10 times the number of devices that Amazon Alexa is on.
Google, however, didn't start out at the top of the heap. How did the company reach the minimum viable data set to gain the data-domination superpower?
This is the story of another legendary growth tactic. Google launched a toll-free telephone service called 1-800-GOOG-411 in 2007, which provided a business directory based on speech recognition. It also enabled Google to quickly build a large phoneme database from users' voice queries, and these billions of utterances, in all their human variance, would then train Google algorithms to understand us better, and enable Google engineers to refine the company's speech recognition engine to the point of a competitive superpower. Having amassed all the voice samples it needed, Google discontinued the service in 2010.
The ripeness of the residential real estate market
Now, with the examples of Airbnb and Google Assistant fresh in mind, let's turn to the residential real estate market.
The real estate industry hasn't yet encountered a company that's captured enough market share to reach the market-share tipping point. One key reason is that the MLS has leveled the listing data playing field so that no one has been able to gain a competitive advantage with data. In other words, supply side is visible to everyone.
The demand side, on the other hand, has been largely invisible, because consumer behavior is either not captured by the brokerage community (see below) — or, when it is, it remains proprietary.
Further, even the portals lack quality, high-intent demand data because their user base is diluted with less serious buyers (only 5-6 million homes sold in the U.S. each year, despite over 195 million monthly visitors on Zillow.com).
Though no brokerage has reached the tipping point yet, there are clear signs that at least one company is on its way. If those signs bear out, explosive growth could be on the horizon. And, once that happens, competitors will find it nearly impossible to catch up.
Let's look at three quick case studies of growth strategies being deployed in the market right now in the race to the tipping point.
Case study 1: Here comes Compass
Compass has traded capital for rapid growth, raising a reported $1.2 billion and a valuation of $4.4 billion. With these resources at its disposal and not shy about losing money for the moment, Compass has been catalyzing growth by offering significant sign-on bonuses, investing deeply in technology and doubling down on M&A.
Many observers have a hard time understanding how any brokerage can invest so aggressively, often complaining that "it's not sustainable," "it makes no sense," and that "it's not a profitable way to do business."
It does make sense, however, if you consider the superpowers that a company gains by reaching the tipping point first and thus becoming a single, dominant company that can:
Grow by making the market
Differentiate and dominate through data
For Compass, San Francisco is ground zero for this strategy, where the firm has about 36 percent of the market. Compass has expanded its local footprint quickly through acquisition, the latest being the March acquisition of Alain Pinel with its 1,300 agents and $12.2 billion in 2017 sales volume — the third such acquisition in eight months.
According to Compass, the company is not only the biggest brokerage in the Bay Area, but also "it is now the largest residential brokerage in the country by sales volume, growing from $15 billion to more than $35 billion between January 2018 and January 2019."
Compass has realized that market share makes its brokering power bigger. With more listings and more buyers, it can bolster your exclusive "coming soon," "off-market" and "in-house" transactions that the competition can't match, creating a "FOMO" ("fear of missing out") effect in both customers and agents.
If you're a consumer or an agent looking at the screen below from Compass.com, which shows Compass' exclusive off-market and coming soon listings, how could you not work with Compass?
These tactics fuel the incentives for buyers to work with Compass because Compass has the exclusive listings. And that means sellers have to work with Compass because it has all the active buyers working with the brokerage.
And finally, agents will have to work with Compass because that's where the action is. Boosting agent recruitment then brings in more listings and buyers, fueling that superpower growth loop.
If you want access to the market, you now have to go to the company who has the greatest ability to make the market, and that, in the San Francisco Bay Area, is clearly Compass.
Case study 2: Independents are joining forces
Now, the big question is: How can smaller brokerages, who don't have the same level of financial resources as their venture capital-backed peers, compete effectively? To answer this question, let's shift our focus across the country from San Francisco to a very different market: Miami.
Miami presents a very different picture from San Francisco. No individual brokerage has more than 10 percent of the market. So what's the right growth tactic in this case?
As we've seen, Airbnb used the Craigslist growth tactic, and Google used the GOOG-411 growth tactic to propel their company/service to the tipping point.
The most practical growth tactic for smaller market players is to pool their network and data with others in their market to get to the minimum levels much faster. You — in concert with other firms in your market — already have the market share. That's your advantage. You just have to take advantage of that advantage.
In Miami, if indies pooled their networks, they'd have over 20 percent of the market in combination, well on their way to the tipping point. Thus, Miami is ripe for the growth tactic of aggregation.
Plus, this new form of cooperation is already being used to compete more effectively in several markets around the country.
Case study 3: The reality of Realogy
Turning to San Diego, one of the hottest real estate markets in the country, we see the potential for yet a third strategy in the race toward the tipping point — a franchisor aligning its brands to unleash superpowers.
Worldwide, Realogy-affiliated brands have some 300,000 independent sales associates in over 16,300 offices across 113 countries and territories.
In San Diego, Realogy's brands together have about 25 percent market share, approaching the level of Compass in the San Francisco Bay Area or the aggregate sum of market share of independents in San Diego.
Who will gain the competitive superpowers first?
We've looked at three growth strategies currently battling in real estate. But how will you know when you've reached the tipping point for market-making and data dominance?
To know when you've achieved the minimum viable liquidity that unlocks the market making superpower, two key things have to happen:
Clients/agents feel you have enough in-house buyers and exclusive listings to switch to your brokerage.
Sold prices for proprietary listings are comparable to those sold on the open market.
How will you know when you've reached the tipping point for data domination — i.e., amassed the minimum viable data set that can fuel this competitive superpower?
Here, absolute numbers matter more than market share. You don't need to have visibility into 100 percent of the market; instead, you can sample it.
If you have hundreds of buyers and sellers, that provides useful anecdotal data. But you need thousands of buyers and sellers for sufficient statistical rigor to be able to demonstrate differentiation.
So, what is your strategy?
Markets are being revolutionized everywhere you look. The residential real estate market is next. Or rather, it is now. Now is the time to act.
You can watch it happen, as big players make their moves to rapidly acquire agents and brokers, companies, and market share to become dominant players.
Or you can make it happen by joining forces with other brokerages. When brokerages come together in new ways, they can unlock value for agents and consumers that no new entrant into the market is capable of.
Editor's note: RealScout is not directly affiliated with Compass or Realogy, though it retains some clients with affiliation to those companies.
Andrew Flachner is President and Co-Founder of RealScout, a startup that empowers real estate brokerages to come together and build a more diverse, sustainable, and vibrant real estate market. Email Andrew