RealMailers is a direct mail list builder and card design tool for the real estate industry. Map-based filtering and contemporary templates make it highly targeted.
Have suggestions for products that you'd like to see reviewed by our real estate technology expert? Email Craig Rowe.
RealMailers is an automated direct mail design and campaign management tool for real estate agents.
Platform(s): Browser-based
Ideal for: Smaller agencies and teams
Top selling points
Ease of use
Map-based filtering and creation of mail list
Contemporary templates
Top concerns
Limited design templates
There are more powerful data aggregation tools available
What you should know
Direct mail is an effective way to market to new customers and keep in touch with previous buyers. It gets lost in our quest for CRM-driven drip campaigns and social media content.
I'm fan of it all, but traditional means of marketing still resonate, a fact on which the team behind RealMailers is willing to stake their company.
The Manhattan-based firm has launched a sharp, fast way to create and execute direct mail campaigns.
Direct mail is still an effective way to market to new customers.
With a built-in map filtering tool, users can custom-select a list of addresses based on square footage, year built, year last sold and the most recent sold-for amount.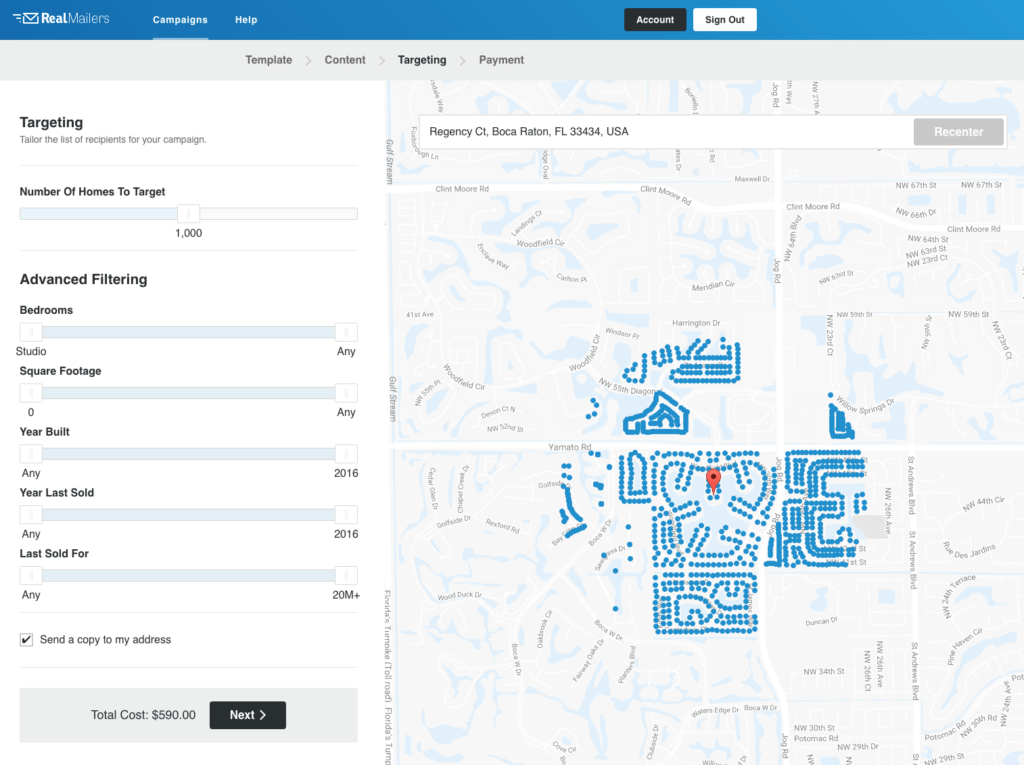 With a list selected, agents can design cards on a user-friendly interface.
The current card selection is limited to one design, but it's bold and contemporary. It looks professional.
However, users can also upload their own design with custom artwork, logos and other brand assets.
Editing, sizing, mailing
RealMailers makes it simple to insert or copy-and-paste text, drop in images and edit the price and address. A few more clicks and a card is sent to be mailed.
Total costs are displayed clearly and all cards are mailed first class. Two sizes of cards are available: 4-by-6 inches and 6-by-11 inches.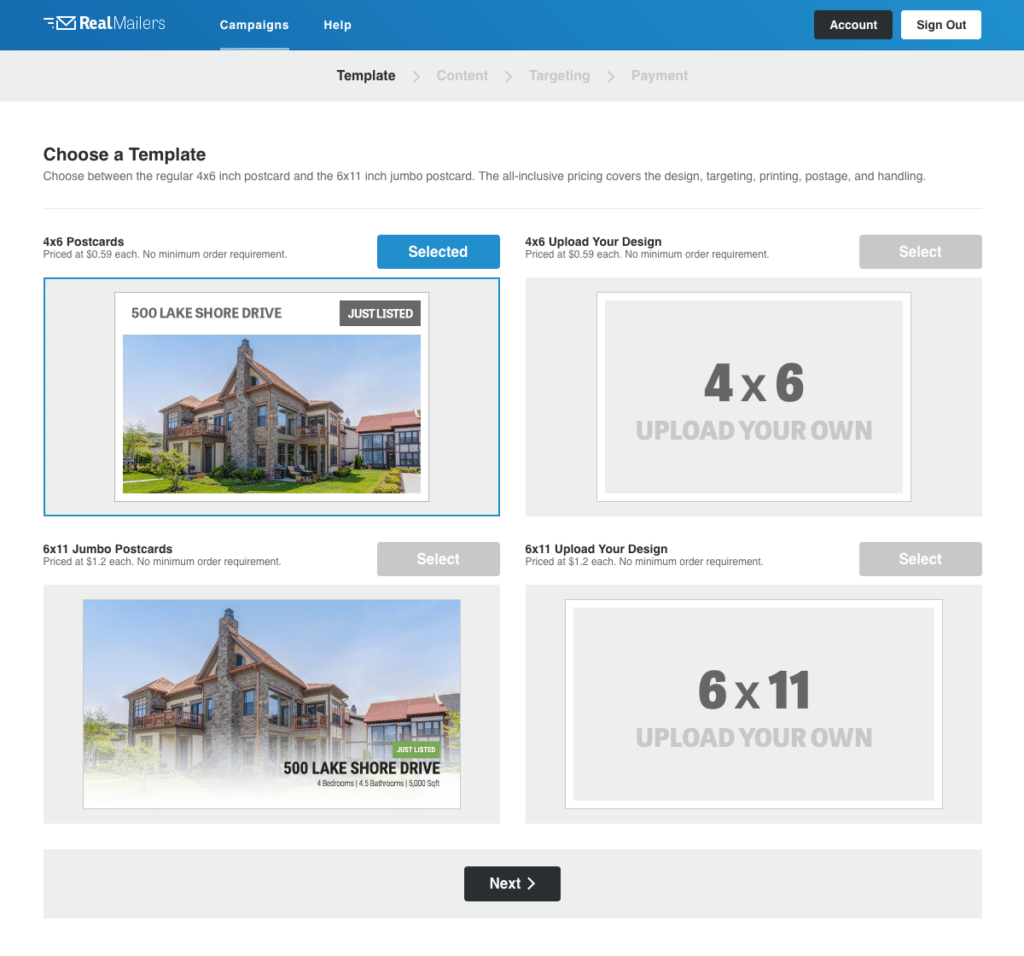 Agents can also use high-res PDF renderings as listing presentation assets to demonstrate how fast a prospect's house could be sent to the market.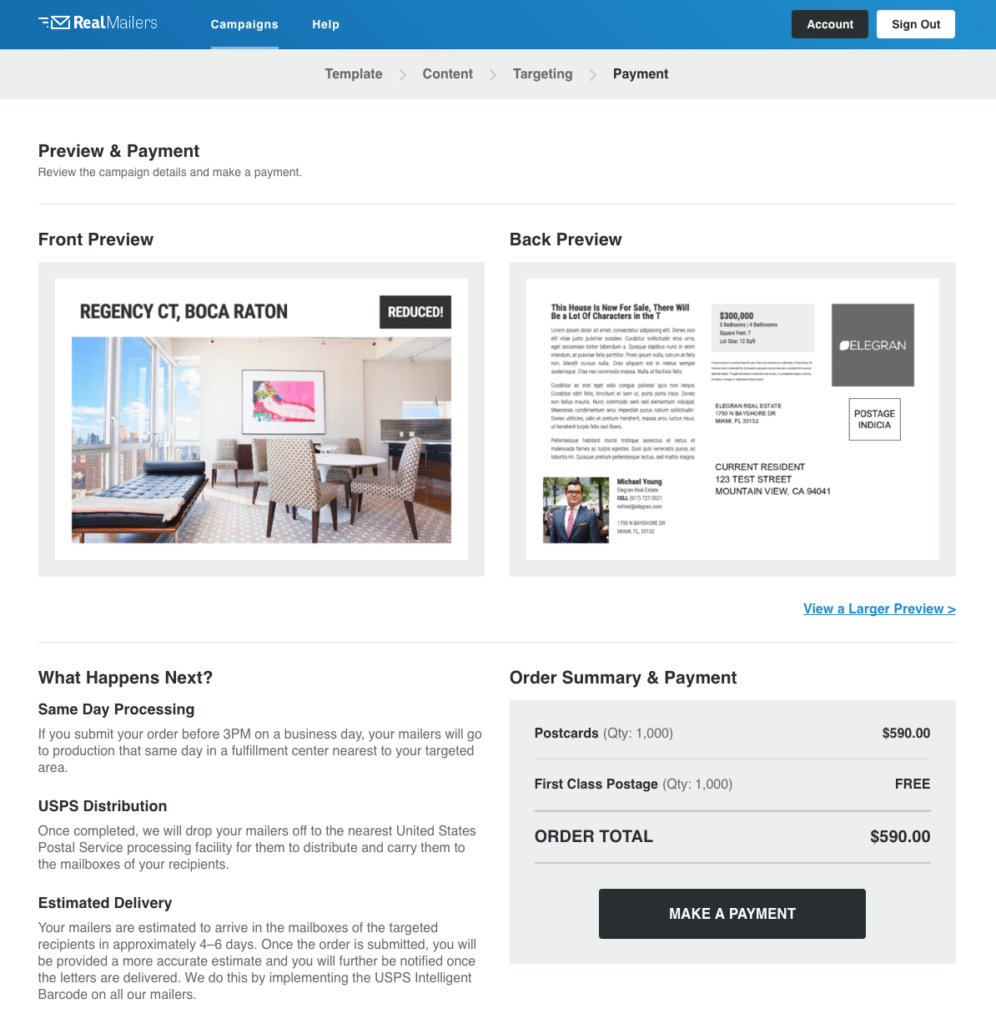 The dashboard view of all active and recently mailed campaigns is a nice way for users to track budgets and return on investment. It can also be used to share marketing activity with prospects.
In real estate, transparency makes for good marketing fodder.
What intrigues me most about RealMailers is its future plans for integration with agents' IDX accounts. This will allow postcard creation to be close to fully automated, reducing time to mailbox by days.
Have a technology product you would like to discuss? Email Craig Rowe.