Custom websites can become powerful business assets for real estate offices.
Website's backend includes connections to Contactually, FiveStreet and a Tribus CRM.
Have suggestions for products that you'd like to see reviewed by our real estate technology expert? Email Craig Rowe.
Eden Prairie, Minnesota, sits a few miles outside of Minneapolis. It's home to the largest Re/Max franchise in the country — Re/Max Results, which just unveiled a full custom web platform.
A good part of this franchise's growth and success can be attributed to how the company leverages technology and, specifically, its website.
Well over a decade ago, Brenda Tushaus was the company's director of information technology, which was a unique position for a real estate company back then, and this rare hire speaks to the innovative spirit of the franchise. Today, Tushaus is the company's chief operating officer.
I wanted to talk to her about the company's all-in approach to technology integration in hopes of uncovering and sharing lessons in how to manage the website process and deal with vendors.
According to a company press release, the site includes new features, such as single sign-on connections and integrations with Re/Max Design Center, FiveStreet, Contactually, CloudCMA, HomeSpotter, and G Suite, among others.
The site's built-in CRM system will display lead profile pages with browsing history, contact information and statistics. Agents will also have access to web traffic reporting, a WordPress blog and website page builders.
I caught Tushaus between stops on her statewide, office-to-office tour, which she organized for the purpose of training agents and employees on how to use the latest version of their website. It launched on July 17 and was developed in partnership with Tribus.
Inman: Thanks for getting back to me so quickly. What're you up to?
Brenda Tushaus: I'm out in the field training all of our agents this week on the new website. There're two of us teaching classes, on the road, to 37 offices.
Let's get started then. There are a lot of fast and easy ways for real estate agents to have a website built. Why not go with one of those?
We looked at six to eight broker solutions — not just websites, but back-end tools. Everything was cookie-cutter, not customizable.
When we said to Tribus, our eventual partner, "show us Zephyr Real Estate's backend" (a client of Tribus), they told us they could only show us snippets because it was custom and proprietary.
I liked that about them. We didn't want the same thing. I wanted a product that was unique to Results, that no other franchises are using. It gives us a little more advantage, especially here in the Midwest. We wanted a custom build like no other.
Was your company already actively using your website to empower agents, or does this new site signify the launch of a new strategy?
The previous site had some of the functionality, but the agent websites were not mobile responsive. They were mobile-friendly, but not responsive. Big difference. We wanted a mobile-first experience.
We needed to ensure integration with other tools, like Lone Wolf. And plus whatever Zapier integrates with, Tribus can do.
Note: I asked Tushaus if they had any reservations about continuing to work with Lone Wolf, given that the company underwent a "reorganization" in September. She mentioned they are aware and have workarounds ready, but they still can't find a suitable alternative to what Lone Wolf can provide.
Can you tell me about your process? Did you interview several possible design teams? Did you have an internal team to manage the project? How interactive was the development?
The team was me, our director of IT and our art director from the marketing department.
We sat through countless demos, webinars … some vendors gave us logins and access, some just showed us stuff.
We narrowed it down from six to two quickly, then started drilling down. Tribus was able to say yes to everything and move right away.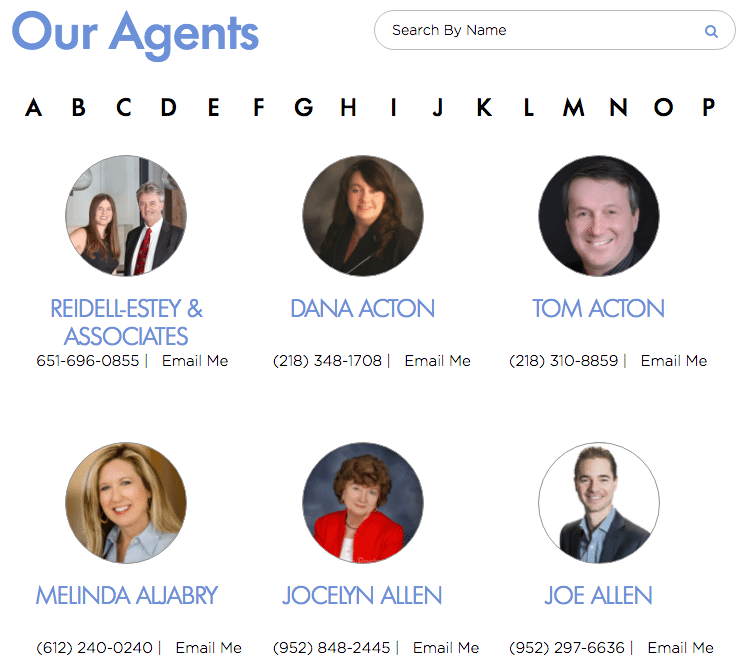 We signed the contract in October, so it was quite a process. We were extremely interactive with them.
I went through this years ago; and with Tribus, it was seamless. From the wire-framing on down, everything was hands on: we were very much a part of the process.
This is what we do, of course. This is our role in the company.
You need someone on staff that knows what they're doing in this arena. I couldn't rely on a vendor alone; you need someone to keep a vendor in line.
This is the way we've always been. I may be COO, but I started 16 years ago as the IT manager. I've always been very hands-on. I can see how other companies our size would delegate that kind of stuff.
You included a lot of productivity integrations, including your own CRM. Tell me about what led to wanting that kind of functionality?
We do like the Tribus CRM tool. It's robust and [it's] what we provide our agents. It tracks leads for agents, and we like that. We also offer agents Contactually accounts — we love them, too. We give our agents a choice, and the great thing is the two systems work together.
Out of 1,200 agents, we have over 500 that use Contactually, which is a great adoption rate.
There's an in-office communication tool. Can you describe it?
We call it "Results Insider." We've had it [about] 10 years. It's evolved over the years and lets agents communicate with one another to share pre-MLS listings or ask for help with open houses. It has a dozen categories and feeds, and [agents] can subscribe to their own feeds or unsubscribe to and from different markets around the state.
You made Slack before Slack did.
(Laughs.) You know, I couldn't get into Slack. I don't love it.
Did you have to leave out some features you may have wanted?
We sacrificed bits and pieces of our data feed, but that's only temporary; so we made sure to have everything in our old system and then some. It's new and improved.
Agents have to manually input "coming soons" to Zillow, which used to be automatic, but no one has complained about that.
Final thoughts
Re/Max Results clearly has the income and staffing power to employ professionals who can manage a website project of this magnitude.
Still, there is a lot here for smaller operations to emulate, especially when it comes to the value of a custom build.
A website should be treated as a business asset and designed to be a competitive advantage.
Have a technology product you would like to discuss? Email Craig Rowe.