One of the main advantages of Click-to-Messenger ads — compared to traditional landing pages or opt-in forms — is that they allow you to instantly engage a lead on the Facebook Messenger platform.
That not only means faster follow-up but also better response rates from leads.
I wrote an article recently about using Facebook's new Click-to-Messenger ads as a better way to generate high-quality leads (check out my article on Click-to-Messenger ads if you haven't already).
In this article, I'm going to show you how to follow up with leads that you generate with Click-to-Messenger ads using the Facebook Page Manager app.
Following up with leads on your smartphone
To receive live notifications whenever you get a new lead from a Click-to-Messenger campaign, you'll need to download the Facebook Page Manager app on your smartphone.
Getting started
First, download the Page Manager from your app store.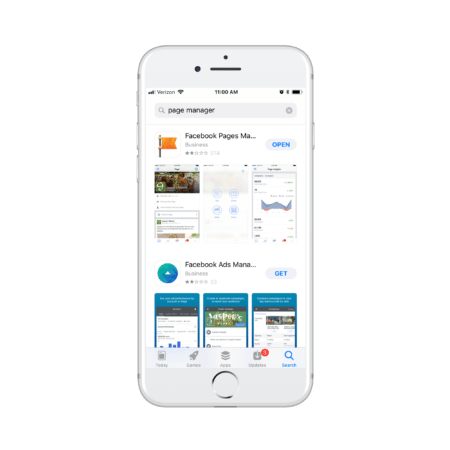 Sign in using your Facebook profile information (or whichever profile is an admin for the Facebook page you're advertising on).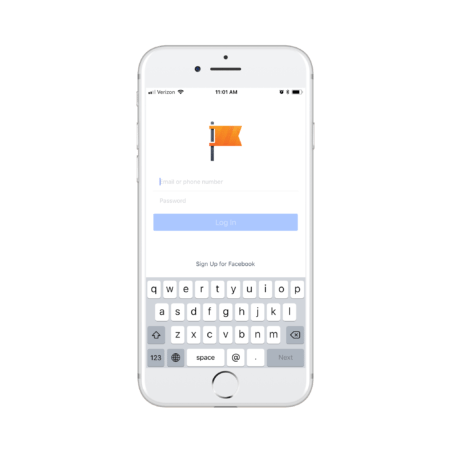 When prompted, be sure to enable notifications for the app so that you'll receive a live alert every time you generate a new lead.
Managing your inbox
The Page Manager app has an inbox that helps you manage inbound messages. Tap on the "Inbox" icon to view your new and ongoing conversations.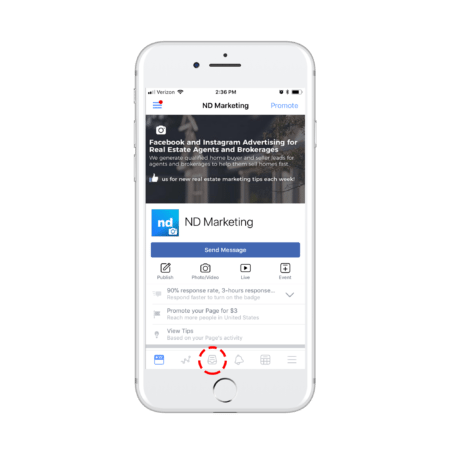 If you swipe left on a conversation, you have the option of moving it into a different folder to keep your inbox more organized.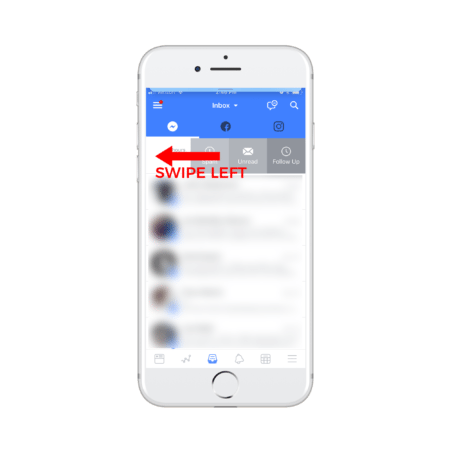 There are five folders in the Page Manager app that you can use to organize messages: Inbox, Unread, Follow Up, Done and Spam (use these to keep your main inbox tidy).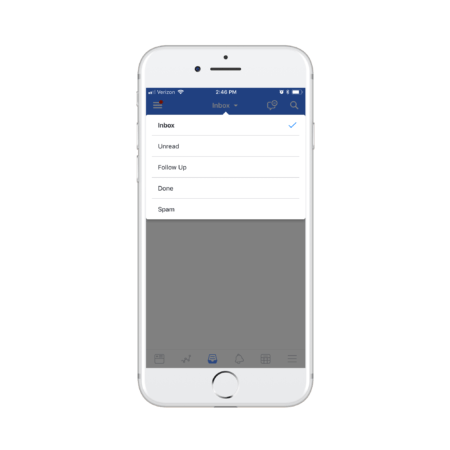 Replying to leads using the Page Manager app
The Page Manager gives you several options for following up with new leads. You can send a lead images, videos, voice messages, plain text and even set appointments. You can also tap on a lead's name to see their public Facebook profile information.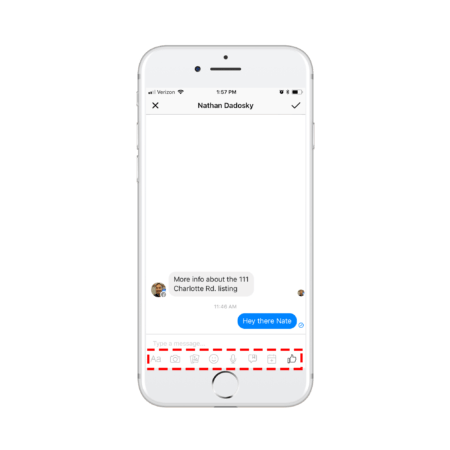 You can also set your "Saved Replies" to follow up with leads more quickly. To set up a "Saved Reply," tap the "Saved Reply" icon, and then tap "Add a Saved Reply."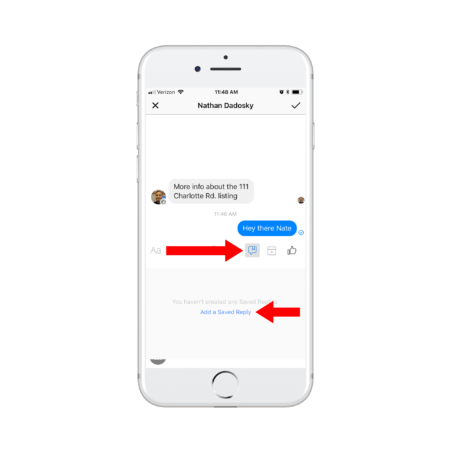 Type out your message, and then tap "Save." Your "Saved Reply" will then be available for use in future conversations when you tap on the "Saved Reply" icon.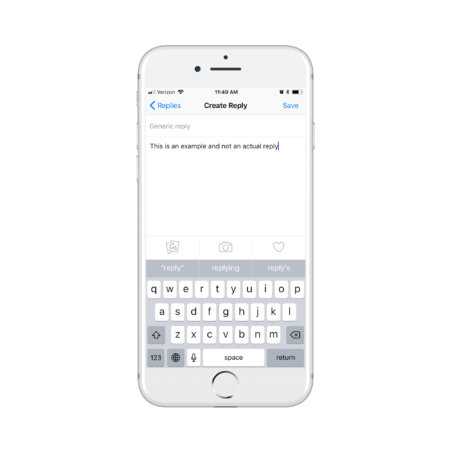 Giving other people access to a Facebook page (follow-up for teams)
One limitation of Facebook Click-to-Messenger ads is that it doesn't allow advertisers to route inbound messages to specific Facebook Page admins or moderators.
Every individual who has admin/moderator access to the Facebook page also has the ability to follow up with people who message the page.
That also means that when an individual replies to a new lead, he or she only has the option of replying as the Facebook page itself.
This isn't really a problem for an individual agent who's running Click-to-Messenger ads using their own Facebook page, but it can make things more difficult for a team that's running ads from their brokerage's Facebook page.
For that reason, I recommend that a brokerage designate one or several team members (ideally this would be an inside sales agent) to reply to new Click-to-Messenger leads who will then qualify the leads and pass their contact info onto agents.
Giving other users permission to respond to Click-to-Messenger leads
A Facebook Page admin has the option of giving other Facebook users access to certain permissions on the page. "Admin" is the highest permission you can grant to other users, but "Moderator" will give them limited access while still allowing them to reply to inbound messages.
To add a user to a Facebook page using the Page Manager app, tap on the ellipsis icon.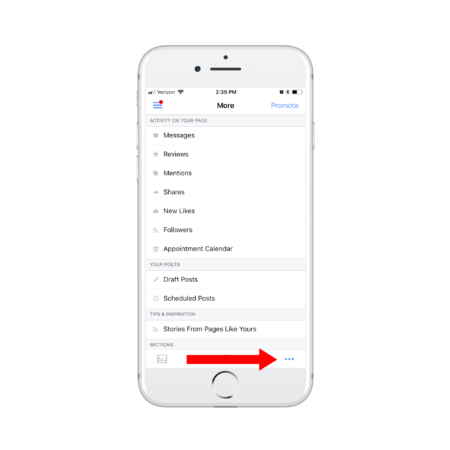 Then tap on "Edit Page Roles."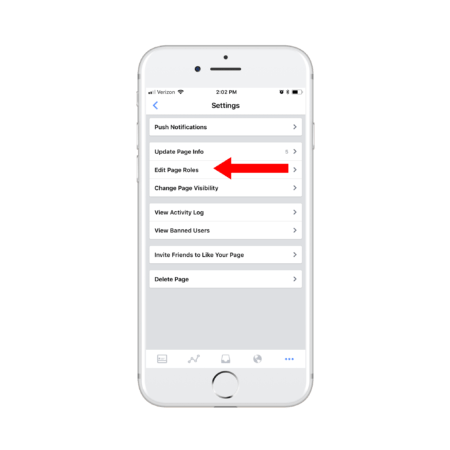 Then, tap on "Add Person to Page," type in his or her full name or email, and select "Moderator" as their page role.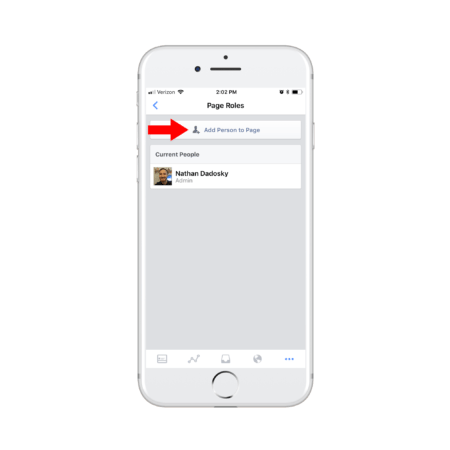 You can change page roles at any time and rotate team members in and out as "Moderators."
Strategies for follow-up
A lead is only as good as the follow-up (we've all heard that before).
The more promptly you follow up with leads, the more likely they are to respond.
That's what's so great about Facebook Click-to-Messenger ads — they let you instantly follow up with leads.
Here are a few tips for following up with leads you generate with Click-to-Messenger ads:
Feel free to get the lead's email and phone number, but try to "warm them up" on Facebook. Leads will be much more likely to respond to email or phone calls if you've already established rapport with them.
Follow up as quickly as possible. The longer you wait, the "colder" a lead will get.
Talk like a human (use natural language). Use the lead's first name, and don't sound like a robot.
Continue to follow up with quality leads into the future, even after a campaign has ended. Once someone messages your Facebook page, you have the option of following up with them in the future (unless they block you), so be sure to keep in touch with promising leads.
Nate Dadosky is the owner of Nate Dadosky Marketing in Charlotte, North Carolina. Follow him on Facebook and Twitter.