Real estate professionals express optimism for the housing market, economy and their own personal success as they start a new year…
Inventory remains scarce, home prices have the average buyer sweating, a new tax code could cause a stir and politicians are clamoring away in Washington. Yet it's hard to fret too much when business is booming in what experts are saying could become the longest economic expansion since WWII.
As we start a new year, that's the sentiment shared among many real estate professionals, who overwhelmingly reported optimism (with some notes of caution) for both the 2018 economy and housing market, a new Inman survey reveals.
Of the 653 economists, developers, agents and owners who participated in Inman's annual Industry Outlook survey in December, a vast majority — more than 71 percent — stated they were optimistic about the economy going into the new year — a 1 percent increase from the year prior.
"The pent-up desire to spend is again palpable," commented a New Hampshire broker who reported being "extremely optimistic" about the 2018 housing market, economy and his own personal success next year.
"The banks may successfully lobby to have Congress enact sweeping changes to the CFPB. People are working and spending. I interpret this as a sign of the business pendulum beginning to swing in the direction of irrational exuberance," he said.
At odds with the positive outlook, however, are rising fears tied to global events, like an intensifying conflict with North Korea and darkening views on how President Trump would impact the housing market, which shifted markedly from a 2017 Inman industry survey.
"Local conditions seem to be positive for strong economy if geo-political events don't crash into us too harshly," wrote a Windermere agent in Seattle, who also reported having some concerns about emerging global events but remained on the fence on Trump's impact.
A bird's-eye view
Nearly a year after taking office, Trump continues to polarize. But even among his detractors, the commander-in-chief's outsized personality hardly matters in light of unflappable economic conditions, which have only improved over the past 12 months, many respondents insisted.
Among participants, 30 percent reported being "extremely optimistic" about the economy, and another 41 percent reported being "somewhat optimistic." Only 2.6 percent reported being "extremely pessimistic," a 1.3-percent drop from last year, just before Trump took office.
Similarly, 28 percent of respondents reported being "extremely optimistic" about the 2018 housing market, and another 43 percent reported being "somewhat optimistic." Only 1.9 percent reported being "extremely pessimistic," a 1.6-percent decrease from last year's survey.
Among those who reported feeling optimistic about 2018, low interest rates, high demand and robust economic conditions were all cited as reasons to be hopeful, even as uncertainty persists.
"Inventory is low," said one agent, who also reported holding a negative view of the new tax reform laws while simultaneously harboring goodwill for the president. "Interest rates did not rise over the last two years as predicted. I think this is the most normal the market has been in years. We are back where we were in 2006 as far as values are concerned nationwide."
Editor's Note: This survey closed before the final version of the tax bill was released with provisions capping mortgage interest deductions for primary and secondary residences at $750,000 (down from $1 million today), while capping state and local tax deductions (SALT) at $10,000.
In spite of the rosy outlook, respondents were torn on how Trump would impact the housing market next year, with 39 percent anticipating a negative impact and 30 percent a positive impact. An additional 16 percent said he would have no impact on the housing market, and 14 percent admitted that they were undecided.
The numbers veered significantly from 2017, when 52 percent of respondents anticipated a positive impact resulting from Trump taking office, and only 16 percent a negative one.
"With a pro-business agenda, the economy will be stronger, in turn the housing market should improve," wrote one broker, who echoed other respondents giving Trump high marks.
A marketing manager, who cited "Donald Trump" as a reason for expected business success in the new year and the source of his fears in 2018, said the president would have a negative impact on the housing market due to his "looming impeachment and criminal prosecution."
Personal success and expansion in the new year
In terms of personal success in the new year, respondents were overwhelmingly confident, with 52 percent reporting "extreme optimism" in their own business dealings in 2018 and another 34 percent saying they were "somewhat optimistic" about their odds of success. The number of people reporting optimism from 2017 to 2018 rose modestly, by less than a percentage point.
Less bullish but no doubt optimistic, 65 percent of respondents claimed they had plans to expand their business in 2018, down from 71 percent a year earlier. Less than 2 percent said they had plans to contract their business in the new year, and 33 percent reported no plans for change.
"We will add more agents and more support staff to our company," wrote one participant when asked to name the biggest challenge of 2018. "Building my business to the level [where] I will need an assistant," reported another. Both respondents reported plans to expand in 2018.
The respondents, 80 percent of whom identified as either an agent or a broker, largely agreed that agents nationwide would be more productive in the new year, with 38 percent saying so much, and 26 percent believing they will be less productive in 2018. Reinforcing a deep sense of uncertainty reverberating across much of the real estate industry, more than a third of survey takers (36 percent) acknowledged that they were "not sure" if agents would be more productive in the new year.
The number of respondents who said agents would be more productive was down from the year prior, when 64 answered favorably, compared to 36 percent who said they would not.
"New agents will have a tough go," said one Washington state Realtor who admitted to being uncertain as to how agents would fare in 2018, "but those of us who stay in touch with our 'database' will not have a problem."
"Demand is strong but housing inventory is low," added another real estate professional, echoing the sentiment of many other survey respondents. "The stronger agents will continue to flourish, but the less-profiled agents will still struggle to attain listings and secure buyers as buyer loyalty is waning, and buyers will often go to the listing agent to make the offer."
Market activity up in 2018
Nearly half of respondents agreed that unit sales would increase in the new year, and a whopping 73 percent said home prices would appreciate in 2018. The numbers remained largely unchanged from last year, when 47 percent of respondents projected unit sales would increase, and 75 percent believed home prices would appreciate.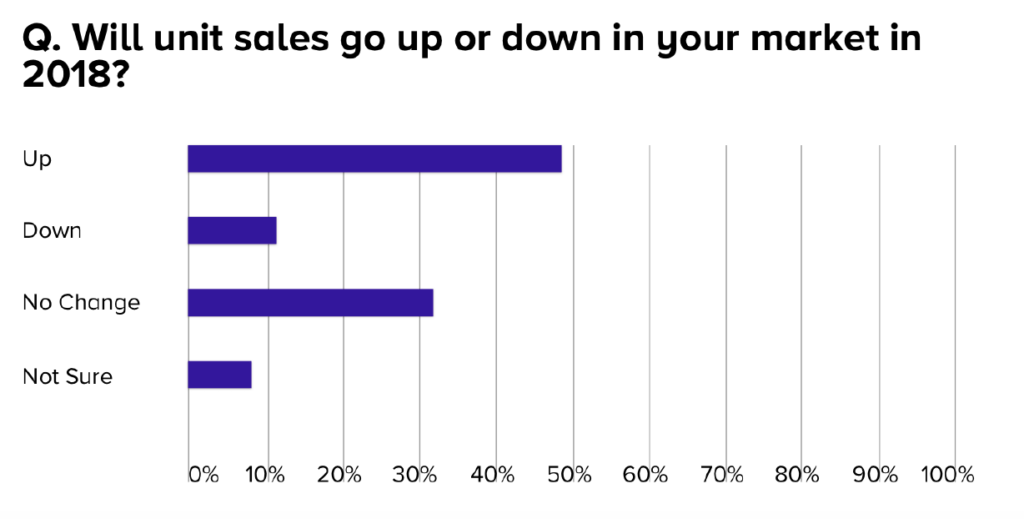 Inventory, meanwhile, will remain the same, according to 38 percent of respondents, or go up, another 38 percent agreed. Only 20.2 percent believe inventory would decrease.
"The only other thing we really need is for the banks to turn loose some money for new construction and spec homes," wrote one Keller Williams Realty agent.
As for mortgage rates, 68 percent said they would finally go up following several years of inactivity while 25 percent insisted they "won't move noticeably either way."
Editor's Note: This survey closed one week before the Federal Reserve, on Dec. 13, announced a benchmark interest rate hike of between 1.25 percent and 1.5 percent. Most analysts expect three to four more increases by the end of 2018, with mortgage rates rising to 4.5 percent.
"Left untouched, I believe it will be another very strong year with modest appreciation, high demand, strong activity and great opportunity," wrote one Rhode Island broker. "Here's hoping our biggest offender, the Fed, doesn't screw things up."
Added another: "It will be interesting to see what happens to these asset prices in 2018. I'm expecting another small [percent] increase, although, I do believe they are already overvalued."
Referrals to dominate as tech encroaches
Respondents overwhelmingly said tried-and-true referrals would be the biggest source of real estate leads in 2018, with 57 percent agreeing that word-of-mouth would remain the benchmark for new business in the new year.
Still, that number was down from 62 percent last year, suggesting a hodgepodge of new technology was beginning to make a modest dent.
Indeed, portals like Zillow and Trulia were favored by 8 percent of respondents and social media, such as Facebook, Instagram and Twitter, earned 11 percent of the vote. Other sources, like personal databases and company websites, also received mention in the survey. "All of the above," wrote one. "Real estate today has to be approached in so many ways."
'Fasten your seat belts'
The outlook for 2018 is sunny, to be sure, but contradictions thread the larger picture. Optimism shines on the economy and the housing market, even as respondents paint a troubling picture of President Trump and his sway over global events and the economy itself.
Even among those who support the president, many admitted that uncertainty clouded their vision of the next 12 months, and among those who oppose Trump, even they acknowledge that the economy is healthy, property values are rising, and consumer confidence is growing.
"Inventory will remain lower, and the time it takes to sell a home will become longer," wrote one respondent. "I do not think Trump's administration will actually affect housing negatively or positively. We will remain status quo, with only slight increases in value and time on market."
"Fasten your seat belts and take your Dramamine," added a Texas agent. "It's going to be an interesting ride."
The survey was conducted between Dec. 1 and Dec. 5, 2017. Of the 653 respondents, 327 (49.92 percent) identified themselves as agents, 205 (31.30 percent) identified themselves as brokers, 3 (0.46 percent) identified themselves as coaches, and 120 (18.32 percent) identified themselves as "Other," which included a mix of respondents identifying themselves as economists, technology execs, MLS execs, investors and marketers.