This unique lead analysis solution earns rare five-star rating for its innovative approach to helping brokerages earn more business by applying AI to your CRM.
Have suggestions for products that you'd like to see reviewed by our real estate technology expert? Email Craig Rowe.
SquadVoice is a data services platform helping real estate brokerages better leverage CRM data and leads.
Platforms: Browser; mobile-forward
Ideal for: Brokerages or teams generating at least 500 leads per month
Top selling points
Personal/AI partnership on lead analysis and follow-up
CRM-agnostic
Multilevel lead verification
Encourages CRM hygiene
Transparency in ROI and lead qualification
Top concerns
Company focuses on brokerages averaging at least 500 leads per month, which is a lot, thus reserving its services for large, multioffice companies. It could do a lot to help smaller companies.
What you should know
Above all else, SquadVoice is a data services company.
Although new to real estate, it is not new to highly involved data analysis and helping companies pull to the surface forgotten-about critical business intelligence.
SquadVoice wants the industry to know it is not a lead generation company, unless you consider pulling "left-for-dead" contacts from your CRM a form of lead generation.
The company's AI drags a CRM with a multileveled net of lead-analysis metrics with the goal of resurfacing drowned leads primed to be resuscitated.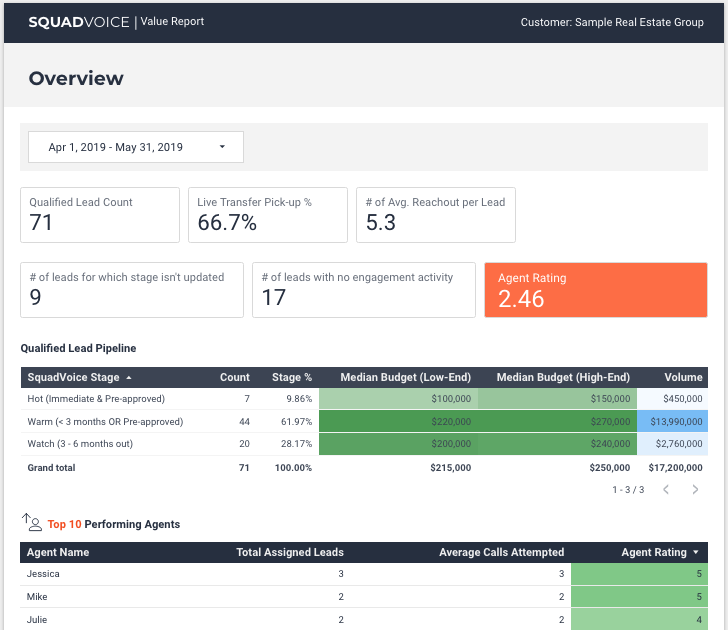 Do not confuse this company's process with something as simple as a "reminder to follow-up."
It's much more than that, as each "new" lead is given more verification scrutiny than most first-generation lead platforms alone.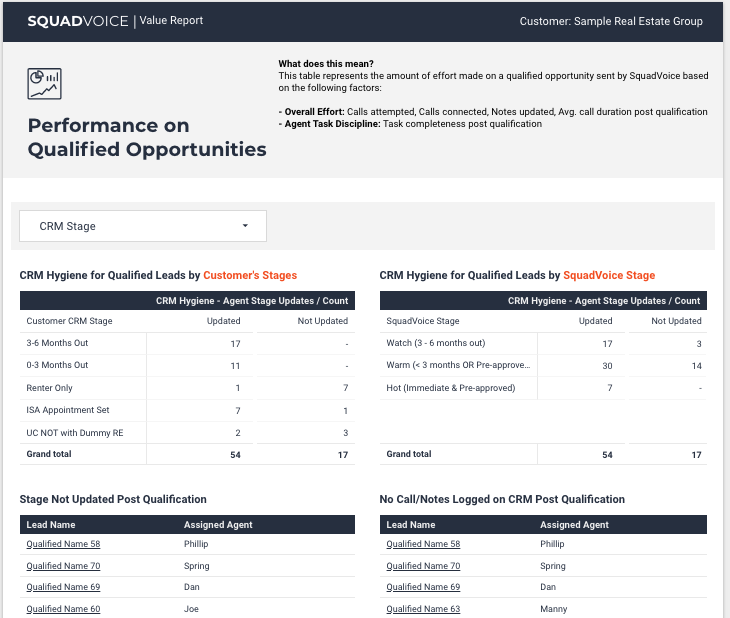 SquadVoice openly challenges CRM tools that simply automate the reminder game because that process often doesn't take into consideration metrics such as best times of day to call, updated buyer intent or quality of the original lead source.
"Action plans" in a CRM often apply the same steps to every lead, suggesting follow-up regardless of other factors, which could lead to ineffective lead maintenance.
For a 12-month-old potential seller in your CRM, for example, SquadVoice uses a series of ratings to score a lead before recommending follow up, each made up of several underlying data points.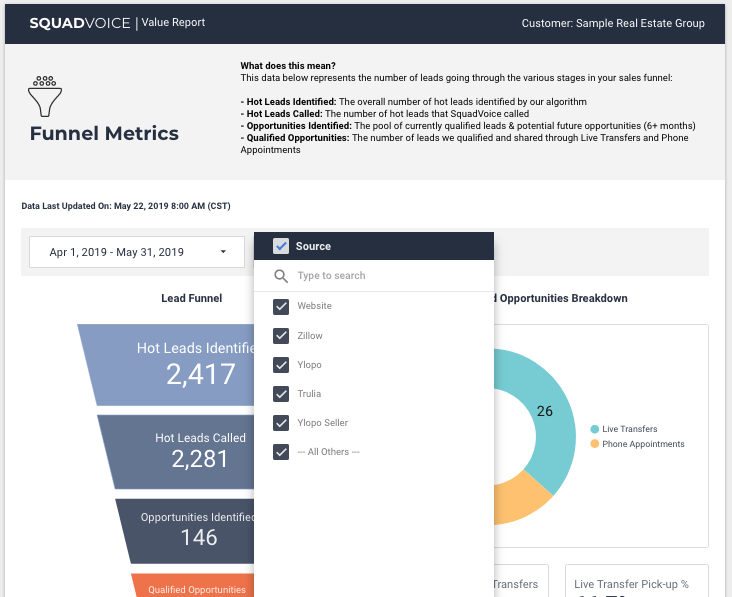 The software analyzes the original Lead Source (quality), Lead Persona (properties viewed), Lead Outreach (open rates), Lead Activity (current engagement) and Lead Calls (keywords).
Essentially, SquadVoice doesn't recommend an agent get in touch with everyone simply because they haven't been contacted in six or eight months.
The software models are carefully ensuring each person is worth asking for an appointment and that an agent's lead follow-up time is profitable.
However, even admitted data geeks (their words) like the team behind SquadVoice realize that automation alone isn't getting it done. The company has assembled a team of inside sales agents to text, email or call the best "new" leads.
The actual "SquadVoice" is a network of home office professionals onboarded directly by the company and trained on how best to quickly set appointments.
Plus, the software matches the best ISA for each lead, providing them scripts and recommended methods of outreach or "omnichannel."
The plan calls for at least 30 touch points over 30 to 90 days and custom notations and recordings in the CRM.
The company's software is much more than a CRM data miner, however. Other benefits of SquadVoice include, its ability to justify lead sources connected to CRMs; hard-facts on agents' effectiveness as overall sales professionals; and exceptionally valuable data reports on how every lead in a CRM came to be and their current status.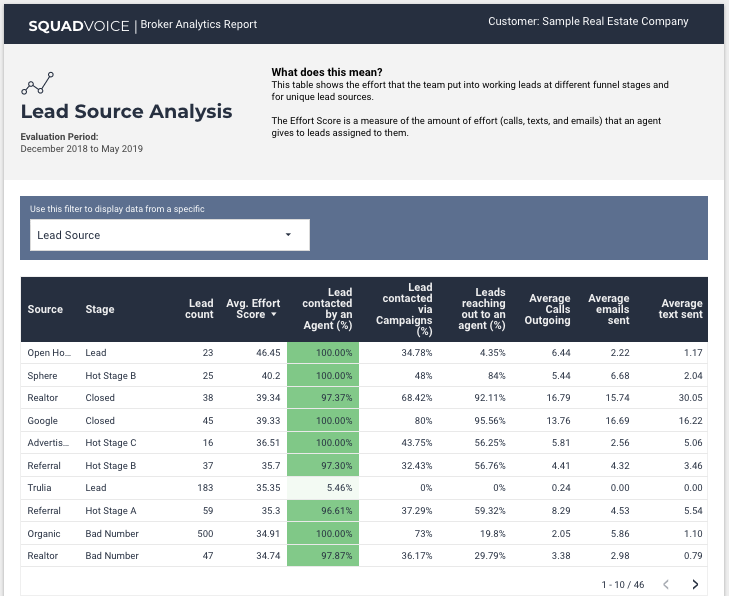 For example, if a CRM accepts Zillow or realtor.com leads, SquadVoice can measure the effectiveness of either and prove if one ZIP code is more productive than another or what agents are best in which areas.
What's also great about SquadVoice is that it is blind to your CRM's particular feature stack or email campaign quality or automatic website listing pages — it looks only at the root data, proving once again that the best CRM is the one you use.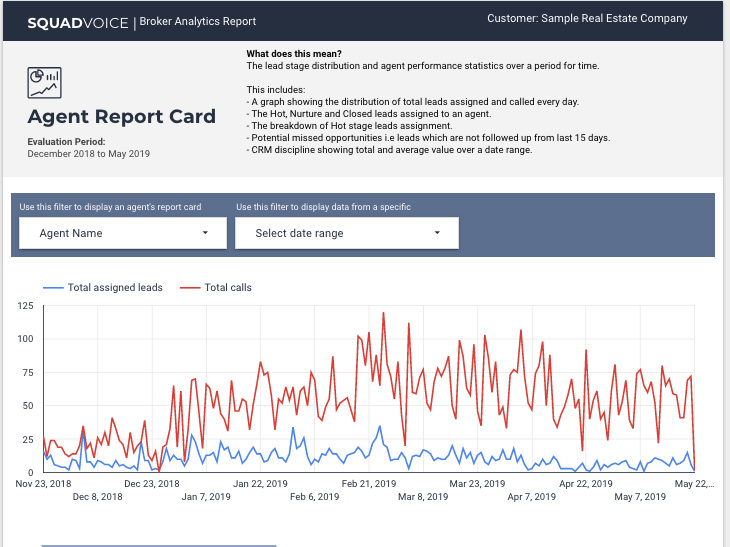 Clearly, a CRM with strong lead-generation features will give SquadVoice more to work with. Then again, so will a CRM full of neglected buyers and sellers.
Throughout the system, reports are made accessible that break down agent lead activity performance in a variety of perspectives, and each report is sharply designed and easy to read. Users can see quickly what's critical and and customize line graphs and funnel charts.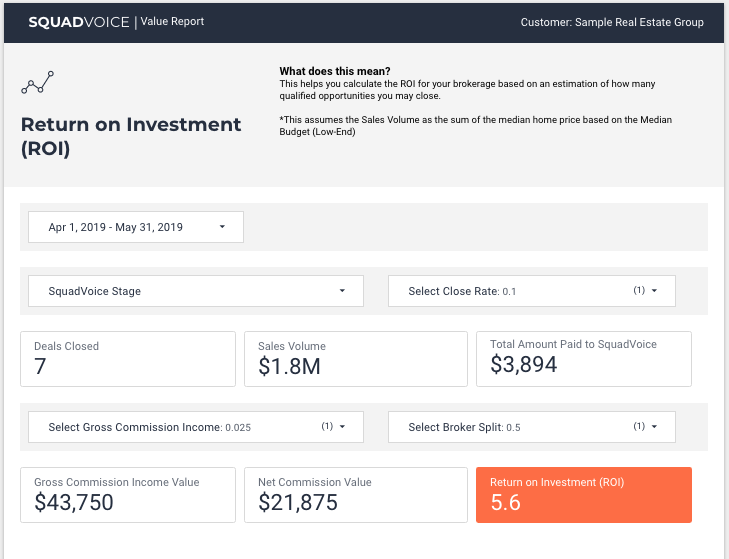 A note on transparency in the lead generation business:
SquadVoice isn't creating new leads from the open market, it finds and qualifies quiet leads already paid for within a CRM. To its credit, the company refunds users for leads it recommends that don't pan out, provides a detailed model on how to justify its own ROI, openly shares how it qualifies a lead, and determines pricing differently for every client based on average new lead volume, CRM record count, and median sales price in an office location.
Brokers and agents around the country should know that there are many, very common big brand lead providers that don't refund for poor leads and worse, don't share how that lead came to be. The industry should demand better, and do it loudly.
SquadVoice is Aflac for your CRM. If you're going to invest thousands of dollars, weeks of training and hours of sales meetings to explore, choose and use a CRM, you should also get insurance on the data it's going to collect and manage.
This is a model new to the industry, and it does much more than this column's word count allows. For brokers who care deeply about the value of data and the bottom line of dollars securing it, SquadVoice is a must-have.
Have a technology product you would like to discuss? Email Craig Rowe