Qwik Fix gives sellers the ability to quickly respond to the most needed repairs and buyers the chance to consider what's really important for them to have ready before move-in.
Are you receiving Inman's Agent Edge? Make sure you're subscribed for the latest on real estate technology from Inman's expert Craig Rowe.
The Qwik Fix is home inspection analysis and repair quote software.
Platforms: Browser
Ideal for: Inspectors, investors, teams, agents
Top selling points:
Easy upload, fast turnaround
Collaborative contractor management
Local contractor network
Categorized repair/project selection
Transparent cost breakdown
Top concern(s):
Agents need to get over the fear of things that surface in inspections, and software like this helps. But with inspections so engrained in the psyche of buyer agents as "must obey" reports, any software that streamlines that process risks widespread adoption.
What you should know
The Qwik Fix (Qwik Fix) is software for making sense of home inspections. It takes inspector-generated reports and converts them to digital, categorized repair summaries. It includes estimates and the ability to choose which items deserve the most attention in the deal.
The UI/UX complements the mission, making it easy to understand all the details intrinsic to such documentation. Clients can be added to the report views, which are broken down into major categories for easy digestion, which can hopefully make a buyer less panic-stricken about what they're getting into.
Costs are clear and sourced from national databases on labor rates and material costs, and contractors can be invited via Qwik Fix's local network. Perhaps its most critical benefit is in the service realm, as the company also deploys and manages repair vendors, taking a big burden off of the shoulders of the seller.
I'm all-in on anything that removes friction from the deal, a lot of which is caused by the inspection. This is not the inspector's problem. The problem is the general reaction to what she or he finds. Outside of serious detriments to a property, the majority of problems uncovered are minor, yet they end up becoming another reason to worry.
Compounding the problem is the very physical manner in which these issues are presented: long, wordy reports with bad images and scary jargon like, "requires immediate attention" and "possible fire hazard." A home sale shouldn't fall apart over a shoddy garbage disposal.
Until buyer agents learn to better prepare clients for what to find, and listing agents convince sellers that their house isn't perfect, we'll need software like Qwik Fix, and all others in this space, too.
Qwik Fix gives sellers the ability to quickly respond to the most-needed repairs and buyers the chance to consider what's really important for them to have ready before move-in. (Stop asking sellers to fund your updates.)
However, I don't think every deal should default to negotiating closing credits to cover the repair. Sure, it's "easier," but also super subjective, and it puts yet another line item on the HUD 1. I'm fine with getting someone in there to fix some leaks, tighten bolts, and address minor electrical concerns or whatever, and that's what this company can do for you.
Processing an inspection takes 24 hours or less; the users log in, select the items, and schedule fixes, generally speaking. Payment for contractor work is handled at closing, which I don't love because, like credits, it's always best to have a clean close. Anything on that document can become a reason for someone to want to tear it up and walk, regardless of how many times you've told them what to expect.
Everyone who is a part of the deal can be invited into the dashboard for input and general inclusion on project updates, as well as how each project overlaps with closing dates thanks to an onboard calendar.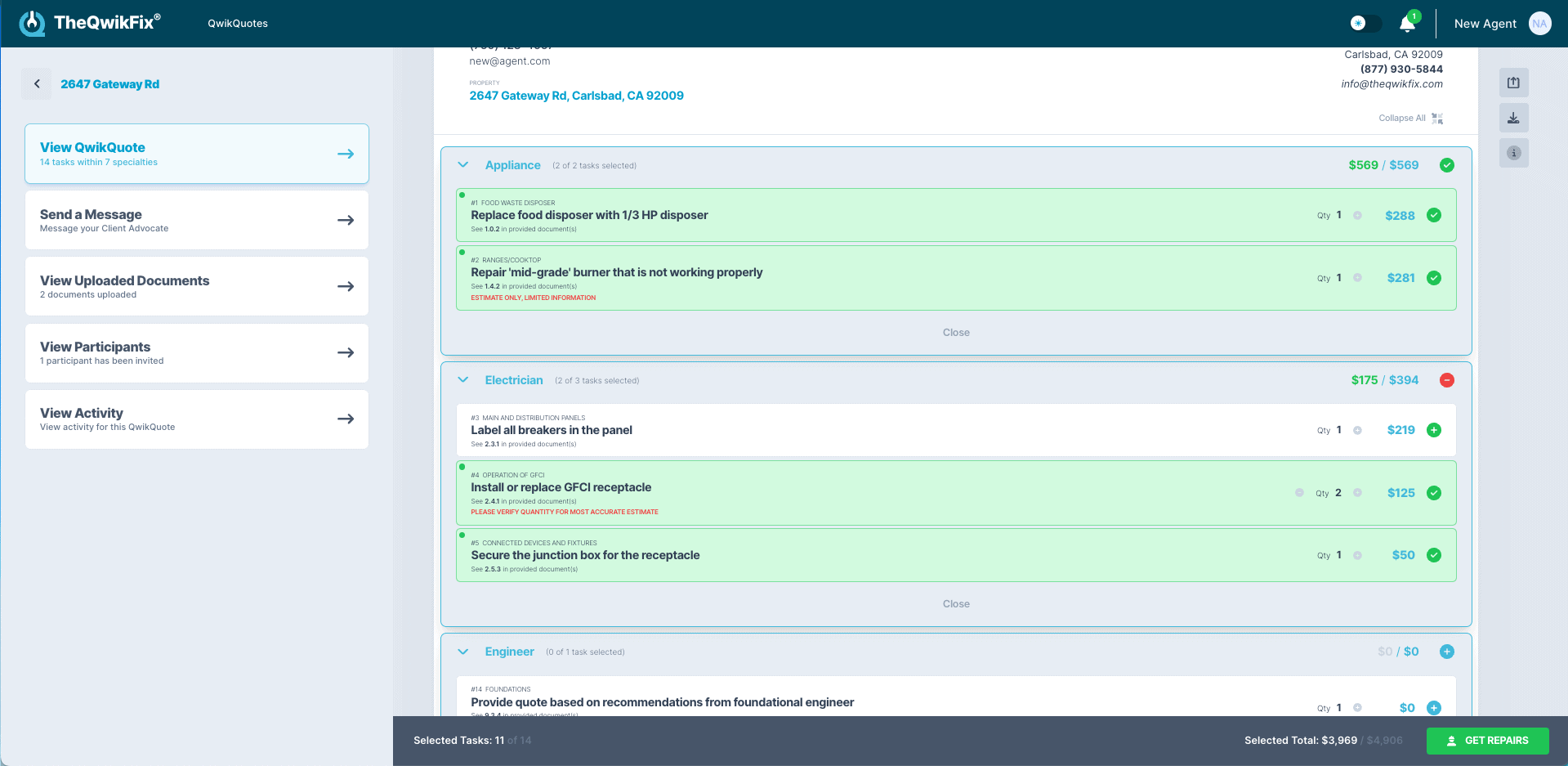 At no point will anyone be unsure of what something costs. The final term sheet is a simple, clearly worded rundown that all parties can universally refer to as the escrow carries on, a good way to no longer rely on email or voicemails in regard to what was wanted or ordered.
Qwik Fix suffers a little from a lack of integrations with popular transaction management solutions. I can see them solving this in future updates and connections with products, like ListedKit or Shaker, could be cool to see.
It would make sense for it to link up shortly after a listing enters escrow, and that way all the inspection can become part of all the other items required for a home to change hands. Even though I don't love the idea of credits, maybe a feature could be added that allows for the buyer to indicate that instead of a repair, based on the project cost. The seller could then accept or reject the offer directly in the system as a method to advance the deal. Just an idea.
This system is light enough and affordable for agents at any level of their career, and it would make a great way for recent licensees to avoid, or at least alleviate, a lot of the hang-ups inspections often create. And individual investors, or agents with investors as clients, would be wise to have a look, too.
Have a technology product you would like to discuss? Email Craig Rowe
Craig C. Rowe started in commercial real estate at the dawn of the dot-com boom, helping an array of commercial real estate companies fortify their online presence and analyze internal software decisions. He now helps agents with technology decisions and marketing through reviewing software and tech for Inman.