I'm working on a new weekly email featuring my thoughts on the industry and more. Check out the last one here (Bigger is better: Just ask these two real estate billionaires). Send me feedback at brad@inman.com. And if you would like this in your inbox every Friday, sign up here:
[email-signup]
Kissed the ring
I had a "suite meet" with new NAR CEO Bob Goldberg when I attended the trade group's fat cat (leadership) gathering in Chicago this week. The affable new chief executive manages thousands of volunteers, a $187 million operating budget and a sprawling team of lobbyists, educators, publicists and event planners.
We met in room 3201 of the Sheraton Grand in Chicago, a massive hotel venue on Water Street. The suite was larger than an average apartment in New York City and was stacked with more treats than a 7-Eleven. It looked out over the Chicago River with Lake Michigan views that might give rise to grand visions, delusions or both.
Goldberg was gracious and talked a mile a minute about what he planned to do. His list is long.
The quintessential insider, he is sincere and smart and has a reputation for out-working everyone around him.
But he faces a daunting task. The trade group is a sprawling, bureaucratic rock pile. As he tries to knock down NAR's ivory tower, it may be a decrepit, old haunted house that Goldberg must contend with. There are secret rooms, hidden bathrooms, panic rooms and mysterious doors behind paintings of past presidents who promised too much and delivered too little. It is occupied by thousands of NAR ghosts who love the suite life, sometimes travel first class and are experts at finding the best restaurants on their member-paid boondoggles.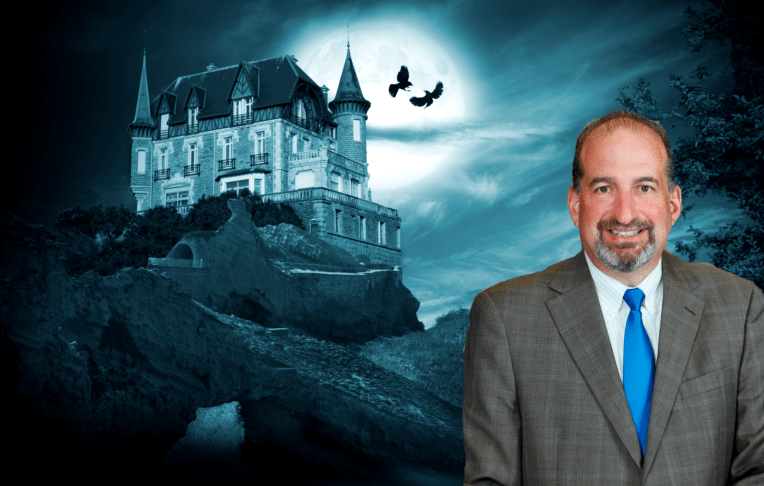 Is NAR too big to fail?
Yes, and that is exactly the trade group's problem.
With no shortage of good intentions, big ideas and devoted volunteers and staff, my advice is to stop asking your members to "support NAR." The slogan should be flipped: How is NAR supporting the everyday Realtor?
Polyester is back
The new Century 21 CEO, Nick Bailey, has his work cut out for him. Can you imagine running this iconic real estate company, a timeworn brand that needs more than a facelift? Yes, it is a brand that people recognize, but so is Pan Am.
Its vintage gold jackets are very mid-century, so you might imagine it becoming the go-to brand for hipsters who gave a lift to stalled companies like Dockers, Jello, Jim Beam and Dunkin' Donuts. The gold jackets were featured in iconic movies like Ghostbusters and War Games. (Note: the sports jackets have not been the offical C-21 wardrobe for more than a decade)
But branding sleight-of-hand is not the only challenge facing the 22-year old real estate veteran Bailey, who spent 15 years at Re/Max and the last five years at Trulia and Zillow.
He and his colleagues at Realogy must figure out how to make their business relevant again. Clever feel-good YouTube videos and Super Bowl skyboxes will not remake these franchisors.
How do they show their meaning to up-and-coming and fast-growing indie brokers who are seeking innovation? Clever technology, training and internet leads are not enough for this feisty gang of quick and agile brokers who are willing to try out new business models and help reshape the direction of the industry.
They are not flocking to Century 21.
The Realogy octopus is filled with smart and capable people, but its future success depends on its brands breaking away again, doing some things that are bolder and game changing.
The Real Estate Matrix unfolding
"This is your last chance. After this, there is no turning back. You take the blue pill — the story ends, you wake up in your bed and believe whatever you want to believe. You take the red pill – you stay in Wonderland and I show you how deep the rabbit-hole goes." – Morpheus from the Matrix
When revolutionary new products are launched, it takes some time to see the big picture. As the iBuyer movement gets traction, the grand scheme is coming into focus.
A real estate services matrix is taking shape that you can imagine looking something like this: At one end, high touch transactions that are complex, requiring lots of handholding that cannot be commoditized. Fitting this profile might be luxury property or complicated seller profiles following a rather conventional sales process — MLS, staging and patient selling.
At the other end, a new fast and furious low-touch, quick-sale iBuyer market, where institutional buyers thrive. But over time, more routine buyers and everyday sellers take advantage of an expedited and streamlined process for buying and selling property. In and out in 72 hours.
Consumers will have a bundle of new and exciting choices and the traditional industry will be put to a test like nothing it has ever faced.
These low-touch transactions inevitably give rise to an electronic marketplace in which deals are streamlined, and can be closed efficiently and quickly without too much hands-on support or service.
Another way to look at it is a wholesale and a retail housing market.
IBuyers drive the wholesale market, which will have its own ecosystem and look more like the stock market, transparent and more efficient. A new industry is being built around it, like Zillow's Instant Offers platform, bridge loans and sophisticated property management, relocation and maintenance programs and services.
Electronic house-trading is coming soon and it will rock the conventional real estate world.
Inside Inman
We're excited to welcome veteran tech journo Carl Franzen to the editorial team as editor-in-chief. Real estate is increasingly a technology story, and Carl brings new intel and perspective to our news business. Get ready for some new developments on our enterprise work and industry coverage, and send your ideas and feedback to carl@inman.com.