We're all guilty. At one point (for some over and over), we all commit various crimes related to our online presence and social media platforms.
They have to stop. Whether you are a chronic online offender or a one-time culprit, here are the 10 social media mistakes you have to stop now — and their simple fixes.
Facebook
1. Not having a link to your business page to your personal page
Crime
Great, you have a business page, however, no one can find it unless you tell them the name of your page. This is also why your page has very few likes and followers.

Remedy
Go to the "About" section of your personal Facebook page where is says "Work." Add to your work history by adding the name of your Facebook business page.
Now your business Facebook page will be listed on your personal page, which will allow those who view your personal page to easily find your business page. This drives traffic and increases your likes and followers.
2. Not including your list of real estate services on your business page
Crime
The average business owner is not aware that the there is a tab on the Facebook business page that allows you to list your services.
Remedy
As a real estate agent, for example, perhaps you want a buyers, sellers and seniors section listed on your page so that viewers will become aware of your specialties.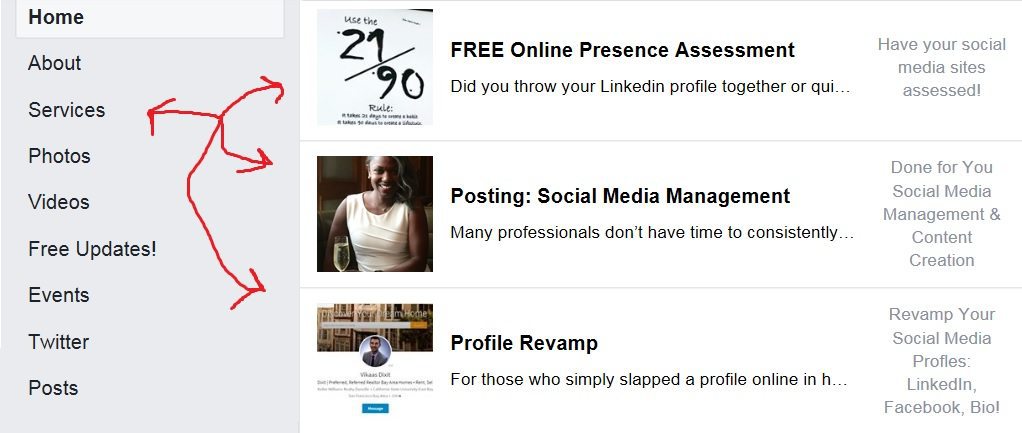 3. Not including a description for your profile photo and cover photo on your business page
Crime
Most business pages that I see fail to include a description with the profile photo, as well as the cover photo. This means you're missing out on yet another opportunity to market your specialties and what sets you apart from other agents.
Remedy
Go to your profile photo on your business page, and click "add description." Include things like your geographic farm, your specialties and even the types of real estate transactions you want to be known for, such as short sales, distressed properties, commercial or residential.

4. Not including a description when you share links to articles
Crime
The average agent sees a link to an article and simply copies and pastes the link onto their social media.
Remedy
Read the article, and pull a key point or two from it that you think would be of value to your network and clients. Ideally, the points you pull from the article will be things that showcase services you can provide for clients and prospects.
5. Merely posting coming soons and listings
Crime
Look at a real estate agent's business page, and most likely you will see a slew of houses for sale. This is salesy, looks a lot like spam and does not engage prospects to get to know and ultimately utilize your real estate services.
Remedy
In addition to posting your listings and coming soons, also provide value with educational posts that let buyers and sellers in on what they can expect or best practices.
Post inspiring quotes that motivate buyers and sellers to take action sooner than later.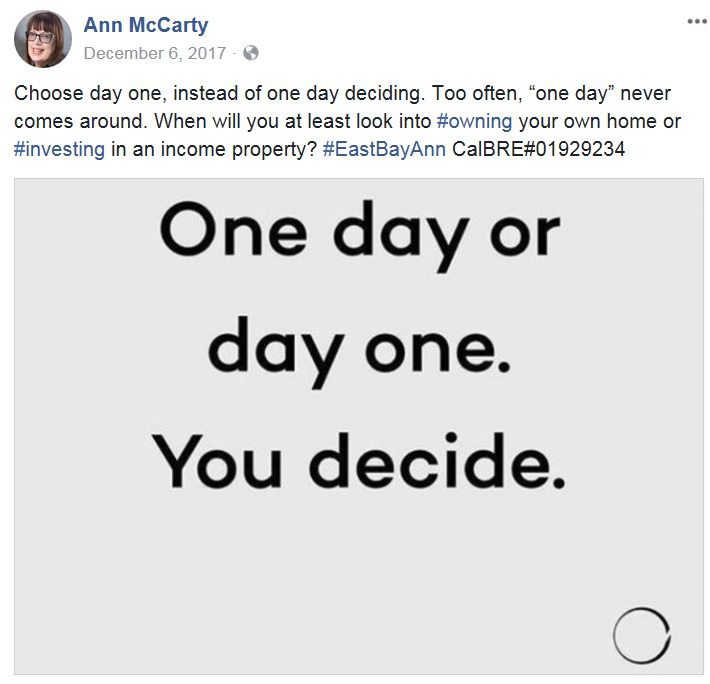 LinkedIn
1. Ignoring LinkedIn
Crime
Some of you don't even know your password to LinkedIn anymore.
You haven't connected with your prospects, clients and referral sources on LinkedIn — an excellent resource for keeping in touch with your sphere. And you haven't posted anything on LinkedIn.
Remedy
Go through your client list, and connect with each person on LinkedIn.
Deliberately create your LinkedIn network by including people you want in your network, versus passively accepting connection requests and complaining about only being connected to other real estate agents or lenders.
Also, that link you've copied and pasted on Facebook, paste it onto LinkedIn as well, highlighting key points of the article as we discussed above.
2. Not leveraging LinkedIn to be found on Google
Crime
Because you've ignored LinkedIn and forgotten your LinkedIn password, you've also ignored LinkedIn's publishing feature, which allows the blogs you write on LinkedIn to be found in a Google search.
Remedy
Think about what you want to be known for and the kind of search that will lead prospects to you.
For example, let's say you want to be found on the first page of Google when a seller conducts a Google search on "what to do before selling my San Francisco waterfront condo."
Write a quick four-paragraph article educating sellers on the best way to go about selling their waterfront condo.
Publish this article on LinkedIn because Google recognizes LinkedIn as a major brand, and this will help you come up on the first page of Google under searches relating to how to best sell your waterfront condo in San Francisco.
3. Not using your profile to set yourself apart from competitors
Crime
Most of the LinkedIn profiles of real estate agents that I see simply include their job title, the name of their brokerage and a slew of brokerages where they used to work.
Remedy
Use your LinkedIn profile as a piece of marketing material, rather than as a resume. You can include your tagline or phone number in the heading where your name is.
Include your specialties in your summary. Include your farm area in your experience section. Include your certifications and how they help you better serve clients.
Instagram
1. Not consistently posting
Crime
Just because you don't see the value in being active on social media sites such as Instagram doesn't mean millions of other people aren't using social media. The question is: do you want your real estate services to be found by those users?
Remedy
You don't have to post on Instagram every day, although you certainly can. However often you can commit to posting is how often you should post.
For example, if you can post three out of seven days of the week, stick to that schedule consistently.
2. Using only real estate hashtags
Crime
I think it's great you're posting on Instagram. However, it's best to mix up your use of hashtags beyond #realestate, #listingagent and #realestatelife.
Remedy
In addition to such real estate hashtags, also include hashtags that prospects would use as they relate to the listings you're promoting, such as #dogpark, #shopping and #homeforsale.
These three hashtags would be perfect for a home for sale that is near shopping and a dog park.
These are items that can easily be remedied. Go through the list one at a time, and see what you can fix. If you need help, connect with me on LinkedIn or Facebook.
Italina Kirknis is the real estate community's online presence expert and speaker. You can connect with her on LinkedIn or friend her on Facebook.