Have suggestions for products that you'd like to see reviewed by our real estate technology expert? Email Craig Rowe.
One of the industry's most popular customer relationship managers (CRMs) now makes it easier for mobile-forward agents to integrate on-the-go discussions with clients.
In a press release last week, technology consulting and product development company Lunar announced the launch of Uplink, a text-based communications software focused on real estate agents.
Using either the Uplink dashboard or a connected Salesforce account, agents can search text discussions by date, contact and rate of activity.
The intent is to further empower text messaging as critical business content instead of mere webbing between more traditional forms of communication.
The Uplink dashboard vividly tracks and highlights the most active text conversations, and it does not require users to download an additional app.
In the release, Uplink CEO Jon Robinson said sales professionals often prefer texting: "According to a recent study, 85 percent of customers said they would prefer to reply to a text message from a business compared to a phone call, and Uplink provides businesses with a way to reach those customers without sacrificing data insight or disrupting workflow."
Users are assigned a unique Uplink number to provide clients whose texts they wish to track, not unlike the classic marketing tactic of using a 1-800 number. The client is assigned one as well.
Managing multiple numbers could be considered a significant hurdle for agents working with an established database or who have been in the business for a long time.
But there is an advantage to using Uplink with specific categories of clients, such as those gained at an open house or special event, or as a way to measure specific marketing campaigns.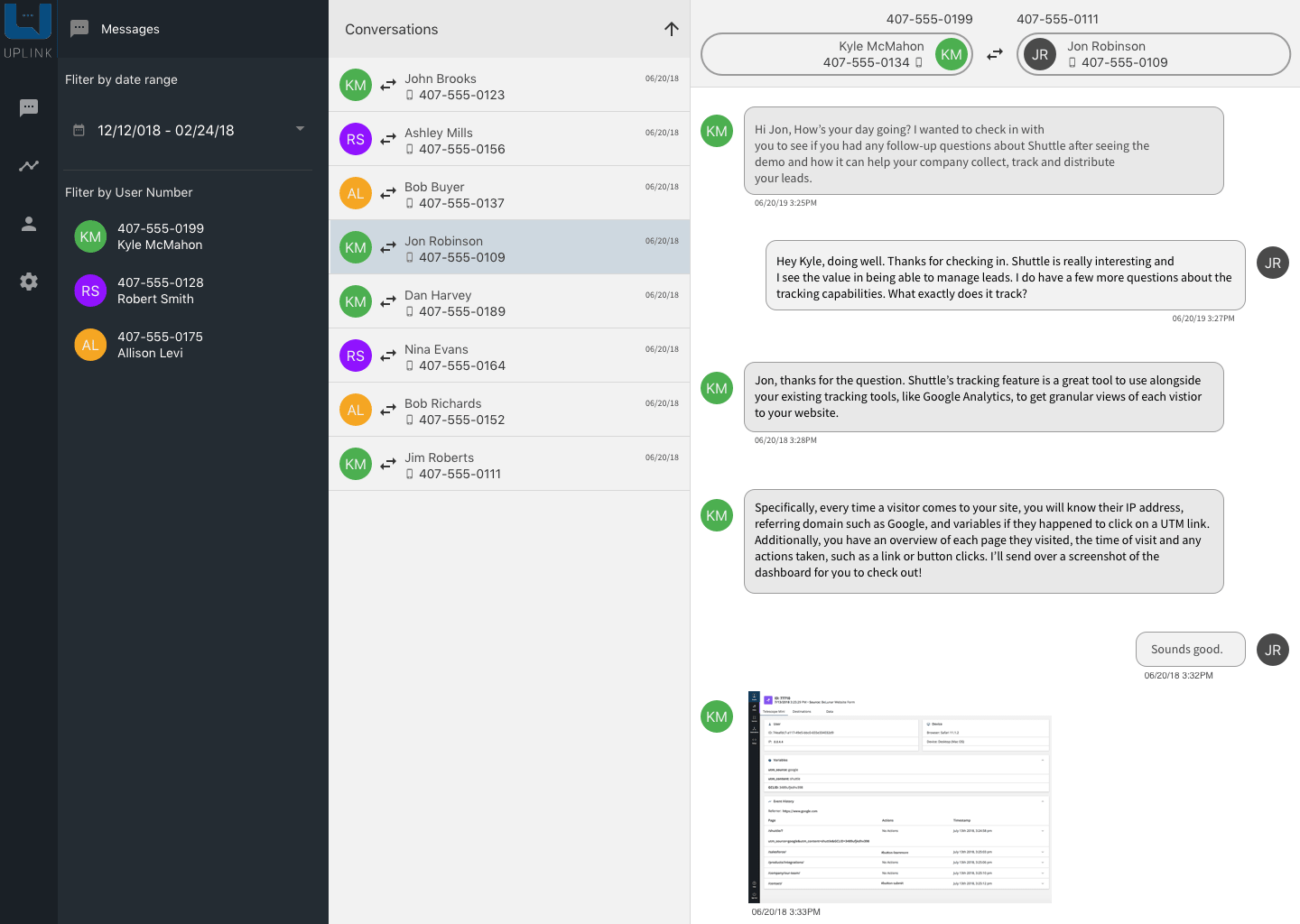 Uplink's pricing is tiered, starting at $29 a month per phone number. The standard account includes 25 unique contacts and 500 total SMS messages, as well as 100 minutes of calling when a customer inevitably calls you on your text line.
The second-level account offers 100 unique contacts, 200 total minutes, 1,500 text messages and 50 multimedia messages for $99 a month per number.
Although we have yet to demo Uplink, the initial friction of managing a second number for "text-only" clients might be hard to overcome, especially when a number of CRMs already provide similar functionality.
Lunar will debut Uplink at Dreamforce 2018 in San Francisco from Sept. 25-28.
Have a technology product you would like to discuss? Email Craig Rowe