From past president notoriety to flying car ports to the most expensive property, 2018 saw some of the most impressive listings in history. Here are our top 10 favorites.
In 2018, some of the most impressive properties in the history of the United States have come on the market. From past president notoriety to flying car ports to the most expensive property, these listings piqued our interest in a big way. 
Here are our top 10 favorite listings from last year. 
1. George Washington slept here
These first properties are in "the City of Brotherly Love," also known as Philadelphia, Pennsylvania, where our forefathers came together in 1776 to sign the Declaration of Independence, resulting in the "birth" of the United States.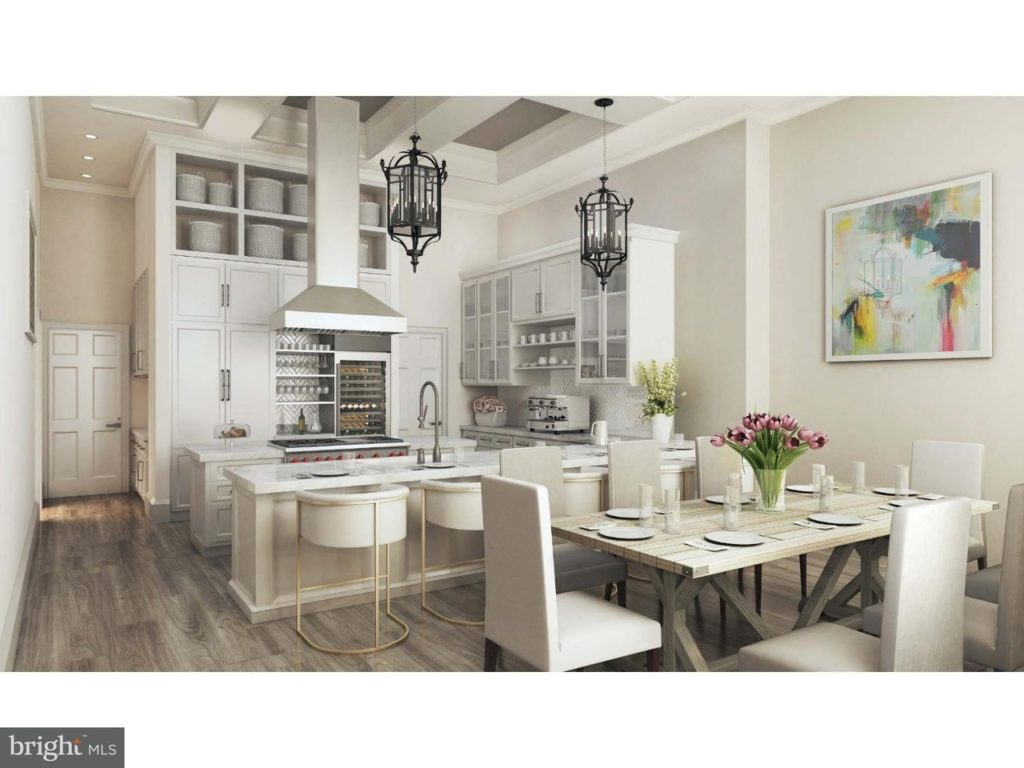 Sitting adjacent to one another at 238 and 240 S. 4th Street, the properties are also referred to as The Shippen-Wistar and The John Cadwalader Houses respectively.
The Shippen-Wistar House sold on Nov. 21, 2018 for $2 million. If you act fast, you can own a piece of history (George Washington is said to have visited and even slept in this house) by acquiring the neighboring John Cadwalader House listed at a price of $2.35 million by owner Allan Domb of Allan Domb Real Estate, who also happens to be a Philadelphia City Councilman.
2. The Brady Bunch house
For the first time in 50 years, 11222 Dilling Street located in Studio City, California, came on the market in 2018 for an asking price of $1,885,000. Built in 1959 on a 0.29-acre lot, this house was used in the opening and closing shots of the classic sitcom The Brady Bunch, which ran from 1969-1974.
Also known as "home" to Mike, Carol, Greg, Marcia, Peter, Jan, Bobby and Cindy Brady, The Brady Bunch house is considered to be the second most photographed home in the United States losing the first-place spot to the White House. Interestingly, the show itself was filmed on the set of a Los Angeles Production Studio.
So, for those who are wondering, Marcia did not actually get hit in the nose with a football here nor did housekeeper Alice ever cook a meal in this kitchen as the show was filmed at a nearby production studio.
The nearly 2,500-square-foot house fielded offers from both big-name developers lusting after the land and wealthy fans, most notably 'N Sync's Lance Bass, who wanted to keep the house in tact.
Ultimately, Discovery Inc.'s HGTV network purchased the iconic television property for $3.5 million with plans to restore it to its 1970s original. 
3. DJ Khaled's Miami pad
After dropping $25.9 million on a waterfront home in Miami, famous media personality DJ Khaled put his previous pad on the market for $7.99 million.
The property, a 6,700-square-foot house in Miami's Aventura neighborhood, is the epitome of swag: It has six bedrooms, four stories, chandeliers made with 14K gold and Swarovski crystals and a pool surrounded by palm trees and waterfront views.
As listing agent Janet Ben Zvi told The Wall Street Journal, Khaled, whose real name is Khaled Mohamed Khaled, bought the property for $3.59 million in 2015 and spent more than $2.5 million customizing the pad with his signature over-the-top style.
4. Miami's luxury condos with flying car landing pads
With its abundance of uber-wealthy residents and notoriously high traffic, Miami has been one of the first cities to embrace futuristic modes of transportation — three new luxury properties will have flying car docks on the penthouse of its tower.
The Paramount Ventures Worldcenter, which will be finished in 2019, will have a dock in which personal transport drones from Uber and Airbus can land and pick up residents atop the 60-story tower.
That said, apartments in the luxury condo range from $700,000 to $11 million, which means that flying automobiles are, at least for the time being, reserved for the select few.
5. Luxury Arkansas fallout shelter
Like a secret lair, this 5,572-square-foot property is a luxury lodge carved into the side of a mountain — first as a fallout shelter, then later as a nightclub, resort and private residence.
Beckham Creek Cave in the Arkansas' Ozark Mountains hit the market for $2.75 million in 2018.
In 1983, Celestial Tea founder John Hay bought the cave for $146,000 and spent nearly $2 million turning into a fallout shelter for use in the case of nuclear disaster.
6. Jackie Gleason's UFO-inspired home
In 1959, popular TV comedian Jackie Gleason, of The Honeymooners fame, became so obsessed with life on galaxies far, far away that he built his house to look like a giant spaceship — and the round, winding structure went on the market for $12 million in 2018.
Architect Robert Cika designed the house and an adjacent cottage in Cortland Manor, New York, from scratch with Gleason's love of outer-worldly things in mind.
Everything in the two buildings — nicknamed "The Spaceship" and "The Motherhsip" by Gleason — is circular, with the structure supported by exposed wooden ship beams spiraling out from the middle.
The estate boasts five bedrooms, six bathrooms and more than eight acres of land. From the marble staircases and curving kitchen to the winding bar that can accommodate up to 14 people, each detail was built to honor Gleason's lifelong love of space and science fiction.
7. Late DJ Avicii's Hollywood Hills home
Four months after Avicii's tragic death, the Hollywood Hills home of the famed Swedish DJ and electronic music producer sold off market for $17.5 million.
The modern home, which was built in 2008 and in which 28-year-old Avicii would spend considerable time until his death, went to an unidentified buyer in an off market deal, the L.A. Times first reported.
After gaining a devoted popular following with songs such as "Le7els" and "Wake Me Up," the DJ purchased the house in L.A.'s high-end Bird Streets neighborhood for $15.55 million back in 2013.
8. A Salem witch trial home brought back to life
After 325 years, a 4,253-square-foot, five-bedroom Framingham, Massachusetts, estate was once home to Peter and Sarah Clayes, the latter of whom was accused of being a witch during the infamous 1692 Salem witch trials, hit the market in December for $975,000.
The trials were sparked by the reports of three girls, the daughters of a prominent reverend, having "fits" that included contortions and outbursts. The three girls said three townswomen had cursed them, and the trials soon began.
Eventually, over 200 people were jailed for witchcraft including Sarah and her sisters, Rebecca Nurse and Mary Easty. Nurse and Easty were executed, but Massachusetts governor William Phipps stepped in and banned any further arrests, pardoned the accused and had them released from jail, including Clayes.
After her release in 1693, Sarah and her husband, Peter, settled on 35 acres of land that would become Framingham.
In an interview with Inman, listing agent Peter Ferrini explained that the process of getting the Peter and Sarah Clayes house on the market has been a 20-year journey, filled with foreclosures and legal battles over deeds and titles.
Then, in 2015, Goldman Sachs released the deed, and the Framingham History Center was able to take over the property. The Center then created a special division for the home and began fundraising for its restoration, which included repainting the home, preserving the original floors, woodwork, plaster stenciling and claw-foot bathtubs, and adding modern features, such as an AC system and walk-in closets.
9. The most expensive listing in the US
Even after being cut in price by more than $100 million, this posh Bel Air mansion was still the most expensive listing in the country.
The hilltop property, which belongs to the estate of late Univision CEO Jerry Perenchio, failed to sell after being put up as a pocket listing for $350 million in April 2017. In late 2018, the 25,000-square-foot, 10-acre estate known as Chartwell went on the open market — but with a significantly reduced price tag of $245 million.
Constructed in the French Neoclassical style in 1933, the house was used as the set of the 1960s TV show The Beverly Hillbillies. With carefully landscaped gardens, lawns, fountains, a 75-foot pool and a five-bedroom guesthouse, every inch of the estate exudes extravagance.
But beautiful as it is, the exorbitant asking price might be a tad much. Even with the price cut, it's still more than double Los Angeles County's record sale — Hard Rock Café co-founder Peter Morton's sold his Malibu home in April for $110 million.
10. A Rockefeller heiress's former estate
An estate fit for American royalty — or more precisely, an heiress to the Rockefeller family fortune — hit the market for $30 million in September of 2018.
Once the home of oil industry magnate John D. Rockefeller's granddaughter Abby, the luxurious Tudor-style estate is hidden from prying eyes by a half-mile-long garden drive on Long Island's Gold Coast.
The entire estate emanates old-world, old-money style — the 56-acre grounds include a 10,000-square-foot manor house, a pool, tennis courts and expansive garden walkways hidden by wrought-iron gates. The guest cottage alone has three separate bedrooms.
In 1978, current owner William J. Catacosinos bought the property from Abby Rockefeller Mauzé's estate. After a lifetime of sponsoring New York's public and garden projects, Mauzé had passed away two years earlier.
Ayisha Sereni is the president of The Main Line School of Real Estate in Wayne, Pennsylvania. Follow her on Twitter or Facebook.