With more than 1,000 Inman posts, Bernice Ross is a long-time contributor whose weekly column on real estate trends, luxury, marketing and other best practices publishes every Monday.
Do you regularly use snail mail print marketing? When used properly, it can be a powerful lead generator — but use it incorrectly, and you and your marketing piece end up in the garbage.
In 2018, we put our homes in Austin and Los Angeles into a family trust. The result has been a deluge of print marketing materials from agents and investors seeking to do business with us. Here's an analysis of what these agents did right — as well as where they got it really wrong — with the following marketing methods.
Highest-quality print marketing
There were two Coldwell Banker agents who contacted us about our Austin home. In each case, they had a six-sided, full color brochure that was quite attractive.
What they did right
1. Clear marketing plan: The back of their marketing pieces outlined the Coldwell Banker 13-point marketing plan that included mobile technology, professional photography and videos, virtual tour, single-property website, exposure across all the portals as well as social media, television marketing, etc.
2. Advertising a lifestyle: The first agent's marketing piece followed the classic formula for a "Just listed" brochure and had the added benefit of highlighting some elements of the lifestyle, rather than a typical laundry list of features that most agents use:
The private and tranquil oversized patio is perfect for an evening sunset or morning sunrise. Upgraded with a built-in dog run, your furry best friend will feel right at home.
Stupid marketing mistakes
1. A jumbled, messy message: The headline on one of the mailers was Welcome Home! The back of the card, however, said that the property was pending sale.
When the agent tried to rewrite the professionally written Coldwell Banker boiler plate to account for the fact that the property was pending, she muddled the message, destroyed the formatting, made a glaring grammatical error ("One of the reasons they selected myself") and lengthened the message by over 30 percent.
2. Wrong target market: This same agent also wasted her money mailing by targeting our subdivision, which is a 55-plus lock-and-leave resort community with a plethora of activities and amenities that her listing lacked.
Her ideal target would have been the nearby houses and condos priced $100,000-$150,000 less, rather than $50,000-$200,000 more.
Glossy postcards
The RE/MAX postcard we received was a typical "Just listed" card on high-quality stock. The two other glossy cards were from the same Keller Williams broker and appeared to be part of an airline theme by asking, "Do you need more leg room?" and "Are you ready for an upgrade?"
What they did right
The card was consistent in terms of the high-end photography, theme, white space and sans serif font, which was appropriate for a luxury marketing piece.
3. Down to business: The Keller Williams agent's card highlighted 106.5 percent — the average selling price this agent has obtained for her sellers.
Stupid marketing mistakes
1. Off target: Because the Keller Williams agent didn't know the demographics of the area, her shotgun messaging approach totally missed the mark:
What might have started off as the perfect home to meet the needs of your lifestyle may now be too small for the changing demands of a growing family.
Assuming that the recipients of this marketing piece all have "a growing family" immediately turns off empty nesters and anyone who is single, divorced or older.
2. Self-indulgent: Recipients don't want front row tickets to the Me-Me-Me Show staring you:
I never thought this career was going to be so rewarding. I originally thought I was just going to be selling homes. Was I ever surprised … I am actually helping to change lives.
This agent missed on the WIIFM principle — what's in it for me? Great marketing always focuses on the recipient, not the agent, and uses "you" language rather than "I" language. No one really cares how rewarding your real estate career is — and by the way, when people want to change their lives, most prefer a therapist over a Realtor.
3. Bragging and messy: The front of the RE/MAX agent's card had 11 different sizes and types of fonts making it look like a hodgepodge. She also engaged in the me-me-me approach by bragging about the hundreds of homes that she has sold and saying, "I take great care of our clients."
The ugly and the even uglier
The remainder of the marketing pieces were single-sheet pieces on low-quality paper.
What they did right
1. Comparables: Of all the marketing pieces I received, only one provided comparable sales and an estimate of value on our property.
2. Specificity: All the agents who were looking to purchase our property as-is for cash had clear-cut offers tied to a specific call to action. The two Century 21 agents had the most professional looking pieces that appeared to be on office stationery.
Stupid marketing mistakes
1. Unprofessional notes: Three of the pieces we received were computer generated "handwritten" notes. Two of these were on college-ruled paper.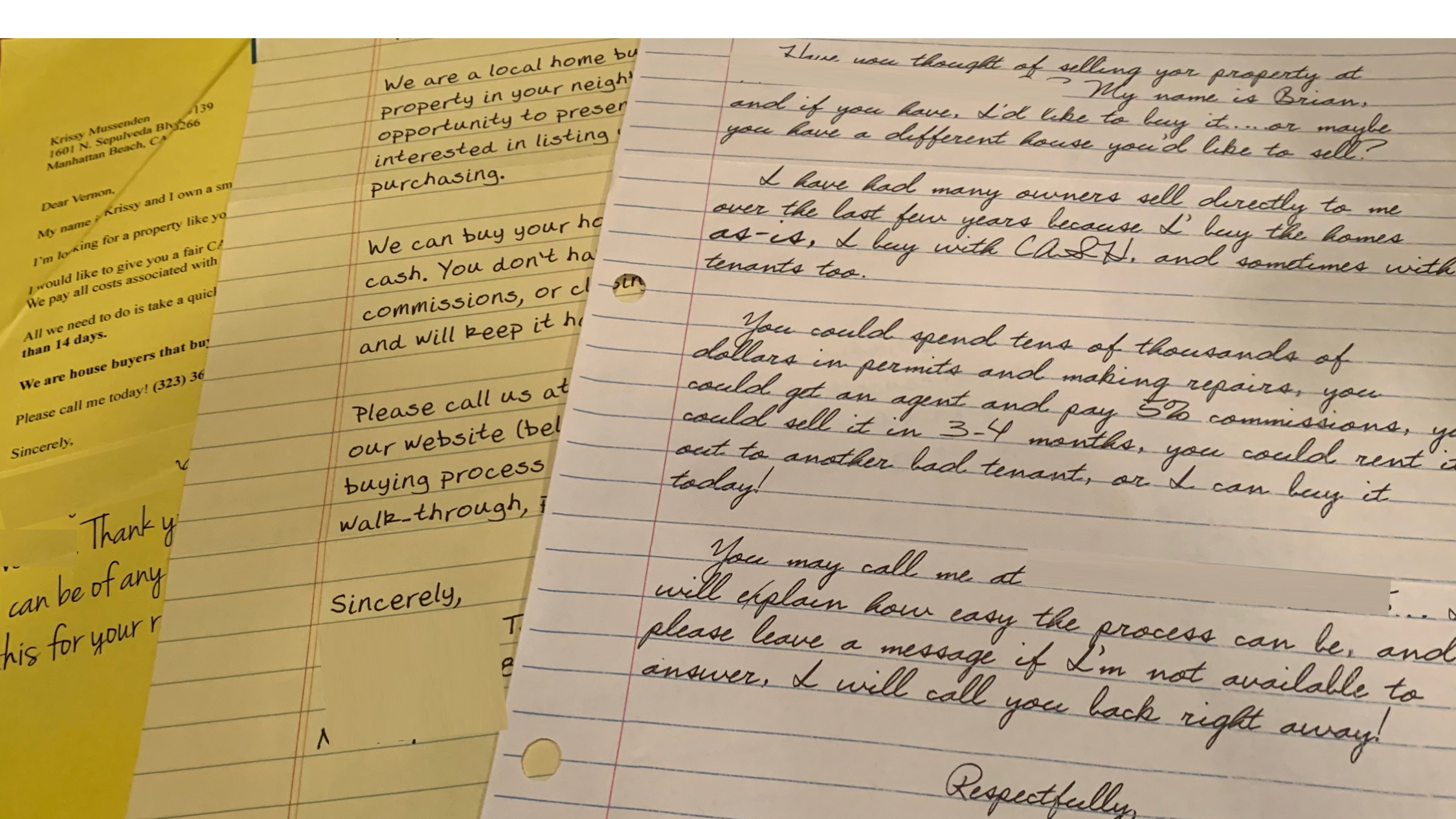 A real handwritten note or a computer-generated piece with a handwritten signature or personal note would have been a much better choice.
2. Poor penmanship: We did receive one handwritten postcard from HomeVestors, however, the agent's handwriting was so bad that it looked as if the agent wanted to write an offer on our "horse," instead of our "house."
3. Getting names wrong: If you're going to mail us, at least get our names right. I love the one addressed to the "Ray" family, but "Dear Property Owner" was just as bad.
4. No reconnaissance: The agent who decided our last name was Ray, rather than Ross, described the consequences of not selling with him: "You could sell your house at a 5 percent commission or rent it out to another bad tenant." If the agent had accessed the homestead records, he would have known that the property is owner-occupied.
5. Unaware of real estate laws: All the California postcards addressed to our Austin property had the phrase, "Or current resident" immediately below our address. California and Texas do not have reciprocal licensing agreements. Unless the agent is licensed in Texas, it violates the Texas real estate laws for that agent to solicit business in Texas.
6. Annoying requests: Two of the pieces commanded, "Please keep this letter for future reference" or "for your records." Seriously? Does any agent expect someone to keep their marketing pieces?
True but borderline deceptive
A RE/MAX agent was the only one who sent us the comparable sales, but her marketing piece made it look as if these were her listings. The second page reinforced that impression by showing her total MLS sales in units as being 323. I knew that couldn't be correct because I had never seen her name on a sign anywhere. If she was doing that much volume, her signs would have been everywhere.
I then looked more closely at the date range (which was in very fine print) on the statistics she pulled. It was from 2003 to 2018! That's about 20 homes a year, not a bad number given the prices in Southern California, but a far cry from the perception of 323 in the last year.
'Just listed' or 'Just sold'?
Finally, if you're going to engage in print marketing, be smart about what you spend and how you spend it. You're better off sending five "Just sold" cards to 100 people versus one card to 500 people, especially if it's a "Just listed" card. Your "Just sold" card lets people know, "you got the job done."
Bernice Ross, President and CEO of BrokerageUP (brokerageup.com) and RealEstateCoach.com, is a national speaker, author and trainer with over 1,000 published articles. Learn about her broker/manager training programs designed for women, by women, at BrokerageUp.com and her new agent sales training at RealEstateCoach.com/newagent.