Clozio is a sharp, simple app for busy agents and teams who need to better manage multiple deals.
Have suggestions for products that you'd like to see reviewed by our real estate technology expert? Email Craig Rowe.
Clozio is software for agents and their clients to better manage and monitor post-contract processes.
Platforms: Mobile first; browser
Ideal for: All agents, teams and brokerages; primarily high-performing agents and teams looking to better manage a growing deal pipeline.
Top selling points
Transaction-centric (no excess features)
Tight, concise user experience
Highlights most pertinent transaction data
Improves deal transparency
Customizable workflows
Top concerns
Clozio might have trouble uprooting more traditional transaction oversight products to earn customers. Even though it exists outside of that category, it's the easiest way to classify it. Also, agents will need to keep clients disciplined in using it.
What you should know
The more deals you do, the less time you have to manage them.
Assistants cost money and require training, and large-scale transaction management solutions tend to come with large-scale financial commitments.
Clozio fits comfortably into its own niche. A light, fast task and time management tool for ensuring everything that happens after the offer is accepted gets done and everyone who should know about those things does.
It delivers its feature set as both a browser and mobile app.
In-browser, Clozio lays out significant whitespace as a backdrop for sharp icons that depict its timelines, smart checklists and calendar integration.
That workspace is obviously tightened and easier to visually digest in the mobile experience.
Clozio looks as if it can make transactions fun to manage while limiting the number of questions your buyers and sellers ask you about them. In fact, rare is a tagline so appropriate: "share experiences, not contracts."
Clozio doles out "Smart Checklists" for each deal that help you manage the process in a solitary environment whereas so many other transaction tools clutter their processes with superfluous interactions with CRMs (customer relationship management), document managers and back-office financials.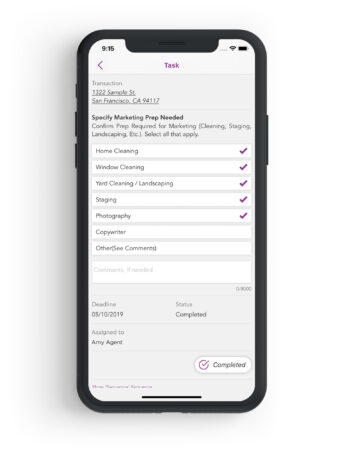 This design intent encourages adoption, ease of use and can be understood by even the most frantic of deal jugglers.
Clozio checklists differentiate between "always" and "sometimes," allowing unique transaction needs to be hidden if not part of a deal.
For example, maybe there isn't an HOA, so capturing covenants isn't relevant; or maybe a home warranty isn't part of the sale. That sort of thing.
Lists also limit what tasks can be viewed until they're date-relevant.
Again, it's all about reducing the number of ways a deal's nitty-gritty can distract a user. They also self-adjust according to the calendar.
The same sort of information control can be done on the buyer and seller side, too, as a way to avoid confusing them with items not needing their input.
Phone call after phone call to different clients during multiple escrows can be replaced with the client-facing landing pages that measure progress, display deadlines and offer contact profiles for every stakeholder involved. No sign-in needed, merely a unique link.
Clozio users will need to "train" their clients to depend on those deal pages and make sure they too commit to focusing on it as the primary source for all escrow details.
"Transactions are living and breathing things, and clients want to feel the pulse," Clozio Founder Matt Ross told me from the floor of Startup Alley. "Instead of Uber, we became Waze."
Ross was referring to the group-think traffic information app that's designed to help people make better commuting decisions. Whereas Uber just gets you where you're going without your input.
Ross thinks even the most capable transaction coordinator can create workflow challenges, at the very least because it adds another human layer between the information sources: agents and clients.
Clozio, however, can offer a more nimble link between them.
Clozio isn't the first app to focus on making escrow easier or to use dynamic checklists. Although more robust, PreClose does a great job of it. I'm also a fan of Nekst. I think Clozio's approach to consumer transparency helps it stand out.
Ross is offering a freemium model that gives access to its calendar functions and transaction timelines. The Pro version unlocks team accounts, as well as smart checklists and ad-hoc task creation for $35 a month.
The Concierge Program is an invite-only edition for agents who want the software and an actual digital assistant. Clozio staff will help coordinate post-close follow-ups, and take on the micro-delegation of marketing tasks.
"The concierge model takes agents from being doers to reviewers," Ross said.
And there is always a lot to do.
Have a technology product you would like to discuss? Email Craig Rowe