While often lauding the quality of tools provided by their brokerages, many survey respondents said they still wished they received more help with learning to master them. Hands-on care was in particularly high demand. "More face-to-face training, not just webinars," said one respondent.
The first part of our special report, released last week, covered how agents are using their brokerages' tech offerings, how much they're spending out-of-pocket and how they feel about the tech tools provided to them by brokerages.
What can brokerages learn from these findings? Who's doing it right and who needs to play catch-up? What do agents say they want? Keep reading to find out.
Download our full report with findings
Wanted: more training and support
While often lauding the quality of tools provided by their brokerages, many survey respondents said they still wished they received more help with learning to master them. Hands-on care was in particularly high demand.
"More face-to-face training, not just webinars," said one respondent.
Less can be more
Many agents said they feel overwhelmed by the number of tools provided by their brokerage. Some asked for a more manageable set of products that prioritized ease of use over horsepower.
"Simplify technology tools. There is an excess of tools that might confuse the user," one respondent said.
"They offer so many different options, partnerships and affiliates that it becomes too much to keep up with, especially if you are busy," added another.
Integration
"So many products offered overlap," was one overarching response addressing the frequent lack of integration between tools provided by brokerages. "Too many platforms do not communicate with one another. Very confusing."
This is a challenge that some real estate firms are tackling head-on.
Take Realogy, which owns brands including Century 21, Better Homes and Gardens Real Estate and Coldwell Banker. The real estate franchising giant is building a marketplace that will only carry third-party products that can integrate with Zap, the proprietary real estate business platform based on technology developed by ZipRealty, which Realogy acquired for $167 million in 2014.
Leads
Brokerages who feed leads to their agents, either for free or in exchange for referral fees, can enjoy an edge in agent recruiting and retention over others.
While Cathy Daniel, the Brentwood, California-based agent, likes earning high commission splits and handpicking her own products, she said she often envies colleagues at the local Re/Max affiliate who are spoon-fed business.
Those colleagues earn significantly smaller commission splits when they close transactions with leads generated by their brokerage, but they still end up doing "killer business," she said.
Brokerages often generate leads for agents by paying for exposure on listing portals like Zillow, Trulia or realtor.com, or through Facebook and search engine ads that drive leads to a brokerage website that can capture contact information.
Daniel said the local Re/Max franchisee has bought exclusive rights to leads from TigerLead and BoomTown, lead-generation systems that will strategically deploy a brokerage's marketing funds across digital channels to drum up leads on a brokerage's behalf.
"I would love to get those leads," Daniel said.
Build tools into your DNA
Many brokerages tout their technology to attract recruits but don't focus enough on baking it into their business model.
"They never put any effort behind the technology," McClelland said of these firms.
McClelland says brokers should ask themselves: "How can we make this part of everything we do versus how can we can just market it and recruit off of it?"

Independent brokerages are more likely than franchised brokerages to feed leads to their agents, but they also tend to charge for leads more often than franchised brokerages, according to Inman's survey.
Fifty-five percent of agents and associate brokers at franchised brokerages receive leads from their brokerage, compared to 65 percent of agents and associate brokers at independent brokerages. Four out 10 agents and associate brokers at franchised brokerages receive leads for free, while 15 percent have to pay flat fees or referral fees for leads.
Meanwhile, 34 percent of agents and associate brokers at independent brokerages receive leads in exchange for referral fees or flat fees, while 31 percent get them for free, our survey found.
To provide more insight into the different ways brokerages can address their agents' digital needs and preferences, we've explored the technology models of a few firms below.
Fast indies
One technology model often used by quick-footed independent brokerages involves offering a basket of tools that, thanks to the advocacy and support of the firm, end up finding purchase with a majority of the firm's agents. Some broker-owners may serve up these tools for little to no cost.
Most agents at Terra Firma Global Partners use the transaction-management system and intranet (powered by BackAgent) and the comparative market analysis tool (TouchCMA) provided by the brokerage, according to Hall.
The toolkit is financed by fees that agents pay to Terra Firma on every transaction that they close. Hall says these fees pale in comparison transaction fees commonly paid by agents at franchised brokerages.
Terra Firma is looking into offering a CRM and social media marketing service to all of its agents, but "whatever product we choose, we'll be seeing that the agent can take it with them," Hall said.
That should encourage adoption, along with the brokerage's policy of securing buy-in from agents before signing up for a new product or service.
"We'll take a temperature," to determine if a majority of agents believe the benefits of the product justify the amount by which that product will nudge up their transaction fees, she said.
One advantage broker-owners of independent brokerages say they enjoy over larger firms, particularly, they say, many franchised brokerages, is the ability to quickly adopt and discard products. They also say they can compensate for less bargaining power than big brokerages or franchisors by snapping up freshly-minted products just as they hit the market — when they're likely to be offered at promotional rates by vendors that want to stir up interest.
'You can see us as a speedboat'
Total Care Realty, a Greensboro, North Carolina-based brokerage of 10 agents, provides an expansive set of products and services to its agents for no fees, according to broker-owner Larry Story.
The bundle includes a transaction management platform, CRMs, agent websites, mobile apps, social media marketing management and production of virtual 3-D models and videos for listings. He also furnishes his agents with free leads, which he generates by spending around $2,000 a month on digital marketing, including advertisements on listing portals.
"It is unusual," he said in an email about shelling out cash for leads and then feeding them to his agents for free.
Then, letting loose a common rally cry of independent brokerages (or maybe just all brokerages), he added: "But, then again I am not a greedy individual. I did not start my firm to make money off of other agents like the traditional models out there."
From a technology perspective (as well as other vantage points), Story said large brokerages resemble aircraft carriers. They can only shift directions at a slow, lumbering pace.
"You can see us a speedboat," Story said. "I can turn on a dime."
Story is on the hunt for a "CRM on steroids" that he will plug all of his agents into (assuming they consent). He's also plowing full speed ahead into virtual reality. He recently ordered two headsets from Oculus Rift that will allow clients who visit his office to digitally transport themselves into the interactive 3-D models of his brokerage's listings.
Minimalists
Some brokerages take the opposite approach as Total Care Realty, choosing not provide any technology at all to their agents.
The flexibility to choose your own products without burning cash on tools you don't use, as well as the possibility of getting higher commission splits — which could more than offset higher out-of-pocket costs — can be among the benefits of this model to agents.
Given the downsides of sourcing tools from a brokerage, the laissez faire strategy might have staying power.
But agents at these brokerages may have to expend considerable effort finding the tools that are right for them. They'll also likely be regularly tempted by the siren call of turnkey digital solutions, like toolkits and a steady supply of leads, emanating from competing brokerages.
Shades of franchisees
Many franchised brokerages may affiliate with franchisors, in large part, for access to product offerings that they can hand down to their agents. These firms may not hunt for the latest cutting-edge products with the same zeal as other brokerages, said Steve Weiss, broker-owner of Coast & County Brokers, a 14-agent independent brokerage based in San Luis Obispo, California.
As the former managing broker of around 100 agents at a franchised brokerage, Weiss found that an attitude of "I don't need it, and I'm doing my own thing" seemed to characterize many of his agents' view towards his previous firm's tech offerings.
Weiss keeps things simple at the brokerage he founded after leaving that franchisee. He offers a transaction management platform (powered by SkySlope), digital signature technology (DocuSign) and agent websites. His agents have overwhelmingly embraced the ensemble, he says.
But not all franchisees are content to merely forward their franchisor's tech offerings to their agents. Some take a hybrid approach, serving up franchisor-wide tools, which often appeal to less experienced or tech-savvy agents, along with alternatives or supplements that they source from third-party vendors, or even develop in house.
Take Better Homes and Gardens Metro Brokers, for example. Agents pay $43 a month for access to a toolkit that includes both franchisor-wide products and others built or sourced independently by the 1,900-agent brokerage, according to McClelland, the firm's chief operating officer.
Many of the brokerage's agents use franchisor-wide tools, such as Better Homes and Gardens' customer relationship management system (powered by MarketLeader) and learning management system, he said
But "when they start outgrowing the franchisors' systems that they have in place and they need something that's more customizable and more robust," that's when they turn to other products included in their monthly fee, he said.
Those include a proprietary CRM and lead-management system that tells agents when leads are ripe for contact. And agents of all experience levels use a proprietary platform developed by Metro Brokers that lets agents easily find colleagues to host open houses on their behalf.
Like many large brokerages, Metro Brokers can find it challenging to nudge agents into taking advantage of some of some of its tech offerings. But McClelland believes Metro Brokers enjoys higher adoption rates than most because the firm seeks to build its tools into its "DNA."
The brokerage's tech hotline and five-member support staff, who provide assistance by phone and in person, also likely help shore up usage of its medley of tech tools.
Metro Brokers may have built a solid technology framework for its agents. But don't forget: If you join the brokerage, you'll have to use a company email address. At least, that's policy.
Take a look at how the tech offerings of Century 21, Keller Williams Realty, Coldwell Banker, Re/Max and Berkshire Hathaway HomeServices, based on responses from agents and brokers (including broker-owners) to our survey.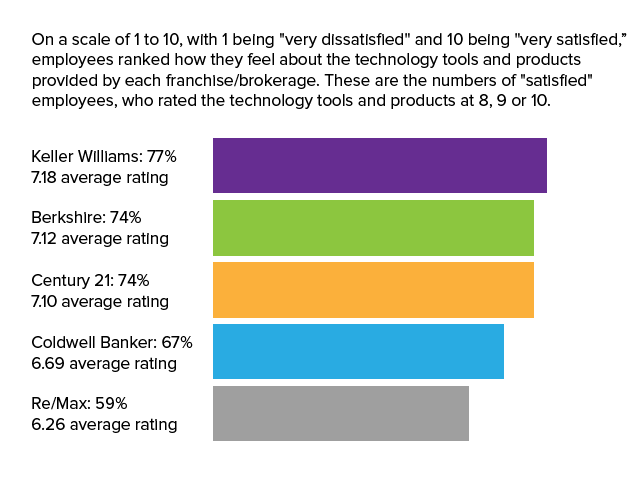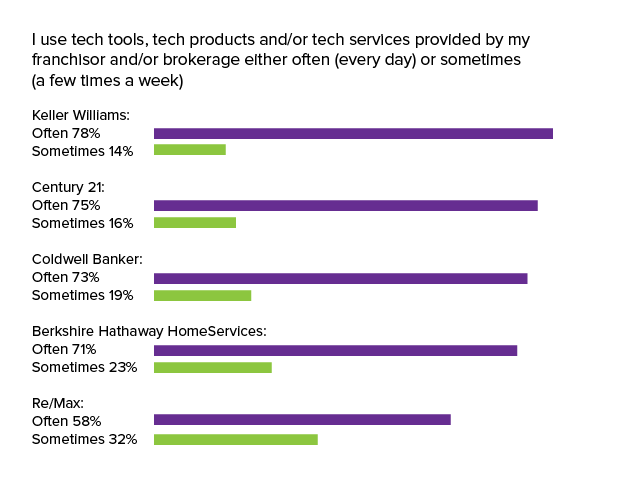 Download our full report with findings