Redefy was recently ranked the 103rd fastest-growing U.S. company by Inc. magazine.
Redefy says business practices that have driven its success include an assembly-line service model, cutting-edge tech and regimented lead generation and conversion practices.
Many startup brokerages that announce plans to shake up the housing market with innovative technology and low rates never find their footing, stall or sputter — dreams of market dominance forgotten.
But Redefy Real Estate, a Denver-based hybrid brokerage firm with a mix of "corporate-controlled" and franchised offices, is one of the few that's actually taken off. The startup was recently ranked the 103rd fastest-growing privately held company in the U.S. by Inc. magazine, which uses revenue to measure growth.
Time will tell if the up-and-comer can continue to thrive once the market turns and homes become more difficult to sell — economic conditions that observers say are particularly challenging for discount brokers.
But Redefy closed 1,086 transactions in 2015, according to Redefy CEO Jordan Connett. Its company-controlled offices generated $9.6 million in revenue last year, up by more than 3,000 percent from 2012, when Redefy posted $295,000 in revenue its first year in business.
This year, the brokerage has already racked up more than 1,200 transactions and anticipates closing more than 2,600 by the year's end, he said.
And unlike so many early-stage real estate startups, the company says it's actually turning a profit (Connett declined to reveal exactly how much).
Redefy has 16 offices in 11 states, including Colorado, Texas, Arizona, South Carolina and Florida. It's made the most headway in its home market of Denver, where the firm commands a 4-percent market share, according to Connett.
Here's a look at some of aspects of Redefy's business model that may be fueling the firm's success.
$2,500 listing fee and typical compensation for buyer's brokers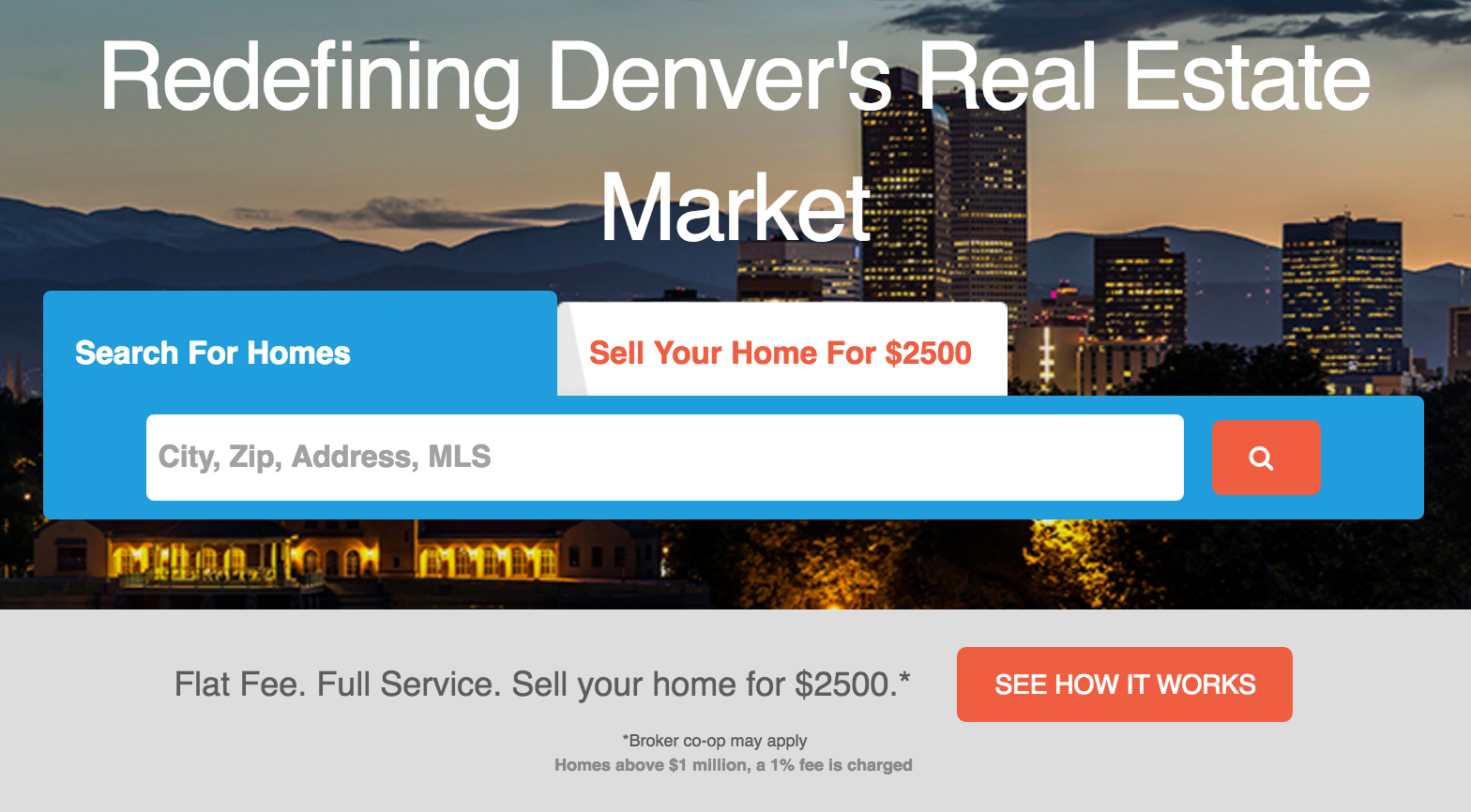 Redefy pockets a $2,500 fee for providing what it says is the full range of traditional brokerage services to sellers.
But it also encourages sellers to offer a fee equal to 2.5 or 3 percent of their home's sales price to buyer's agents for bringing a buyer to a sale.
This way Redefy can charge a below-market rate to sellers without potentially reducing the exposure of a client's home to buyers — a risk some hybrid brokerages have run by offering less-than-typical compensation to buyers's agents.
"We need to make sure the home is being shown," Connett said.
The team recipe
Redefy takes an "assembly-line" approach to serving homebuyers and sellers, structuring its workforce to operate as one giant team.
The basic ingredients of Redefy's team formula are a call center, "field agents" and "in-house agents."
Staff at the firm's call center contact leads, handing off serious buyers and sellers to field agents and assigning the rest to marketing campaigns designed to nurture them into future clients.
Field agents have primarily one responsibility: recruiting clients. They give listing presentations and pitch buyers with the aim of persuading prospects to sign client agreements with the firm.
Field agents earn a flat fee for every seller they scoop up, as well as traditional commission splits when buyers they recruit purchase a home with their Redefy broker.
In-house agents take the reins once a client has made or receives an offer. They handle paperwork and negotiations to shepherd a deal to closing. And unlike field agents, they're paid salaries (they don't earn commission).
"Everything is the same and consistent," Connett said about Redefy's service to consumers.
Tracking transactions
Redefy's software tracks client and agent activity through every stage of a transaction. This ensures a deal proceeds smoothly along Redefy's assembly line, receiving the right attention from the right staff at the right time, according to Connett.
The software also fires off notifications showing clients how a deal is progressing and what tasks Redefy is performing on their behalf.
"Every real estate transaction is different causing different responses from our system, such as some homes sell with cash and others with a loan," he said.
Redefy's corporate marketing team plans and executes multi-pronged marketing and lead-generation campaigns for its company-controlled offices and franchisees (strategies for franchisees depend on a franchisee's preferences and budget).
Redefy has heavily invested in search engine optimization (SEO) for its local search websites and sinks lots of cash into search engine, Facebook, TV and radio ads, as well as mailers and door hangers (distributed based on predictive analytics designed to flag consumers likely to buy or sell soon).
Redefy's well-established Denver office, which has around 30 agents, will drop about $250,000 on marketing this year, while its recently launched Seattle outpost will probably spend just shy of $100,000, according to Connett.
Streamlined lead qualification and handoff
Lead qualification is the springboard onto Redefy's transaction assembly line.
Call center staffers get in touch with leads as soon as their information is captured through means such as contact or home-valuation request forms that consumers find through search engine or Facebook ads.
They then gauge whether the prospect is ready to work with Redefy to find or sell a home. If they are, they're transferred to an office's general manager for further vetting (those who aren't ready are assigned to long-term marketing campaigns).
If the manager decides they're serious buyers or sellers, only then is the lead routed to a field agent.
"From the time that they get off the phone, it hits this automated process, and it gets to the agent within 5 minutes," said Redefy co-founder and Chief Financial Officer Chris Rediger.
Automated compliance review
Double-checking real estate paperwork to ensure legal compliance traditionally can require hour-long reviews by three different people, according to Connett.
Redefy has streamlined this process with software that incorporates "multi-person audits throughout the transaction to avoid potential mistakes," he said.
Leveraging third-party software
Redefy has built much of the technology that powers its business assembly line, but it's also selectively baked in some software from third-party vendors.
For example, Redefy can automatically transfer buyer client information to Updater, a tool that streamlines administrative chores associated with moving.
That way, Updater will function on a buyer client's behalf with minimal or zero effort from the client, streamlining tasks such as transferring utilities, forwarding mail and updating their accounts and records.
More recently, Redefy partnered with AddressReport, a provider of detailed property and neighborhood reports, to enhance its email marketing to clients.
Leads that have shown interest in a neighborhood, such as by signing up for listing reports on redefy.com websites, will receive email invitations to sign up for reports on that neighborhood.
Fed a steady diet of these reports over time, contacts might learn that an area's air quality and schools have improved while crime has ticked up, Rediger said.
AddressReport, which was recently acquired by Onboard Informatics, will consistently tweak the content of the reports to better suit a recipient's interests based on their engagement with previous reports.
And "by the time they are ready to proceed [with a real estate transaction]," leads might think, "'Oh, I remember Redefy. They hooked me up with AddressReport," he said.
Simple messaging 
Some discount brokerages have found that low rates aren't the business magnet that they had hoped for, and they may struggle to convince prospective clients that they can provide top-notch service for less money than competitors.
Redefy uses simple price "messaging" to overcome this challenge, Rediger said. The company can more easily explain the savings it offers to clients than some other discount brokerages because it charges a flat fee, not a percentage-based commission, he said.
And the company is able to explain how it can charge so little by citing well-known examples of companies that have used technology to improve both affordability and service quality for consumers, such as Amazon and Uber, according to Connett.
"In today's day and age consumers understand that … there's an automated function and a technology component engaged that increases the efficiency and drives down the price," he said.
Listing alerts driven by machine learning
If buyers sign up for listing alerts from Redefy, they won't only receive alerts for properties that match the property criteria they've specified.
Redefy will also sprinkle in listings that don't match their exact search criteria but do jibe with their search activity on Redefy's local website and the listings they click on in Redefy's listing alert emails.
For example, if a user who's set up a search for the ZIP code 80014 keeps clicking on listings in 80015, then they'll also start to include properties in 80015 in the user's alerts as well.
And, "If you stop clicking on 80015, then the listing alerts will slowly stop including 80015 in the alerts," Connett said. "This is a very simple example, the smart search function is far more complex."