Homeadnet is a real estate website builder and social media promotion platform that offers templates, lead capture and unlimited social network account connections.
Have suggestions for products that you'd like to see reviewed by our real estate technology expert? Email Craig Rowe.
Homeadnet is a real estate website builder and social media promotion platform.
Platforms: Browser; mobile optimized
Ideal for: Any size agent team; individual agents looking to bolster web marketing
Top selling points
Social sharing simplicity
Drag and drop design interface
Unlimited social account connections
Connections with regional agents
Top concerns
This is a good tool with all the right features in place to help its users. However, it's entering a crowded U.S. market from Canada.
What you should know
You shouldn't be debating whether or not to update your website — if the thought has entered your mind, it's time to do it.
This often means looking into new website services, and Homeadnet should make your list.
The Canadian company offers users an easy way to get a website launched that includes promotion of individual listings via IDX connection.
It centers its services on three central marketing modules: Design, Go! Social and Lead Capture.
Design focuses on website content, using a very intuitive widget design model.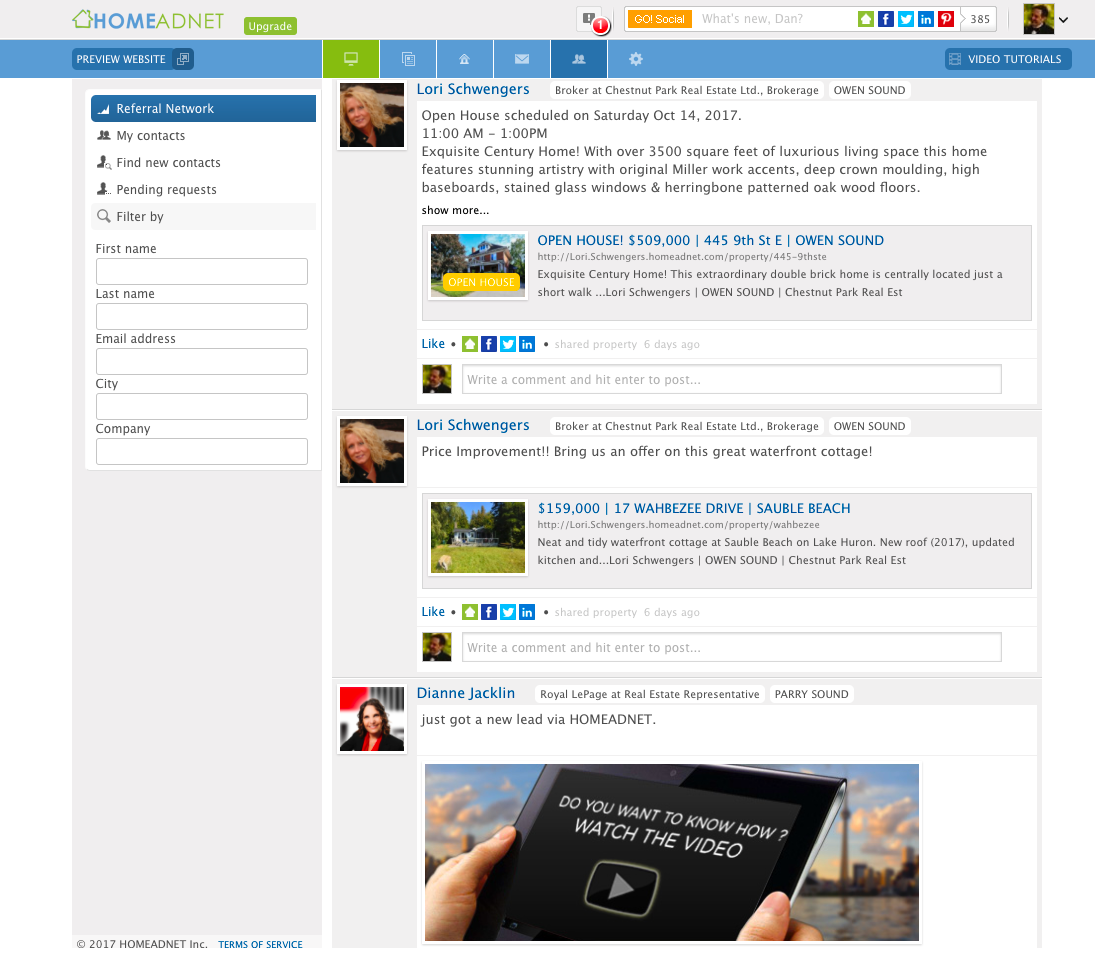 Users choose a website feature from the widget library, such as "Contact Us," "Recent Posts," "Video" or "Photo Collage," and drag it to the live page. Some widgets will need minor editing to ensure messaging consistency; other than that, site changes are live in moments.
Homeadnet's social syndicator is the easiest content sharing tool I've seen in months. It consists of a single text field and a series of social account icons. Type your message, choose your accounts, and go.
This tool works on a two-minute delay to allow users to fix any typos they discover after sending. Smart.
Homeadnet offers unlimited account connections and can work with LinkedIn business pages.
Agents should benefit from this minimalist social interface. It doesn't require you to create and schedule content weeks in advance or put too much pressure on what you send. It focuses instead on consistency, and that is driven by Homeadnet's simple user experience.
I don't love the website lead capture process, which relies on a visitor registering to see all listing information; it's my opinion and personal experience that visitors will go elsewhere to get that data.
Those who register are sent an email verification, which then deposits their contact information into your account and marks them as "hot." Cold prospects are those who didn't respond to the email verification. This is a pretty vague way to qualify the quality of a lead.
That said, Homeadnet allows you to turn off this feature to secure leads in a more natural fashion. If a person likes your web presence and your listing, you won't need the registration requirement.
The system can send you a daily or weekly update of leads and site activity.
Listings are connected to your site via MLS ID; they can also be entered manually. Homeadnet does a good job of encouraging you to promote new listings by automatically generating a share link when the property is published.
Agent websites look pretty good. There isn't anything visually innovative going on, but they are significantly superior to what a lot of agents try to cobble together on WordPress or with their broker's internal offerings.
Homeadnet sites are also mobile optimized and banners, images and menus will shift and collapse accordingly.
Homeadnet offers a slick internal dashboard of video tutorials on every feature, updates on the social activity surrounding listings, and news from other agents in your area.
The website management experience is also clean and intuitive — you need not be familiar with specific jargon or sit through training to know what goes where or what happens when there's a change.
Overall, this is an easy, common-sense solution to a problem still faced by many real estate agents.
As of now, Homeadnet is a small company with an experienced marketing team behind it. My impression from speaking with one of its founders is that it's a company that will provide good support and continue to augment services with agent-friendly features and capabilities.
Have a technology product you would like to discuss? Email Craig Rowe.