PunchList offers agents a way to schedule and oversee pre-listing home evaluations and inspection repair estimates.
Have suggestions for products that you'd like to see reviewed by our real estate technology expert? Email Craig Rowe.
PunchList is an online inspection repair estimation and tracking solution.
Platforms: Browser; mobile optimized
Ideal for: All agents, teams and brokerages
Top selling points
Localized repair pricing
Pre-list home evaluations
Uncomplicated user experience
Management of vendor hiring and progress
Top concerns
An agent's preferred contractor list is often a source of value for them; thus, how will agents wanting to use PunchList reconcile its vendors with their list?
What you should know
This software aims to take the hassles out of the home inspection process. It does it in two ways:
Providing quick pricing estimates of recommended inspection fixes
Executing pre-listing inspections to address problem areas
The gradual on-ramp to learning how to use PunchList is clearly a reflection on its developers' understanding of the industry. The folks behind the software have decades of combined residential sales and contracting experience, helping them understand and alleviate the many pain-points that burden the steps between contract and close.
Each facet of the solution can be scheduled and monitored from a sharp, no-frills "Agent View" dashboard.
Agents see upon a login a left-hand menu with selections for completed jobs, MLS activity, a calendar and contractors/inspections.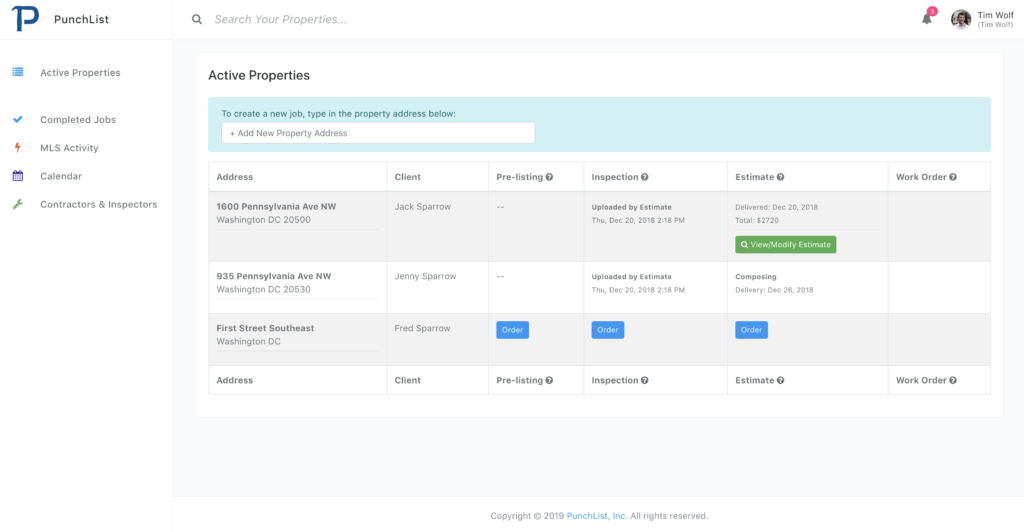 The calendar tool will track each vendor's appointment and upcoming property close dates. At the time of demo, this feature was temporarily unavailable but will be available on the floor of Startup Alley at ICNY19 next month.
The center-screen display is a commonly understood spreadsheet view of properties, clients, pre-listing evaluation status (if ordered), inspection order status, completed estimates and work orders.
Estimates and evaluations start with the input of general property and client information, including closing dates, which the solution uses to benchmark project updates.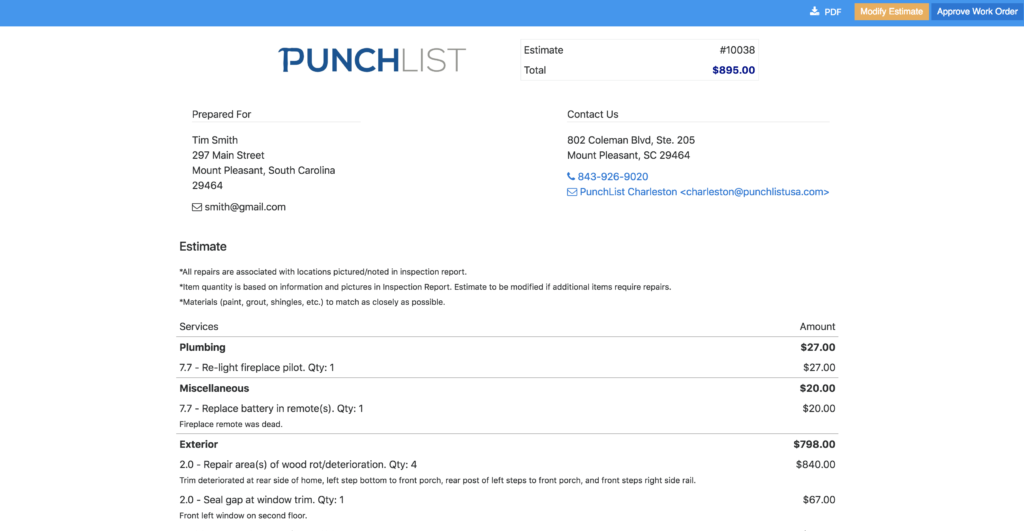 The company shared with me that between its proprietary "learning" system and proactive outreach to local contractors to ensure "regionally aware pricing," many repair estimates are ready within 30 minutes.
However, general demand and the occasionally complex repair scenario make a 24-hour turnaround an easier-to-fulfill promise — but that's still really quick.
Once estimates and priority issues are worked out and work orders are approved, "Punchlist Pros" are assembled and dispatched to the property at the same time. If possible, the company tries to get everyone out to the property on the same day.
As agents know, in a more traditional working scenario scheduling vendors for the same day is a near impossibility, and if PunchList can make this happen with consistency, their fee position on the closing documents will be well-earned.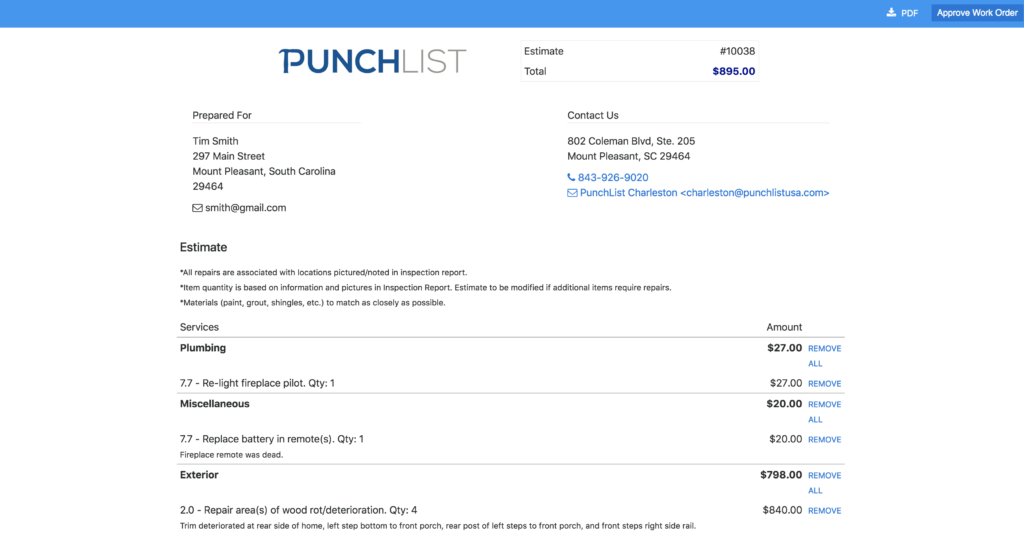 That said, PunchList is paid at closing because it fronts the contractors' fees. Also, when credits in lieu of repairs are made, the company will honor the estimates for the new owner.
While there is no shortage of online repairman scheduling tools out there, few of them promise the speed of estimate turnarounds companies like PunchList are offering.
Ultimately, it's software tools like this that offer the most value toward the industry's goals of using technology to shrink transaction time frames.
Have a technology product you would like to discuss? Email Craig Rowe