TransactionDesk is a real estate transaction management solution by Lone Wolf Technologies that helps brokers and agents better oversee deals, documents and listings.
Have suggestions for products that you'd like to see reviewed by our real estate technology expert? Email Craig Rowe.
TransactionDesk is a real estate transaction management solution by Lone Wolf Technologies.
Platforms: Browser; companion iOS app
Ideal for: Brokerages seeking to streamline deal management; tech-savvy teams and agents; offices already working with Lone Wolf products
Top selling points
New listings upload to MLS
Integration of Authentisign
Broker oversight features
End-to-end deal workflow
Top concerns
This is an enterprise-level commitment for most brokerages and teams. Ensure your office is prepared to onboard a system this robust.
What you should know
TransactionDesk imports properties using their multiple listing service (MLS) ID and, while most details are auto-filled, users can edit and complete anything the MLS form can't translate.
Once a new transaction is ready, the software presents access to its features using a series of activity panels, which can be added or removed according to preference and company role (broker vs. agent). A common arrangement would be Transactions, Documents, Email and Forms.
Transaction software sometimes overwhelms users with information, but TransactionDesk does a good job of compartmentalizing its work space and using menu visuals effectively. Smart, simple touches like these improve usability.
Documents and images can be uploaded from Google Drive, Dropbox, OneDrive or Box.
TransactionDesk uses digital signature software Authentisign, which came over when Lone Wolf Technologies' acquired Instanet. Authentisign is a flexible mechanism for completing offers and other deal addenda, and it allows for document markup, watermarks, initialing, manual signatures, direct emailing and progress tracking.
Brokers and other stakeholders can be called upon to review and approve documents once all parties have signed.
TransactionDesk has a particular focus on documentation — another byproduct of the Instanet migration.
One standout feature is the "doc splitter" tool that enables users to scan multiple documents at once, select specific pages on a nice thumbnail selector, and save them as separate documents. That's a compelling time saver.
All that said, here's my problem with this otherwise cool feature: if a deal-critical document is printed and scanned, the deal isn't completely paperless. And since that critical business data exists elsewhere, and is jeopardizing data security and software value.
Outside of that pet peeve, everything else about TransactionDesk is fulfilling its promise to make deals easier to manage.
Brokers are allowed access to agent deals involving document review, tasks, notes to agents and deal status.
Brokers can also adjust their dashboard to view the activities of other offices under their watch.
The most effective way TransactionDesk streamlines deals is through a feature that allows listings to be created then uploaded to the MLS for eventual publishing.
This is a clever way to fortify listing data integrity and ensure the software has all the information it needs to be effective.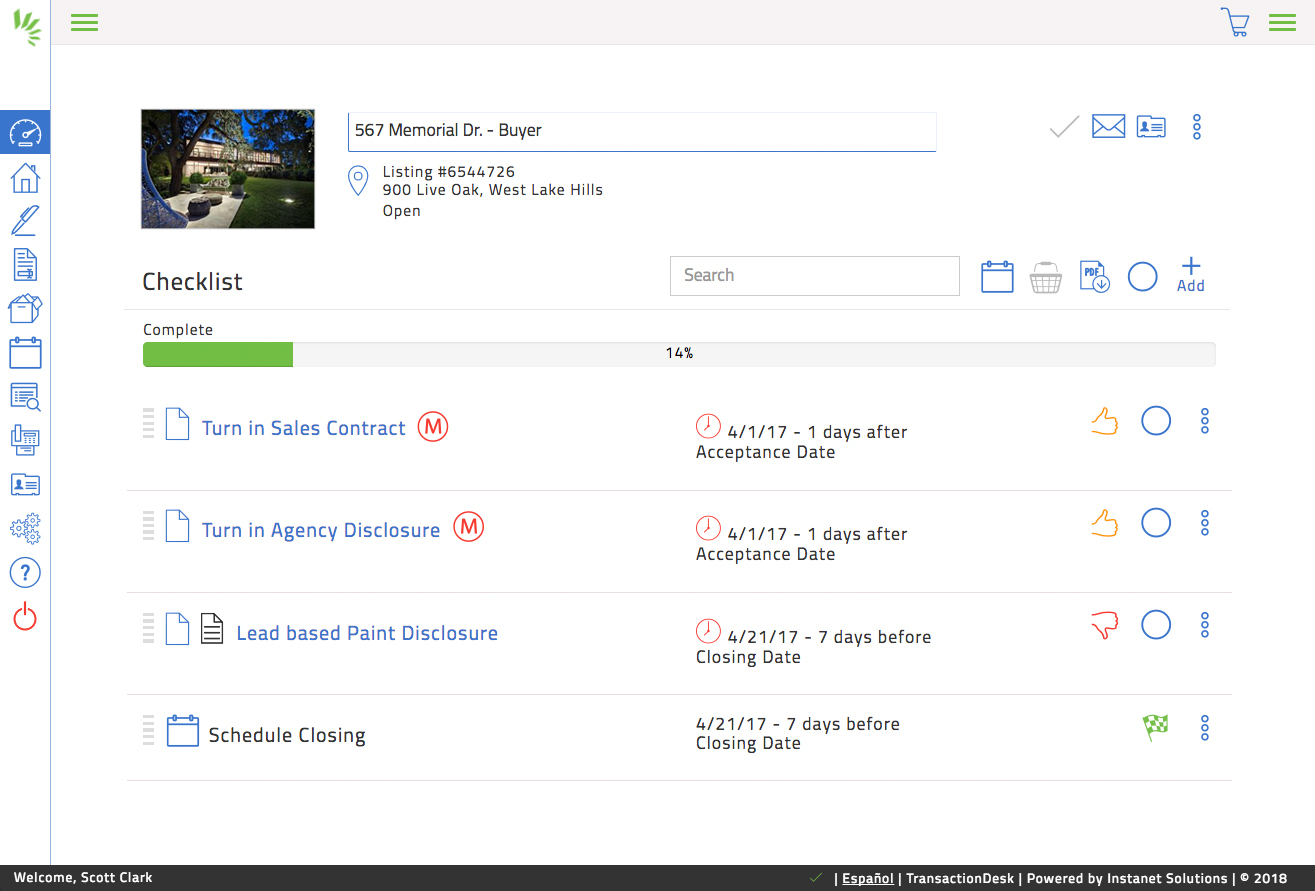 Lone Wolf is working with a number of boards to implement this feature, which is currently in place with only a few MLSs.
TransactionDesk offers a gimmick-free, straightforward solution for keeping deals and data underfoot. I see no steep learning curve, and the company is well-equipped to handle any sort of support need.
Have a technology product you would like to discuss? Email Craig Rowe.