This brokerage software solution helps real estate offices manage and market their businesses.
Have suggestions for products that you'd like to see reviewed by our real estate technology expert? Email Craig Rowe.
Realistiq is a total brokerage management and marketing platform.
Platforms: Browser; mobile-optimized
Ideal for: For all large, multi-office brokerages, both independents and major franchises
Top selling points
Versatile brokerage and agent websites
One-stop solution to minimize tech-stack
Extensive training resources
Developed by brokerage IT professional
Effective user interface
Top concerns
Adoption. This is a giant, multitiered system designed for everyday login and operations management. In most scenarios, it will require marketing and admin staff to help roll-out and administrate.
What you should know
There's a lot to like about Realistiq. It does everything from stream five-second IDX feeds for agent websites to report on how many in-house closings an office had last quarter. It is as soup-to-nuts as a Golden Corral buffet.
Know that this is an enterprise-level install for brokers who want agents to engage every day, and that is a massive undertaking that is not always successful, even when the software is very capable of helping power and underwrite real estate business.
Realistiq is indeed technically capable on many fronts.
The email engine, for example, might not be on par with Constant Contact or Mailchimp, but it can do enough if leveraged consistently.
Users can build and execute multiple campaigns and customize the lists for each. Importantly, contacts can be easily added to multiple campaigns. Brokers or marketing admins can launch campaigns on behalf of their agents from behind the scenes, an unfortunate necessity.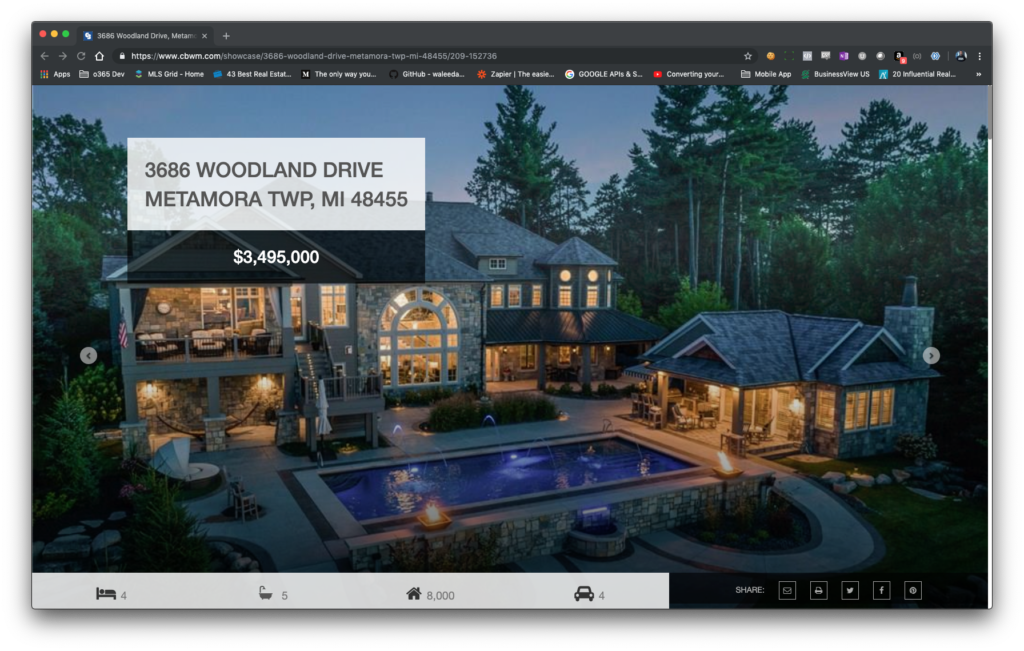 Founder and CEO of Realistiq, Lyle Karstensen, ensured Inman that integrations are in the works with the likes of BombBomb, Constant Contact and MailChimp.
This is a smart move, as it will eliminate additional training for agents already familiar with these tools and provide a buy-in incentive for brokers trying to convince agents to leave other products.
Lead tracking features maintain the pulse of activity for the CRM beating in the middle of Realistiq.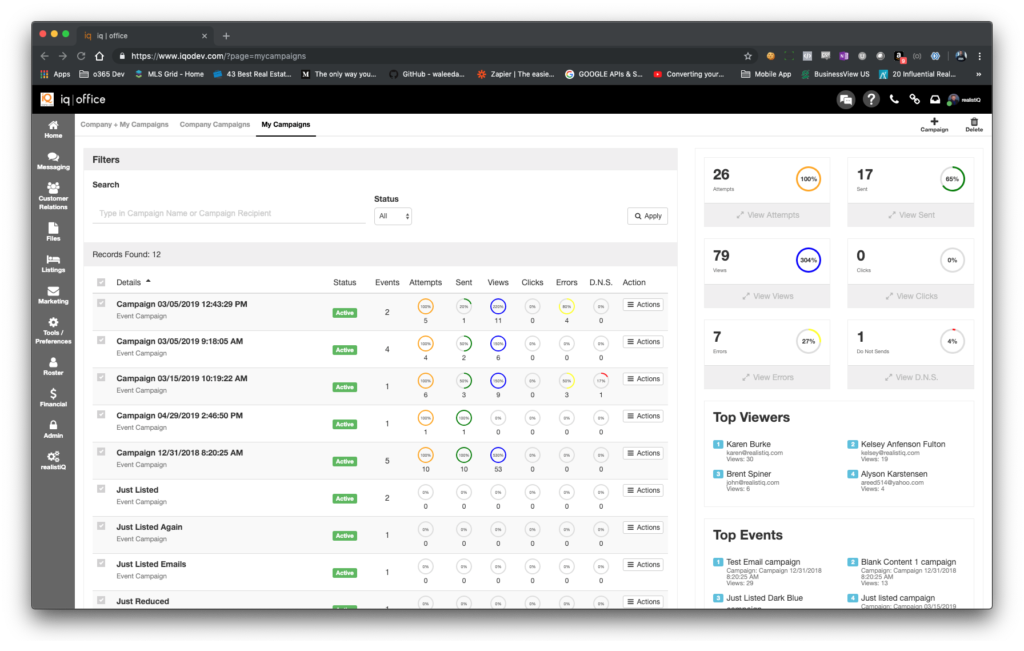 It can ID people visiting websites and listing pages (also a feature of a Realistiq website), opening emails, forwarding properties and in any way interacting with a published digital asset.
Follow-up action plans can be used out-of-the box or customized, allowing agents to auto-email or text a customer or lead with news. Brokers can intricately manage lead routing in multiple offices at once, and users are presented with clear lists on every prospect's most recent activity and last date of contact.
Agents can buy local phone numbers from Realistiq; create open house sign-in pages that drop visitors into follow-up campaigns; and design, send, and pay for print marketing campaigns. In short, almost every traditional marketing need can be addressed.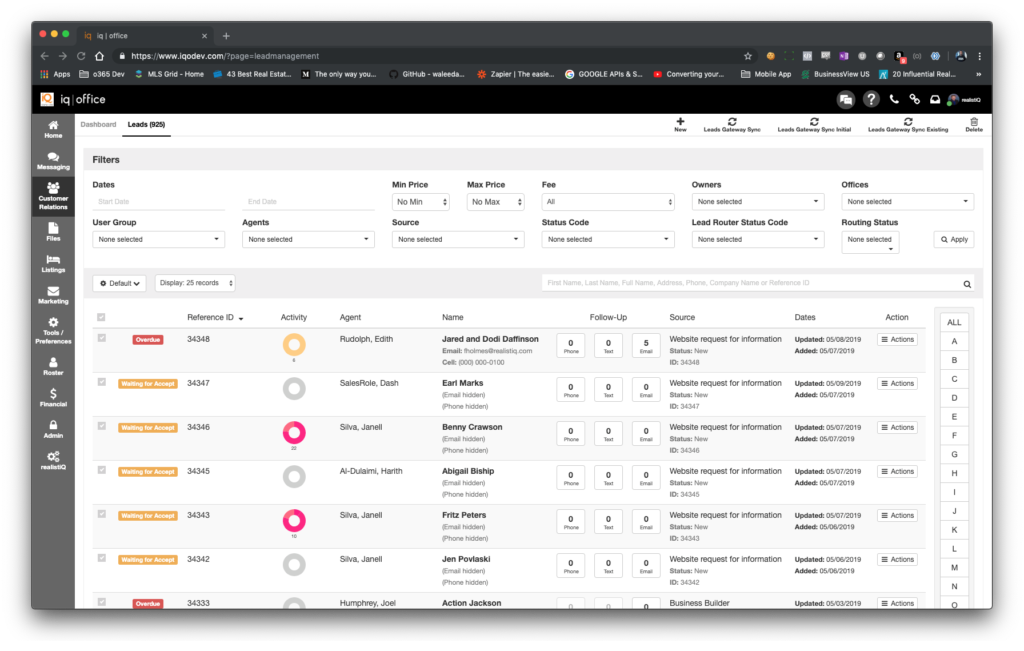 Being broker-focused, there's also a wide range of reporting tools available to Realistiq users, and even the true number-geeks who help run the office will get a rise out of the varied ways you can dig into the digits behind their office's profitability.
There's a thorough transaction management module that nicely uses color-coding to help viewers understand if a deal is in-house, a buy-side or "our listing." The workflows contain seller and agent checklists, break down all of the numbers for each side and keep everyone informed of dates and needs.
To present and manage so much data and functionality productive for users, a software product has to demonstrate Marine-level discipline when designing its user experience and interface. Realistiq does a good job in that regard, but it's not winning any medals for it just yet.
While every lead, agent and address remain tightly connected in every step of the workflow, there are ways to minimize the ancillary visual noise surrounding popular points of user interactivity.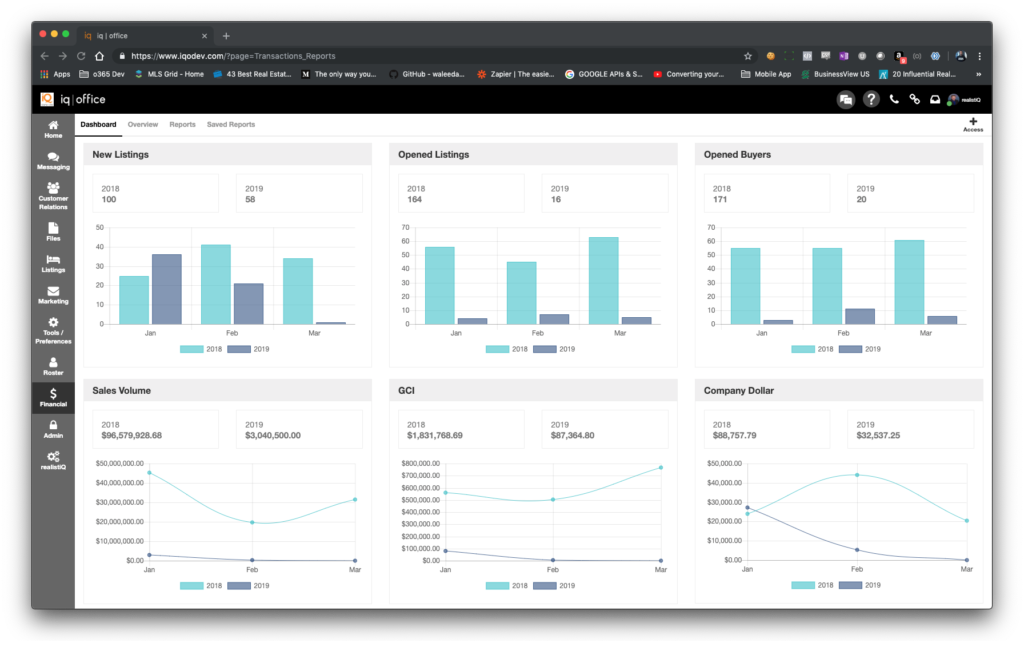 Throughout the demo, Karstensen mentioned several times how a number of the features were user-driven. That's a good thing, but it could lead a product dangerously close to bloatware. Thankfully, Realistiq isn't there yet.
It's part of this column's job — and Inman's as a whole — to help brokers and agents cut through the calorie-rich marketing language of the industry's many technology offerings.
Realistiq, for example, stresses that it is "Real estate's first ever end-to-end cloud based solution."
It's not.
TotalBrokerage uses a similar tagline: "The only complete real estate brokerage software solution from contact through closing." Lone Wolf Technologies doesn't make any similar proclamations, but it clearly offers a competing end-to-end collection of products.
There's also RealtyBackOffice and RealtyAPX, the latter of which parrots TotalBrokerage, stating it's "The ONLY beginning-to-end Software for Real Estate."
But it uses all-caps, so …
The point is, when poking around for such a solution, do your homework. And if you land on Realistiq, there's no reason to second-guess your decision.
Have a technology product you would like to discuss? Email Craig Rowe