It looks like a home ripped out a James Bond movie boasting a glimmering pool and an outdoor bar where you can order a Martini shaken, not stirred.
It looks like a home ripped right out a James Bond movie — there's a glimmering pool, an outdoor bar where you can order a Martini shaken, not stirred (or a Heineken if you're a Daniel Craig fan), and a pristine driveway for a spy-worthy luxury car.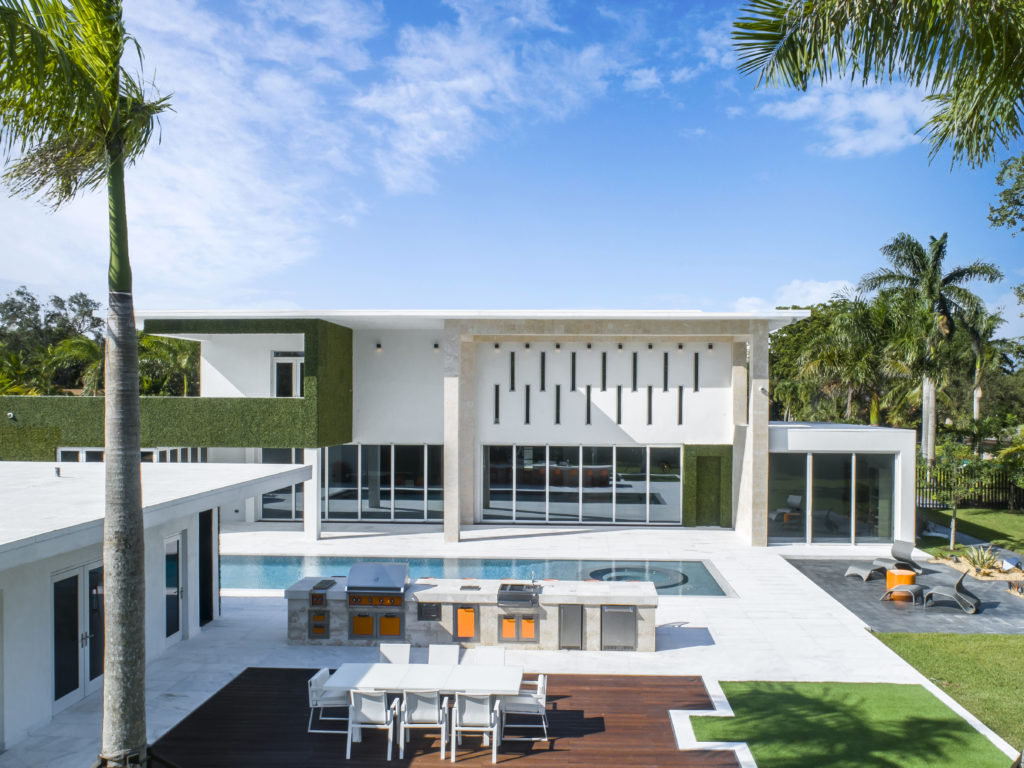 The $5.85 million 15,345 square-foot Casa Moderna is built to withstand a James Bond-style battle too — the insulation, pure hydraulic concrete and foam (ICF) frame can withstand bullets, fire and even a Category 5 hurricane, according to ONE Sotheby's Vice President and listing agent Micheal Martinez.
"So, the home is basically indestructible," he said. "It's bulletproof, it's accident proof, it's hurricane proof and I can't say missile proof because I don't think anything would be missile proof."
"Here in South Florida because we experience a high level of hurricanes just like the one you just saw in the panhandle, Miami-Dade County has one of the strictest building codes, and this property by far surpasses all of the requirements," Martinez added.
"Miami-Dade County does not allow wood [frames]. Back in the 50s and 60s they did, but now they require something called the cylinder block system (CBS). This house, rather than using concrete blocks that have to be filled in, is made of pure hydraulic concrete, which is much stronger."
Beyond its A1 level of security, buyers are sure to be captivated by the home's imported materials and finishes, which came from Italy.
"The owner of the house built the house on an open checkbook," Martinez said. "They have family ties back into Italy, and they went to Italy and imported a lot of the materials that were used in the property."
The $200,000 kitchen and $80,000 walk-in master closet was crafted by Dada and Molteni & C, an Italian home design company that offers kitchen design services and furniture. Lastly, the pool-side guest cottage was designed by well-known Italian fashion house Armani.
The lucky buyer of Casa Moderne will be the first to live in the property, as the current owners decided in the midst of the 36-month construction process to sell the home rather than stay.
"They initially started building it for themselves, but in the course of construction, they decided they were going to sell the house," Martinez explained. "They realized they were building something so unique, and that would be in high demand."
Martinez has used the Sotheby's International Realty network to market the property, and he's already found a buyer who is likely to take the home off the market.