New York-based TapCap helps agents and investors make sense of the multifamily lending process. Quickly gather data, compare loans and share offers.
Have suggestions for products that you'd like to see reviewed by our real estate technology expert? Email Craig Rowe.
TapCap is a platform for finding and securing loans for multifamily investment property.
Platforms: Browser; mobile-forward
Ideal For: Agents who also work with investors
Top selling points
Quick, simple interface
Comparable loan programs
Shareable property financial package
Lender pays at closing
Top concerns
This comes down to relationships with an agent's network of lending professionals. Users can provide the opportunity for colleagues to quote, but it might jeopardize status with established lending partners.
What you should know
Apartment properties and other forms of income property (duplexes, quads, etc.) are proven, long-term money-makers for landlords and agents alike, especially those professionals who keep a few investor clients on a regular drip from their CRM.
However, there is an adjustment to be made when helping a client invest instead of move. Multifamily properties come down to strictly numbers.
Carpet color and curb appeal have no bearing on the deal. And while some investors buy for long-term appreciation and others for the current revenue stream, they're still interested in only one thing: the cap rate.
In a press release found on mannpublications.com, it was reported that the National Association of Realtor's 2019 outlook on commercial lending found that 33 percent of borrowers failed a transaction due to problems during the mortgage financing process. A new software product hopes to remedy that.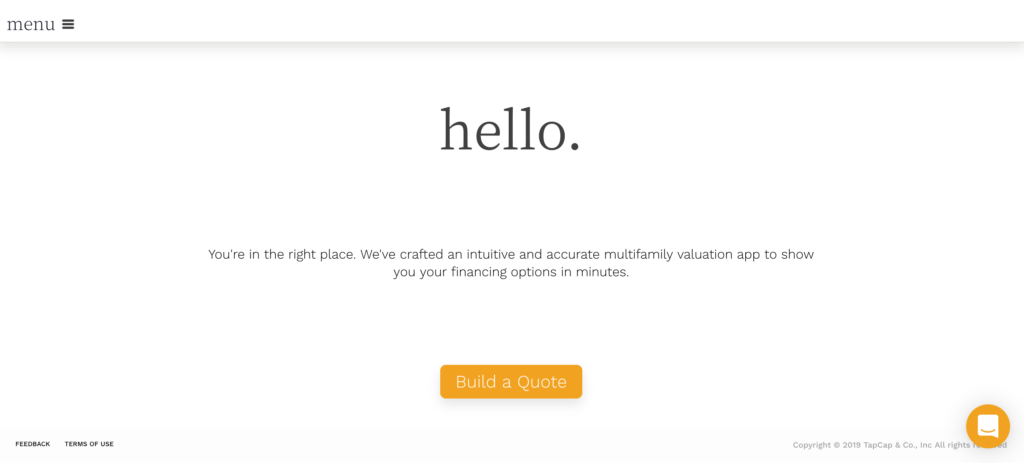 TapCap is a browser app and mobile-forward experience that helps investors easily step through the multifamily lending environment. It uses a clean, Q&A-based user experience to collect basic property information before pulling public information and comparables to fill in some blanks.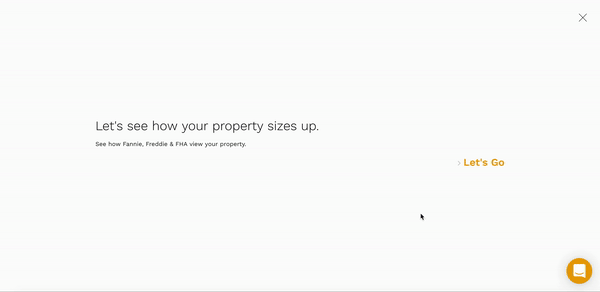 It asks for the common factors in rental property lending standards, such as number of units, occupancy rates, general income and expenses, planned renovations and offer price.
Lending packages are returned in moments from common underwriters, such as FHA and Freddie, and users can then choose to share what TapCap offers with their local lending partner to negotiate against, which means agents and buyers aren't at all required to work with the lenders the software provides.
Once into the process, TapCap digs deeper into the property, breaking down specific income and expense reports, rent rolls, property history, REO schedule and other issues that play a role in how an investment property is considered by lenders.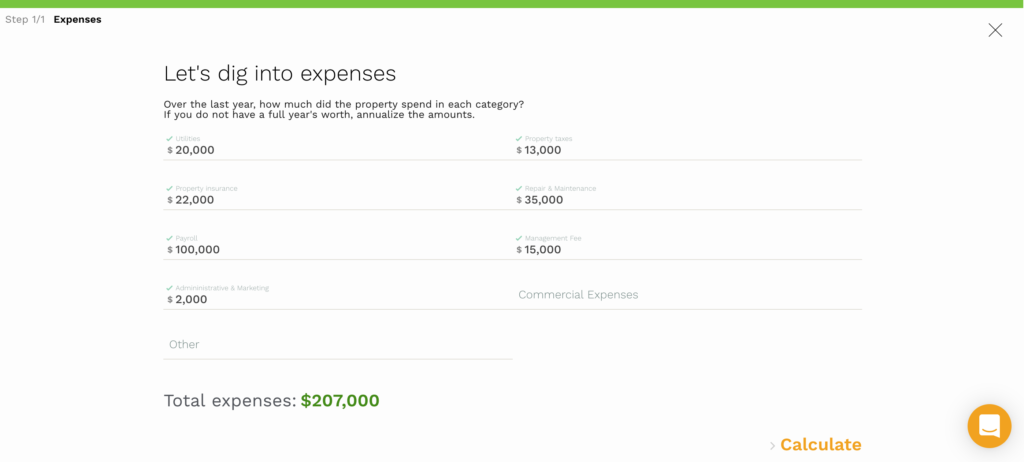 A thorough breakdown of the property is then output, including comps, and delivered for further consideration. Loan application documents can be uploaded and shared, and team members can be invited to participate in each property offering.
The software offers simple sliding scales for expected cap rate based on each loan option, and overall, it does an excellent job at making a process not all agents or buyers are familiar with much easier to grasp. And that's the very point of software.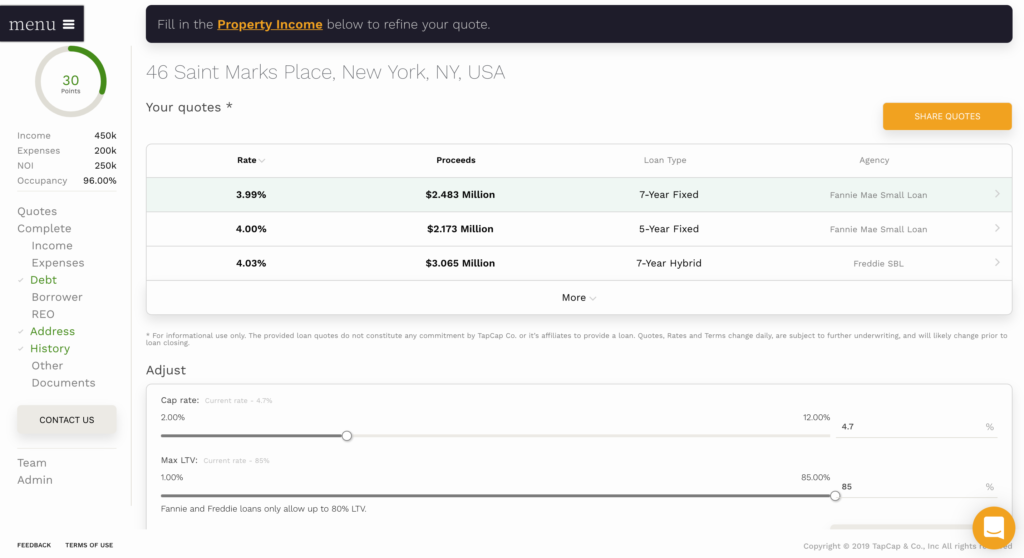 TapCap is a slick option for new and experienced agents to quickly offer prospective investors a look into how an investment might perform, and it could help in listing presentations, too.
Inman walked through an account setup after having a quote shared via email and found the process to be mostly smooth. A property address in North Carolina wasn't immediately recognized, but that's a result of TapCap calling out to Google for a moment to standardize the address, which also helps verify the property and integrate latitude and longitude.
The software's mobile experience is nicely done as well, and it can help agents quickly break down numbers during property tours.
The software has been live for just under two months and saw more than 150 borrowers sign-up in pre-launch. In one day, it had 20 users perform loan searches. People are taking notice, and it's likely because its developer founder has a background in underwriting.
TapCap is a niche offering for most residential agents, but it can serve as an impetus for agents to seek a larger cache of investor clients.
There's a good deal of potential here, but we're hesitant to rate it four stars given its youth. There's no reason to not expect positive growth from this New York City-based company.
TapCap charges lenders half of a point at closing.
Have a technology product you would like to discuss? Email Craig Rowe
How do you stay ahead in a changing market? Inman Connect Las Vegas — Featuring 250+ experts from across the industry sharing insight and tactics to navigate threat and seize opportunity in tomorrow's real estate. Join over 4,000 top producers, brokers and industry leaders to network and discover what's next, July 23-26 at the Aria Resort. Hurry! Tickets are going fast, register today!
Thinking of bringing your team? There are special onsite perks and discounts when you buy tickets together. Contact us to find out more.