Brokermint is a commission and transaction management software made for real estate brokers. It has a superior user interface, exceptional ease of use, a wide variety of CRM integrations and easy commission structure setup, among other things.
Have suggestions for products that you'd like to see reviewed by our real estate technology expert? Email Craig Rowe.
Brokermint is a commission and transaction management software.
Platforms: Browser; mobile-optimized
Ideal for: Brokers in offices of every size
Top selling points
Superior user interface
Exceptional ease of use
Wide variety of CRM integrations
Brokerage white labeling
Easy commission structure setup
Top concerns
Brokermint shares some transaction functionality with CRMs it can connect to.
What you should know
Brokermint is an excellent solution for brokers.
The software is already quite popular; I'm not breaking news here. I just finally know why.
Brokermint opens to a split-screen view that highlights an interactive funnel illustration depicting the state of an office's financials.
The top starts with listings, narrows to pending and closed, and then drops into monthly expectations.
You can delve deeper into each section of the funnel to reveal details. This visual aid enhances the user experience as well as dotloop's namesake transaction informatics.
Speaking of transactions, Brokermint pulls data from your MLS account or linked CRM and uses it for creating a list of date-driven action items under each milestone of a sale.
Users can choose to accept or discard each listing as it's pulled into Brokermint from its source.
Checklists can be customized and saved as needed.
I've seen few software products that use information design this effectively.
From bold headings and white space to the proper application of color, the interface designers at Brokermint demand as much respect as the coders.
Brokers can apply logos and color schemes to their account and provide access via a website subdomain.
The company doesn't provide documents. Instead, your common forms are uploaded and made digital via HelloSign, the most practical online forms tool available. I'm happy to see a real estate company venture away from the common names in this space.
Brokermint allows for the emailing of documents in and out of the system.
Multiple commission structures can be created and applied differently to every deal. The numbers are presented in a concise, just-the-facts summary that makes it easy enough for my Australian Shepherd to know exactly who is getting paid what. (Of course, he's sharper than most people I know.)
General statements can be generated for agents before settlement, and disbursement statements are emailed to all appropriate parties.
Brokermint can build any type of report a user may need, and it comes with an array of standard breakdowns, such as production per agent, year-over-year, closed and pending, lead source and current listings, among many others.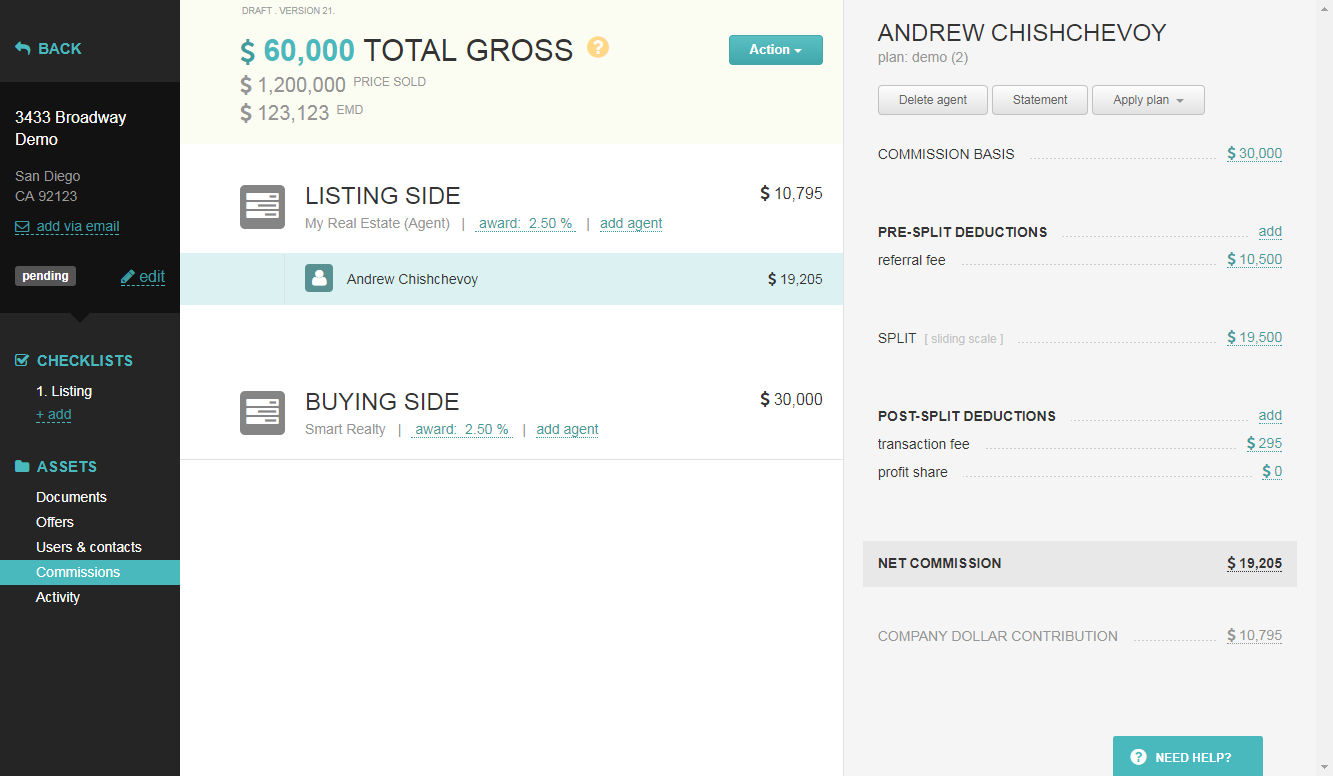 Follow Up Boss, Contactually, Salesforce, Chime, Tribus, Dropbox and Commissions Inc. are a few of the names you'll recognize that can shake hands with Brokermint.
BoomTown and Xero accounting software will be in the mix soon.
Brokermint keeps a running list of complaints and suggestions from users. Each comment can be voted on by other users to help the company know what should be included in the next update.
In the next couple of weeks, Brokermint will be announcing a partnership with virtual title company JetClosing to further digitize the deal. I'm psyched to see where this leads, and I'll be looking deeper into JetClosing.
I would wager that some brokers would actually crack a smile using Brokermint. It's so well-designed for both the browser and mobile device; and in being so, expertly delivers one of the top tools out there for tech-savvy brokers.
Have a technology product you would like to discuss? Email Craig Rowe.