Using clever granular property and neighborhood data and maps, this New York City-based home search portal pulls back the curtain on what buyers need to know before submitting an offer. And it makes agents smarter, too.
Have suggestions for products that you'd like to see reviewed by our real estate technology expert? Email Craig Rowe.
Localize is a property search portal that focuses on quality-of-life needs and reveals community characteristics.
Platforms: Browser app; mobile-optimized
Ideal for: All New York City agents and their clients; active homebuyers and sellers
Top selling points
Depth of community data
Provides rich market transparency
Creates informed buyers
Educates agents
Doubles as powerful listing tool
Top concerns
The pace of growth into new markets might hamper the reach of Localize. For now, it spans the nation of Israel and all five boroughs of New York City.
What you should know
I admit it: I'm a sucker for proptech products that heavily integrate map search and location-based data.
MyPlanit, a GIS-supported CRM, earned my first 5-star review. I favored Homesnap early on because its maps were far superior to what the larger-name portals were offering. And I beamed last week over TopHap.
Well, the guys at Localize sniffed me out and pitched their product.
If not for its limited availability and (current) lack of direct agent tools, I'd be a bit more effusive about it. But I think those concerns will get addressed; I still dig it.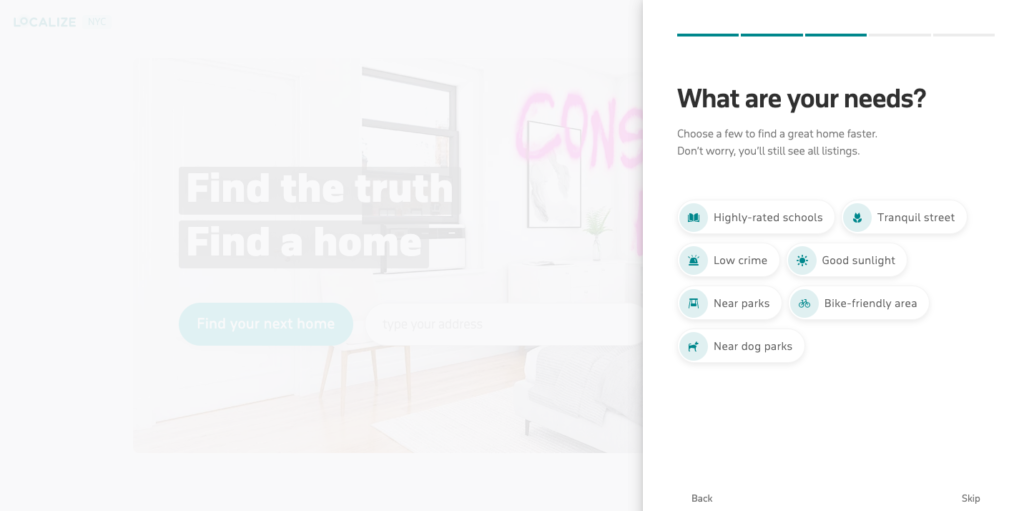 Agents can leverage the super-deep trove of gritty, warts-and-all market honesty that this fun, free and informative property portal has to offer in the same way your clients do — to become more informed about a property's immediate market.
The experience starts as most basic online home searches do, asking a person about location, schools, price, green space and bike-friendliness. At this point, it remains ordinary, as most search tools are delving into these more surface-level lifestyle parameters.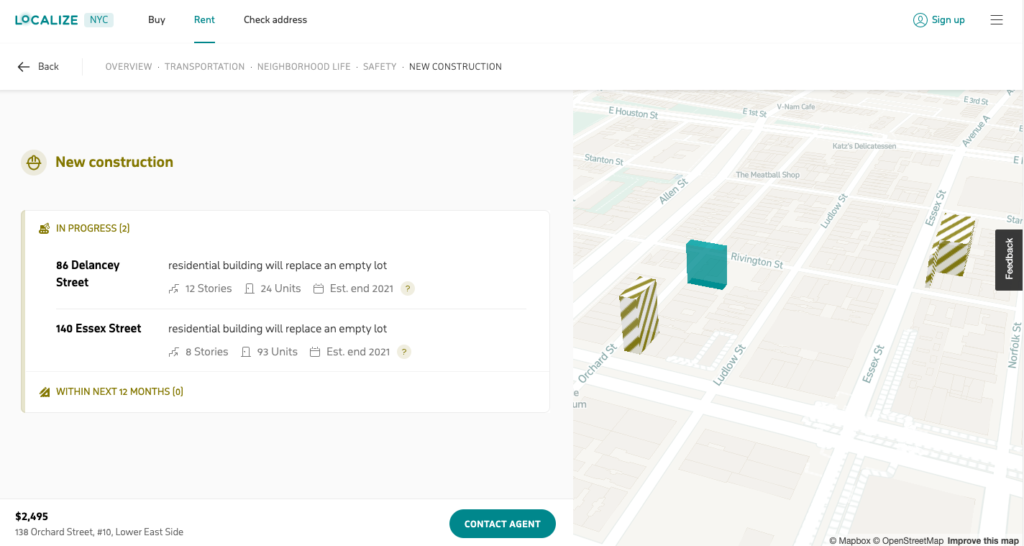 But it's once these early steps are out of the way that Localize shines.
In fact, I wonder if they only delay the most valuable user experience.
Nevertheless, it centers its results on the peripheral information that quickly becomes central to getting a buyer to submit an offer.
Housefax, since bought by HouseCheck, did this to an extent, but in a more clinical fashion. Relola is into map-based team management now, where it was once focused on open, agent-to-agent information on properties in a public forum. Remine's map searches are super sharp. You'll find LocalLogic and Homebeat to be similar, too.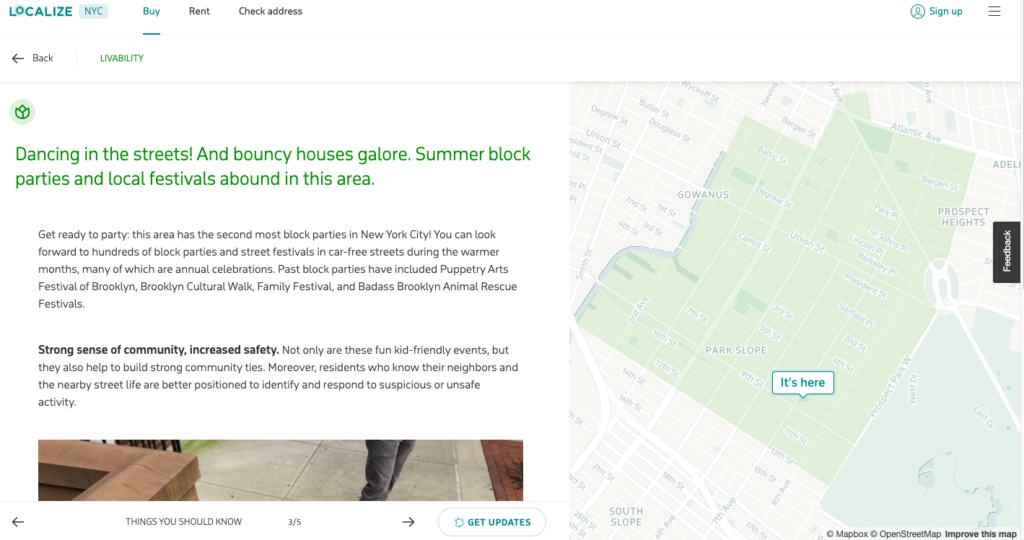 The theme behind Localize is simple: reveal the stuff about a home that a buyer wouldn't learn until they move in. For example, the number of hours of direct sunlight that bathes a particular unit in a specific building.
Search results reveal a neat, arranged deck of property cards with internal image browsing and easy-to-digest facts and figures. The individual listing look expands the imagery and engages the map.
You can cruise through content cards and interactive tools that colorfully and iconographically unveil the six-month impact of a nearby construction project, how often the neighborhood farmer's market occurs, the proximity of the proposed new stadium, or when the last building violation occurred.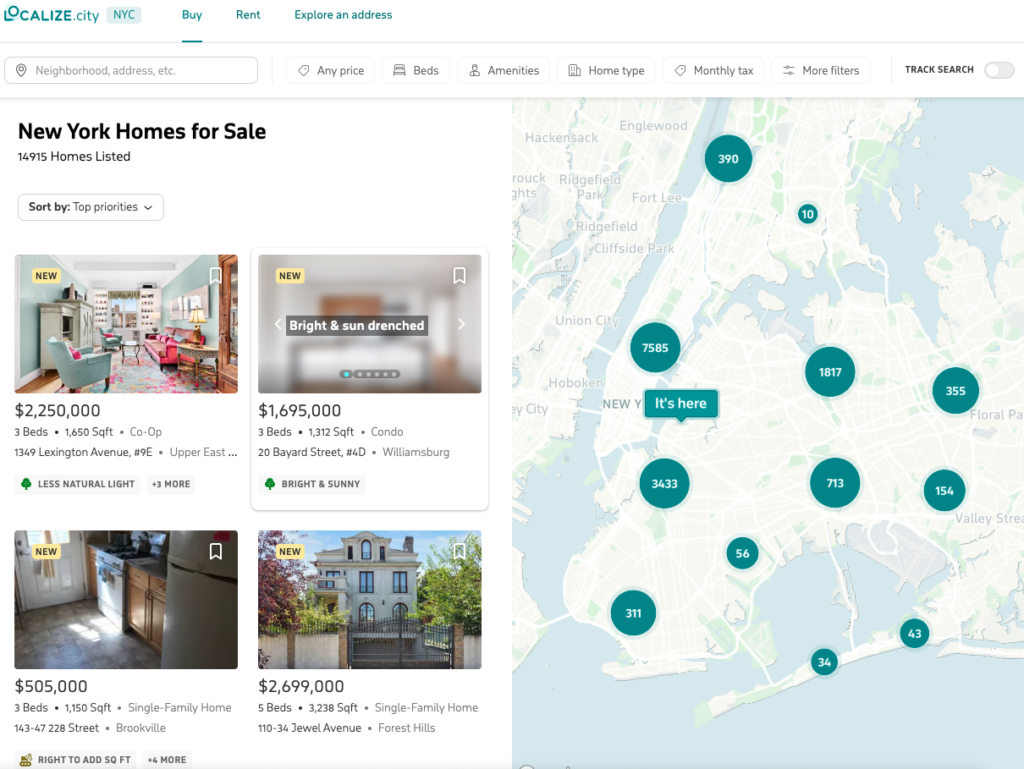 The map is interactive, quickly responding to what the user is reading and clicking. It color-scales degrees of flood risk, three-dimensionally renders nearby office tower projects, and identifies the best schools, highest rated restaurants, and closest transit station — the latter of which it can detail with average delays, arrival times to work and other need-to-know factoids about mass transit commuting in urban corridors.
So, how can you use Localize? Send buyers to it when they express interest in a particular community and especially before a showing tour. After all, far too often buyer agents hear, "Well, let's just go see it, anyway," a phrase that results in you saying — to yourself, of course — "I told you so."
Listing agents can use it to justify pricing by showing a seller how much an area has changed since they moved in. It could be good or bad for the seller.
I suppose at its heart, Localize is a home search portal, but that's a too narrow a label. It's a neighborhood portal, a CMA-support tool and a lifestyle assistant.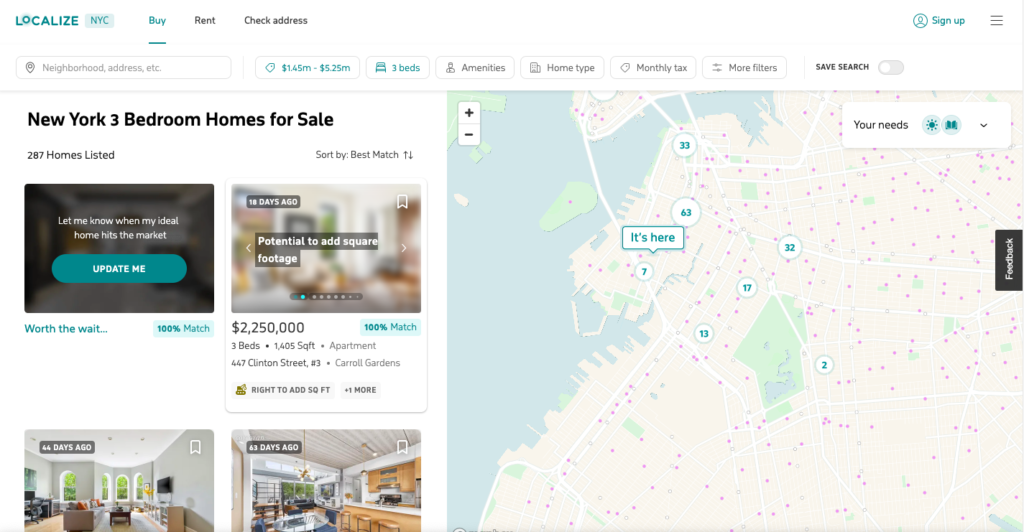 The site's data power has been smartly marketed by its developers, landing them as a resource in other major media outlets, such as The New York Times. They were also named a "Top 3" condo search tool by New York-based Brick Underground.
A caveat: Home search power like this needs to handled carefully, specifically the demographic data they can reveal, and agents need to know where the fair housing lines are drawn on the map. 
However, its lack of lead generation or branding tools outside of brokerage names on listings, might lead some New York City agents to dismiss it. But I wouldn't. I'd get familiar with it, and I'd use it conjunction with TopHap and your favorite CMA tool to become a crazy-granular market expert.
Know the street-and you'll know the market.
Have a technology product you would like to discuss? Email Craig Rowe
Craig C. Rowe started in commercial real estate at the dawn of the dot-com boom, helping an array of commercial real estate companies fortify their online presence and analyze internal software decisions. He now helps agents with technology decisions and marketing through reviewing software and tech for Inman.