CBx Seller Leads is the data-driven lead provider and management software for Coldwell Banker franchises. From a pure technical solution perspective, it's an effective, minimalist way for brokers to assign, and agents to claim, new clients.
Have suggestions for products that you'd like to see reviewed by our real estate technology expert? Email Craig Rowe.
CBx Seller Leads is a lead source for Coldwell Banker brokerages and agents.
Platforms: Browser
Ideal for: All agents, brokerages and teams within Coldwell Banker franchises
Top selling points
Minimal learning curve
Clear lead assignment
Great for new agents
Market trend reports
Top concerns
The lack of mobile functionality could hamper adoption and doesn't reflect the work habits of today's real estate agents.
What you should know
It's hard to overcome the lack of a companion app in Coldwell Banker's CBx Seller Leads. However, if the leads provided are of the quality promised, and brokers stay on top of assigning them, agents won't have to worry much about it.
This is a very clean, sharp piece of software that's designed to provide brokers with a steady stream of big data-derived, algorithm-selected potential sellers.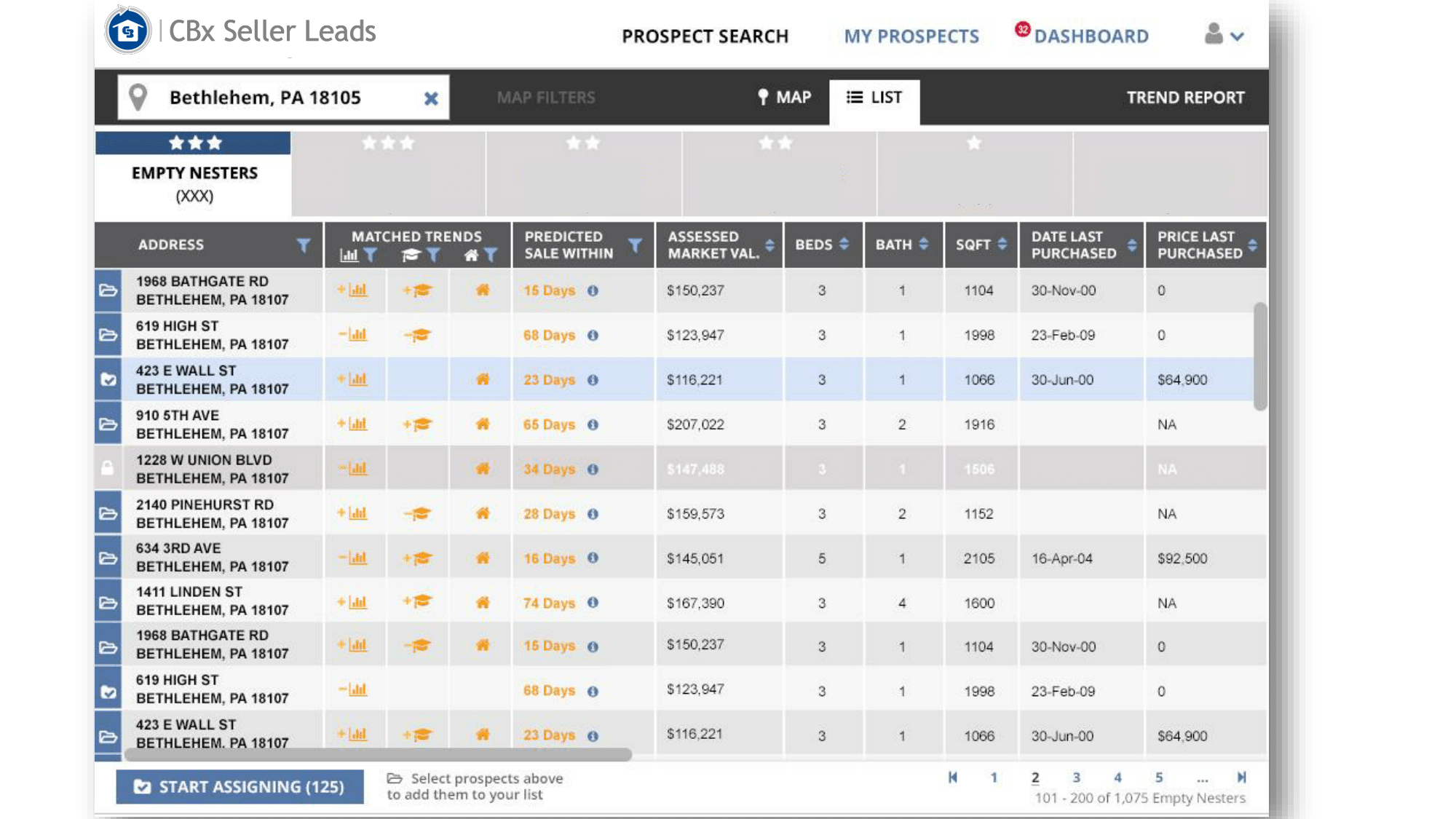 The software pulls information from a handful of data points, none of which were disclosed to Inman. However, an example of one category predicatively analyzed for selling potential is time on market of similar listings.
It can be assumed that CBx uses that data, among others, to determine its "predicted sale within" x number of days rating within the software.
There are tons of data options out there that can be stirred into the recipe for a good listing lead, but Coldwell Banker chose instead to focus smaller, understanding that too much data can over-season the outcome.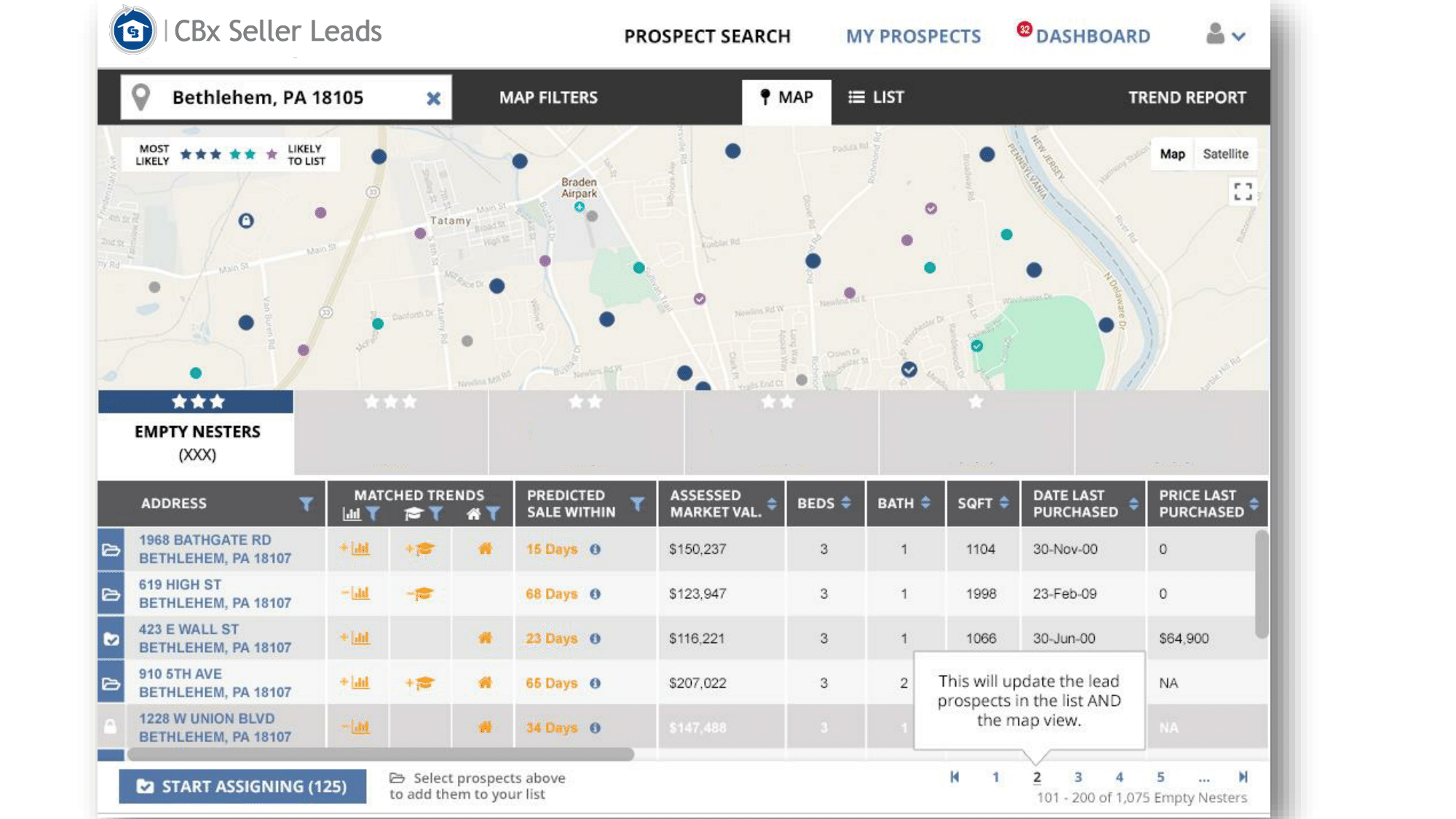 Instead of collecting hundreds of data points, the company systematically eliminated those that didn't increase lead accuracy until arriving at "a handful" of them. It also allows them to better measure what's working and replace data that isn't producing.
After logging in and choosing a ZIP code to search, the straightforward broker dashboard resembles a cleaner, more appealing Excel spreadsheet.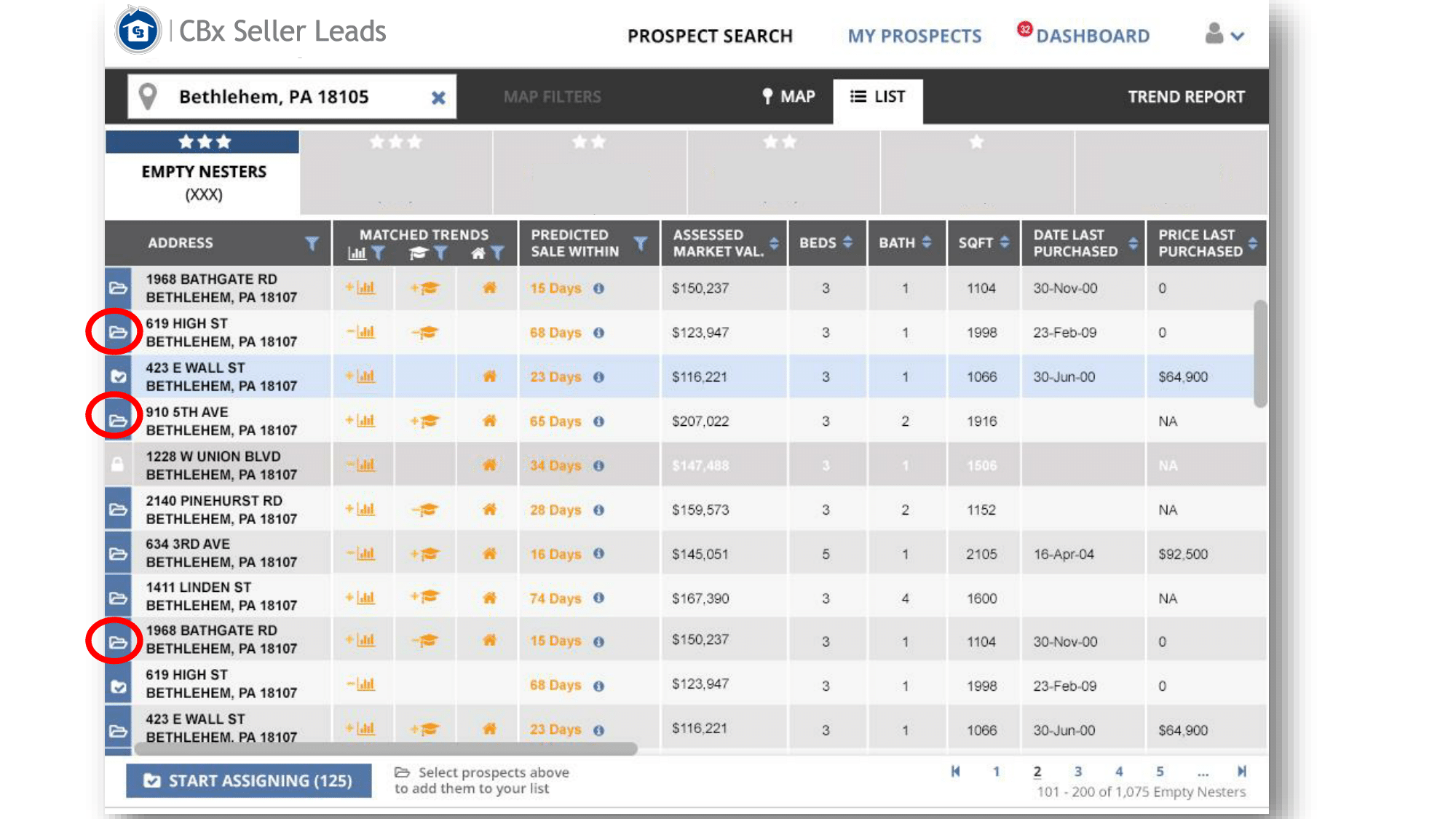 It breaks down names, basic listing information and items such as last sale price, last date sold and a trend report that offers a quick look into market statistics, such as school ratings, average list price, days on market and number of listings in that ZIP code.
A map view alternative opens the trend report by clicking on a location icon.
The "Predicted sale within" column is predicated on the home selling at a Coldwell Banker-provided assessment of market value, which is also on display.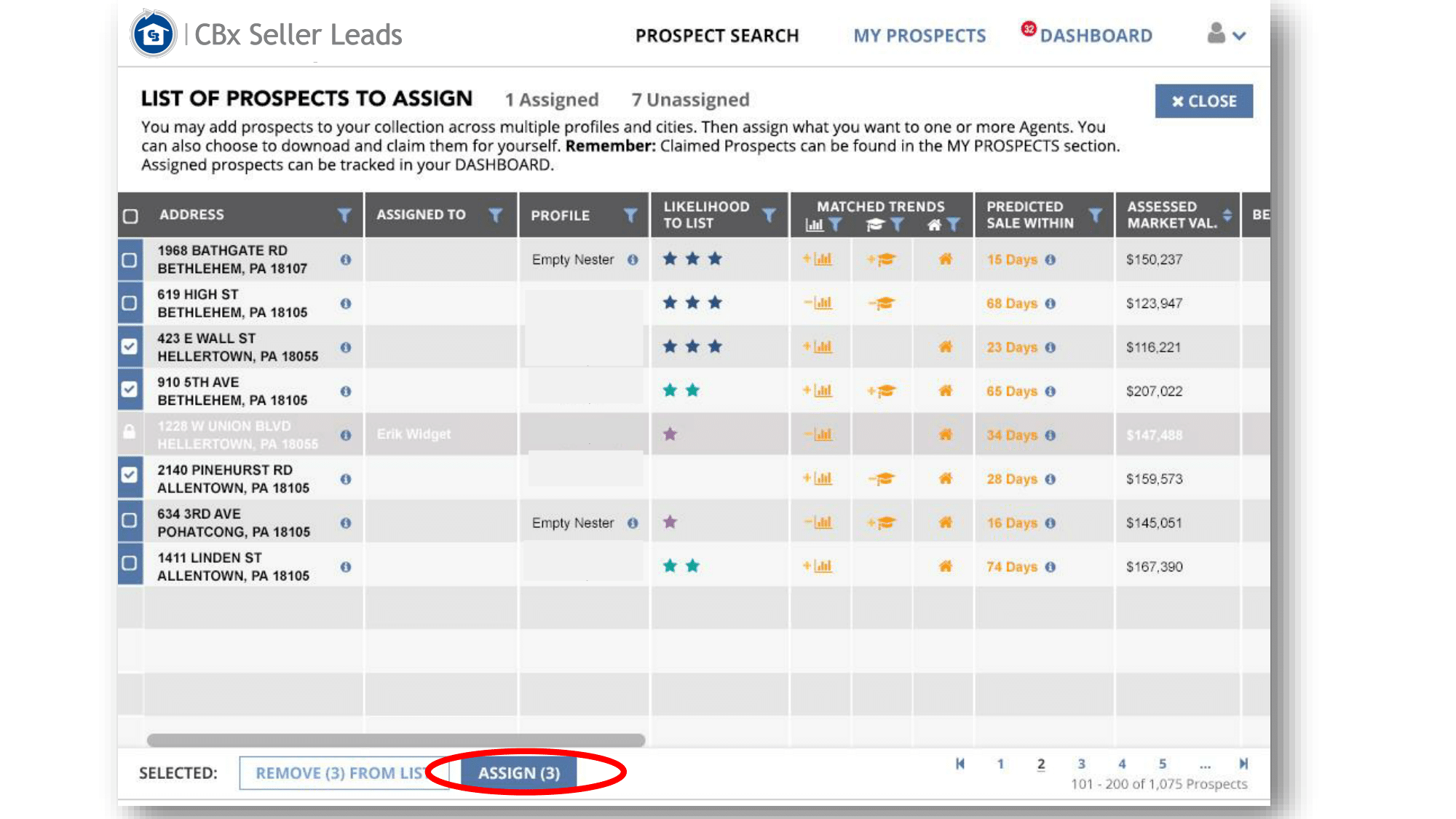 Brokers choose a few appropriate listings to assign to their agents. Users can also examine the locations of assignments and how many each agent has been assigned.
The agent dashboard looks and functions much the same, minus a few of the administrative tools available to brokers. They can view "My leads" and the number of "Claimed" leads.
There's a couple of redundant circle graphs on another agent page that offer the same "Active vs. total claimed" information as the first. It could be eliminated without the product suffering at all.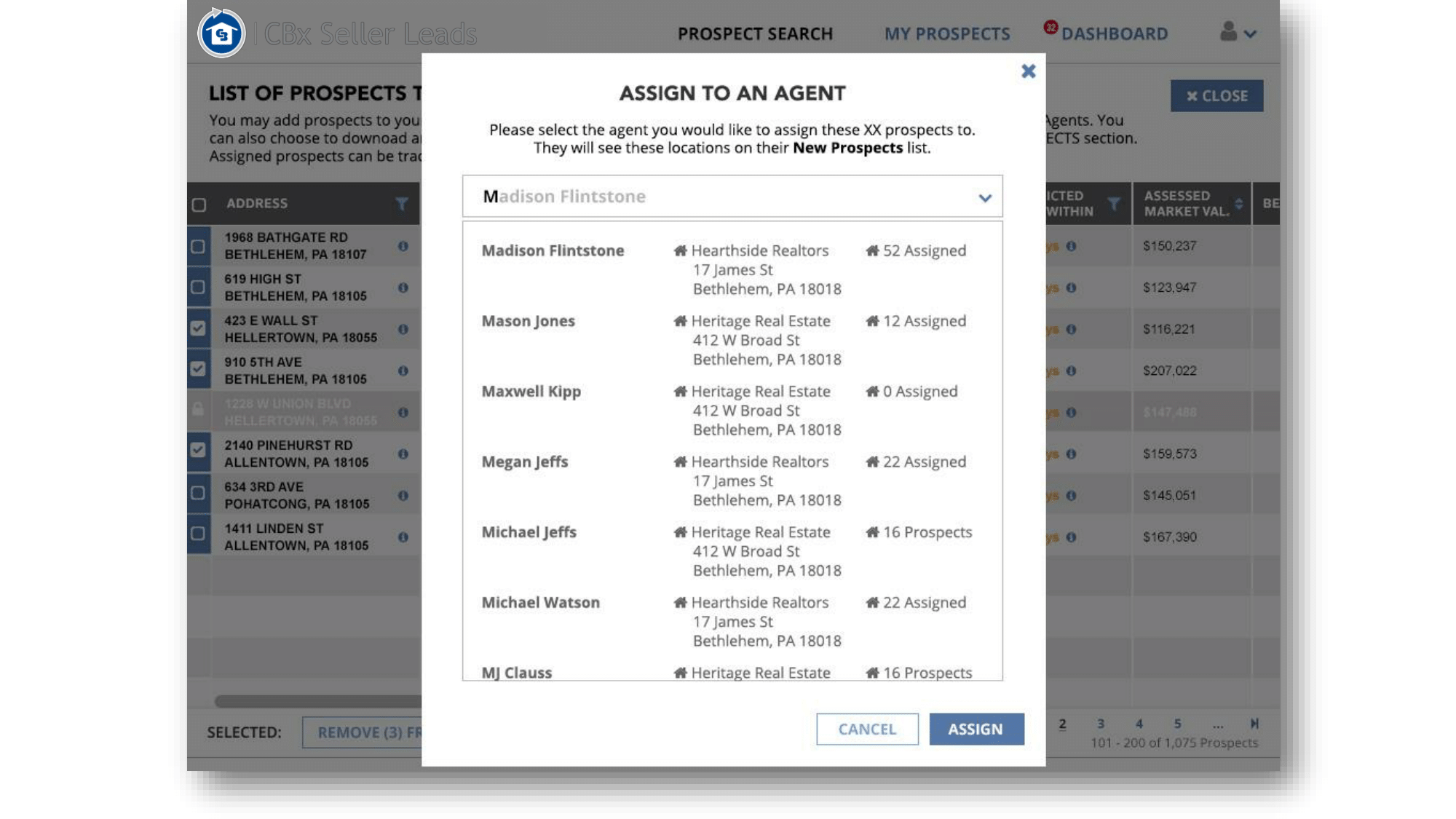 As of now, there are no native marketing features. Agents can download lead lists for use in other systems.
From a pure technical solution perspective, CBx Seller Leads is an effective, minimalist way for brokers to assign, and agents to claim, new clients.
The entire solution is based on the quality of the leads being provided by Coldwell Banker's data sources and algorithms. According to this initial press release from Realogy, Coldwell Banker's parent company, leads provided by the system produced a 5 percent conversion rate in an uncontrolled study.
If those are on-target, then this is no doubt a worthwhile effort for brokers under the brand.
The software is the easy part, and they've made sure of that.
Have a technology product you would like to discuss? Email Craig Rowe.