This white label-ready, MLS-data-driven app is the best CMA tool you haven't heard of.
Have suggestions for products that you'd like to see reviewed by our real estate technology expert? Email Craig Rowe.
Virtual Properties is an app to perform and present comparative market analyses.
Platforms: iPad; browser
Ideal for: Tech-forward teams and brokerages.
Top selling points
Top concerns
Many big brokerage and enterprise CRMs and marketing platforms come with CMA tools. Prospective users will want to weigh the benefits of white labeling the app.
What you should know
Virtual Properties is a CMA app designed specifically to be white-labeled by brokerages. That means it will look like an app your company developed, providing credibility from technology and customer service perspectives, and best of all, you don't have to pay (directly, anyway) to develop it or maintain it.
The software moves quickly, allowing agents to offer valuable market information in about four taps, starting with a slick Google Earth fly-in to the subject property.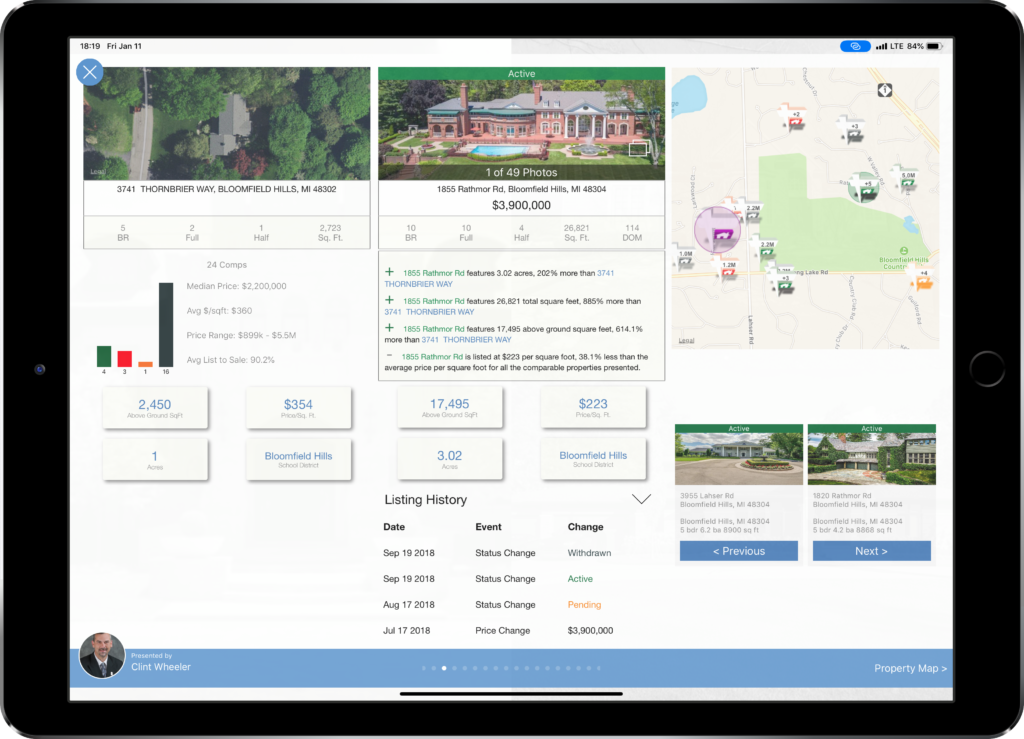 Comps appear almost instantly in a left-hand, color-coded sidebar. Green indicates that a property is on the market, red is sold, grey is withdrawn, and brown is pending.
There are map views to scroll around the market for data, and a number of different charts and graphs to see every angle of it. There's even a cool scattergraph that depicts a wide-ranging of comp prices against the last few months of activity, including days on market, average price and other critical aspects that help consumers understand how homes are priced.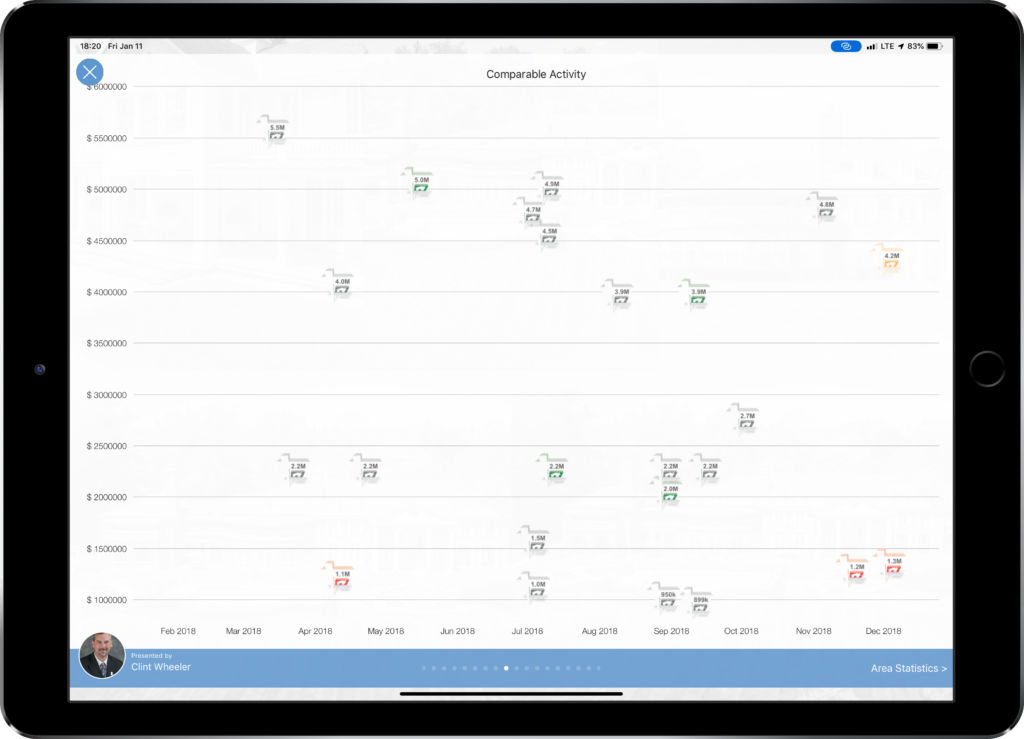 A big part of the app's value is its live pull of MLS data, which ensures buyers and sellers are up to speed on a fast moving market and that their agent is as prepared as possible to help them navigate it.
The app also helps agents show their prospects how their profit may shakeout after the sale. A pop-up window breaks down closing costs based on the recommended sale price and allows for custom line items and data input.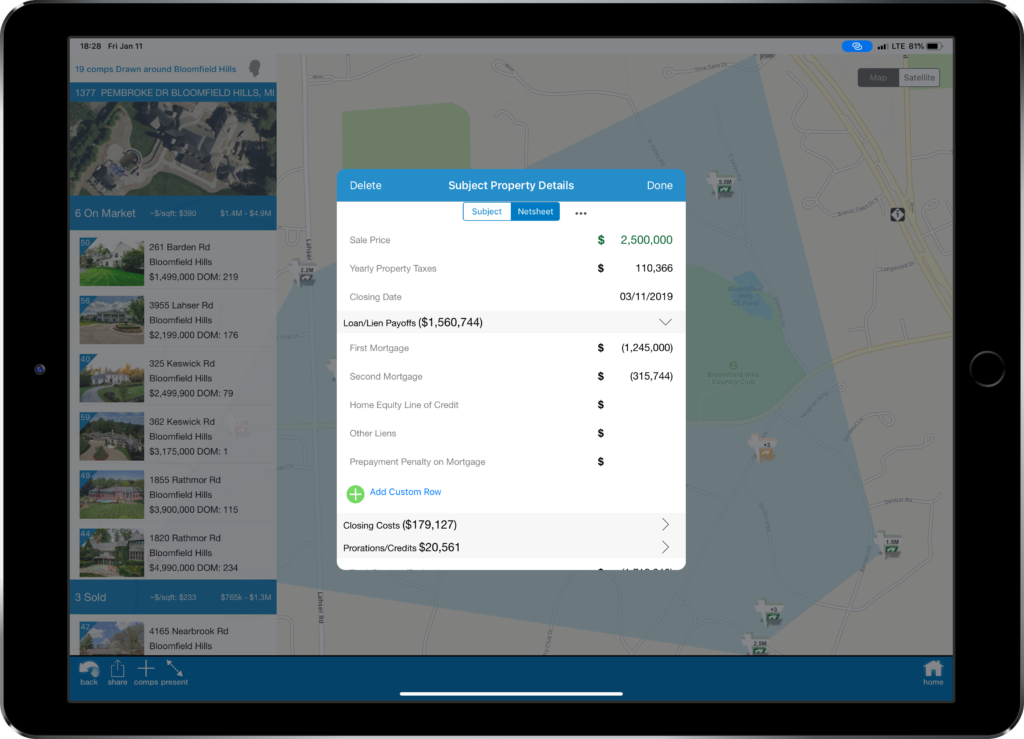 The software exports a lengthy, detailed PDF version of the CMA, easy to share via text or email, even on social platforms, should a CMA have any use in such an environment.
Agents can include a video introduction to their CMA form their device or upload a saved promotional video. It's a nice touch that helps take away the clinical nature of presenting a CMA.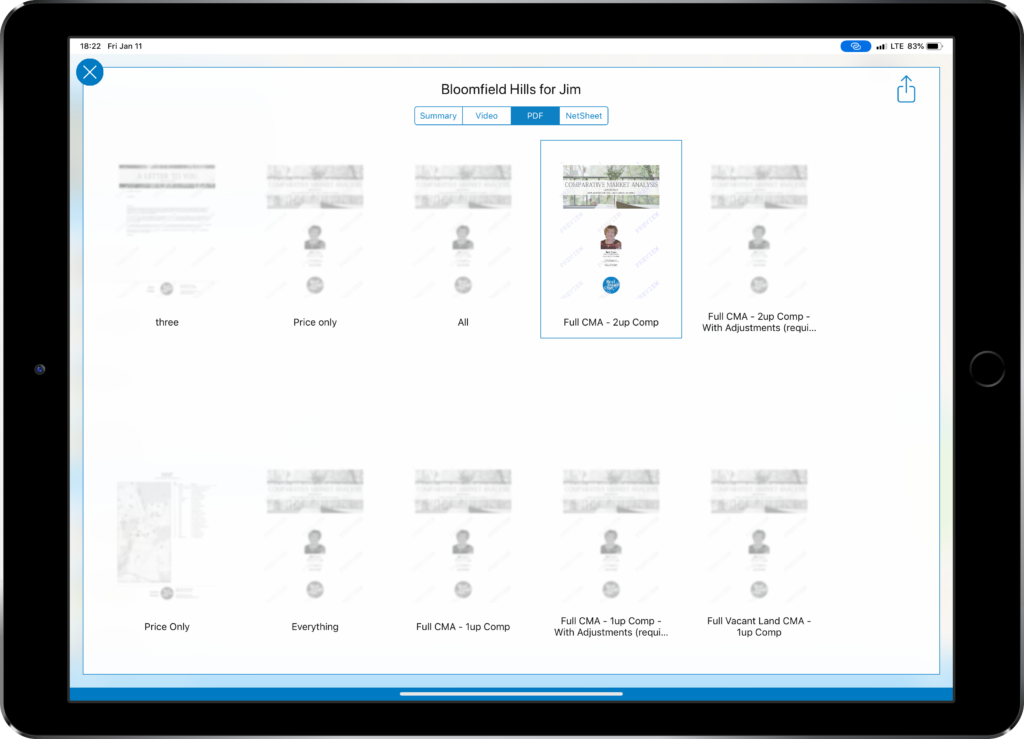 Virtual Properties is best run on an Apple device, with the Android version somewhat limited in functionality. It probably looks best on a larger screen device, so consider bringing along an iPad.
Single licenses start at $500/month. And don't let the minimalist website fool you, as the company is deliberately low-key because of its under-the-radar white-label model. The company has been around since 1995.
Pricing:
10 agents or less: $2,500/MLS source and $300/month
Up to 50 agents: $2,500/MLS source and $17.50/agent capped at $750/month
Over 50 up to 100: $2,500/MLS source and $15/agent capped at $1,500/month
Over 100 to 250: $2,500/MLS source and $12.50/agent capped at $3,000/month
Over 250 to 500: $2,500/MLS source and $10/agent capped at $4,000/month
Over 500: $2,500/MLS source and $7.50/agent
Overall, Virtual Properties is a straight-forward, easy-to-use app with nothing that would prevent an agent from getting up to speed quickly. Its white-label model is unique, and it can give your office a competitive advantage when you tell clients the next agent they're meeting with doesn't have this kind of live data-driven CMA software in their quiver.
Unless they beat you to it.
Have a technology product you would like to discuss? Email Craig Rowe