Emphasys real estate software allows brokers to oversee all aspects of deal flow and commission payouts, and it leverages integrations with dotloop, DocuSign, SkySlope and QuickBooks.
Have suggestions for products that you'd like to see reviewed by our real estate technology expert? Email Craig Rowe.
Emphasys is a back-office management solution that focuses on transactions and accounting.
Platforms: Browser
Ideal for: Large brokerages
Top selling points
Frictionless user experience (UX)
Multiple listing service (MLS) integration for listing data
Automatic 1099 creation
QuickBooks connectivity
Highly customizable
Top concerns
Transitioning straight from QuickBooks could be a challenge for growing brokerages, given the level of detail and advanced functionality of Emphasys.
What you should know
Emphasys is a division of Constellation Real Estate Group, which owns a number of real estate software products.
Its customer base consists of more than 500,000 active users in a range of major franchises, including Coldwell Banker, Exit Realty, Century 21, Better Homes and Gardens, Berkshire Hathaway and other Realogy brands.
It may be the most-used software product you haven't heard of — and that's somewhat by design.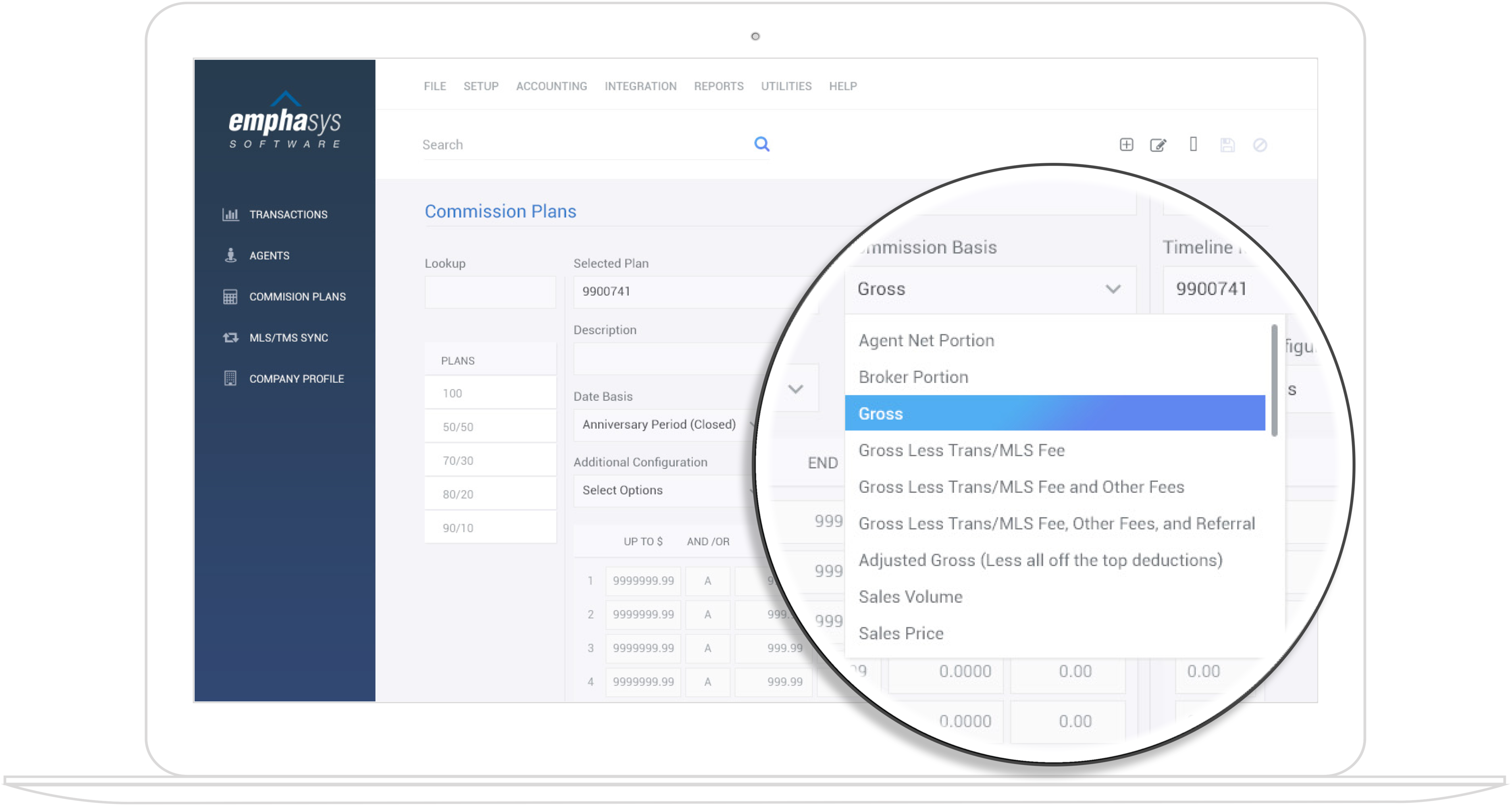 The company told Inman that trying to grow too fast could hamper the pace at which the company is able to absorb customer feedback to blend into its solution.
Emphasys' back-office solution is a tool for brokers to manage transactions and every cent of their financial details, from listing agreements to real estate agents' annual 1099 forms, which can be sent directly from the software to the IRS.
A user's local MLS account helps new listings enter the system quickly and displays listing's information upon initial login.
There's a high-level breakdown of each property's details, who's selling it and its list price. Information on vendors connected to each deal, such as attorneys and title companies, is also visible.
Clicking through the deal provides data on the agent's commission plan, expected payouts to each deal side, and it accesses a checklist of transaction milestones and task notes, which can be customized to overlap with an office's specific workflow. Reminders can be set, and notifications can be scheduled.
The company also has in place partnerships with dotloop, DocuSign and SkySlope, to further streamline how users of those tools can leverage Emphasys' commission oversight features.
The user interface (UI) also manages to nicely assemble and present its data — not easy given the nature of it.
The software is easy to navigate and smartly laid-out with blocked information sections, clearly labeled menu structures and tight font and color choices. In short, this is a tool for numbers-focused brokers to understand how their office is performing, and to support critical business decisions. And in that respect, its user experience is spot-on.
Brokers can use the reporting tools to see precisely who is getting paid what when, and then peruse each agent's revenue, commission structure and overall performance.
It would be very difficult for a dollar to go missing when using this solution, as it offers brokers every opportunity to recover expenses, pay bills, deposit commissions and distribute payments to every person owed when the deal gets done.
Any data input incorrectly that doesn't match a setting gets flagged in red, preventing the deal from continuing until remedied.
The "stages" feature provides office managers and transaction coordinators a way to review each step, offering them a landing page of sorts to benchmark each stage of a deal. This is a nice value-add to ensure every i is dotted and every t is crossed.
Emphasys told Inman that there are some additional ways the company is making its product even easier to use. In the spirit of MLS and third-party transaction software integration, there is work underway to provide Gmail alerts that notify users of new properties and offer direct access into those listings.
The reporting feature illustrates every aspect of business important to a broker, handles payroll, create 1099s for agents and also stores agent information, such as brokerage agreements, resumes, bios and pictures, and it sends license expiration notices.
Emphasys is a true financial oversight solution for real estate brokers who thrive on details and efficiency, but who also need their back-end systems to play nice with others.
Have a technology product you would like to discuss? Email Craig Rowe.